Opinions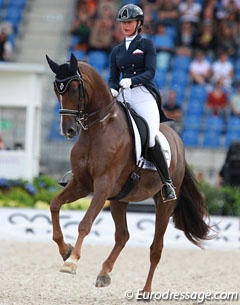 When the rules for individual qualification for the 2016 Rio Olympics were released, FEI score statician David Stickland immediately warned the hotshots in charge of the major flaws and room for corruption the system left. Last weekend, Stickland's foreboding became truth. At the 2016 CDI Moscow a Russian rider achieved an incredible feat: improving one's personal best Grand Prix score by almost 6%. The second placed rider achieved a similar staggering climb which upset the Olympic Ranking List and has meddled with the chances of Olympic representation for Belgium, Ireland, Poland and Portugal.
While it is great that judges reward good riding with high marks, an almost 6% improvement from a personal best of 76.46% to one of 82.240% raises eyebrows. Even more interesting is the fact that all five panelists were consistent (judge for yourself if it's worth 82%) which suggests that no faul play was the matter. The CDI Moscow was judged by Maknami (RUS), Rubashko (BLR), Fouarge (NED), Engel (GER) and Soboleva (RUS) and their marks for Merkulova's ride ranged from 78.900% (Engel) to 85.700% (Soboleva). Merkulova's sister Marina Aframeeva achieved a similar feat and placed second in that notorious Grand Prix class! Aframeeva scored 76.780% with 74.500 (Engel) as low score and 78.500% as high score (Fouarge). Aframeeva's previous personal best score was 71.900%
Merkulova was already group winner so her 82% was just an early Christmas present and did not affect the Olympic Ranking, but Marina Aframeeva's score did. It has disrupted chances for Belgium to send a composite team to Rio, and/or Ireland, Poland, and/or Portugal to get an individual rider there. With six more days to go before the ORL deadline of 6 March, the last week of CDI competition will be bloody and the FEI could brace itself for some legal action afterwards. As the judging was very consistent in Moscow, it can mean two things: either the whole jury was in the game to inflate the score (let's hope not) or more realisticly it revealed that competition location A is not equal to competition location B, no matter what star-level the show is. This proved again how flawed the ORL system is based on only four scores.
American journalist Ken Braddick of Dressage-News poured oil on the Olympic fire by puiblicly posting a photo of Dutch judge Ghislain Fouarge teaching a clinic in Moscow four months ago where he trained Inessa Merkulova amongst others, automatically hinting that favouritism was at play at the Moscow show. Braddick also posted that the FEI is going to investigate the matter. The FEI's press officer Grania Willis confirmed to Eurodressage that, "the FEI has been informed about the results and they will be discussed at the Dressage Committee meeting next week."
Braddick suggesting that a judge teaching a clinic is the most controversial part of the Moscow incident and not so much the inflated scores upsetting the Olympic Ranking. Still my interest was peaked to dig up the FEI judges codex published on 1 January 2011. Codex Point 2 is of particular interest:
2. A Judge must avoid any actual or perceived conflict of interest. A judge must have a neutral, independent and fair position towards riders, owners, trainers, organizers and other officials and integrate well into a team. Financial and/or personal interest must never influence or be perceived to influence his/her way of judging.
Activities which will lead to or may lead to a "conflict of interest" when officiating at a CDI, include but are not limited to:
Training a horse/rider for more than three days in the twelve month period prior to an event or any training of a horse/rider during a period of nine months before Olympic Games, WEG, Continental Championship on Grand Prix level, or World Cup Final, and three months before any other FEI event.
Acting as Team chef of National teams at international level or being responsible/co- responsible for selecting teams and/or individuals or training riders within the NF.
To be owner/part-owner of horses taking part in the event.
Being in a situation of financial dependence or gaining financial profit from owners, riders, trainers, organizers or other related organisations.
Having a close personal relationship with a competitor.
Nationalistic judging
A judge has the responsibility to notify the FEI of any of the above or other possible conflicts of interest or situations that may be perceived as such.
The codex is lip service because it is publicly known how actively involved judges are in the training, coaching and instructing of high performance riders all over the world and are close friends with many of them. Just to list a few O-judges who teach on a regular basis: Katharina Wust gives clinics in Italy, Wim Ernes goes to Norway to coach riders on a monthly basis, Stephen Clarke is actively involved in the coaching of the British junior and young riders teams and supports them at the annual European Championships, Jan Peeters coached the 2012 Dutch Olympic team at a training seminar right before the team went to London, where Peeters served on the Judging Supervisory Panel. Judge Christoph Umbach, for instance, is member of the Luxembourg Dressage Committee responsible for team selection. Eric Lette coached the Brazilian riders to the 2008 Olympics in Hong Kong. And then of course there is a majority of judges that have their own stable and attract students who aim to get instructed as well as positive credit in the show ring. These are just a few random options of judges moonlighting as trainers.
(In between brackets, we're not even broaching the subject of judges actively involved in horse dealing and selling horses to riders they judge! Nor that they often organize competitions and ask riders for sponsorship money for the event. But let's not wade into that merky pool, just yet...)
In principle there is nothing wrong with judges assisting, instructing or even training riders so they can learn what judges are looking for in a test, as long as the judge can make the conscientious, ethical decision not to judge any of the riders s/he has coached in competition; and neither should the judge's "apprentices" (the ones s/he trained in the FEI Judges Educational System to become a judge and can still keep under control with his/her octopus tentacles). To uphold this level of intregrity should be feasible. However with some the lust for influence, control and are are not subordinated by proper morals and ethics.
The core problem, besides having a flawed Olympic individual qualification system for 2016, and the source of potential dodgy judging panels -- the root of the root -- is the liberty show organizers have to invite their selection of judges to a show. They can assemble a panel to their liking, which serves their needs. Often groups of judges flock together as they are friends of one another, more in tune with their ideas and visions on dressage. Some judges avoid others and prefer to go to shows where certain colleagues are not. More experienced judges, who schooled and trained new judges, are often seen sitting on the same panel, master and apprentice side by side. Furthermore there is hidden rivalry recorded amongst some of them, even though this is publicly denied.
The FEI needs to take charge of the sport and no longer allow show organizers to pick a panel. Judges should be allocated to shows by random draw to avoid favouritism and create more diversity in the panels that work at CDI's world wide. Too often the same group of people are seen judging at the same show, year after year. 
Dressage is a judging sport. This cannot be circumvented, but the FEI needs to show less talk and more action in their ability and eagerness to bring the judging system to a higher level. The sport develops and continues to grow and gain popularity, but the FEI is lethargic in enforcing the judging codex.
Until then, let's see what judgging ideosyncrases the CDi's in Lier, Doha, Dortmund, Hastings, Jerez, Caselle di Sommacampagna and Wellington will bring this week!
by Astrid Appels