F.O.C.U.S.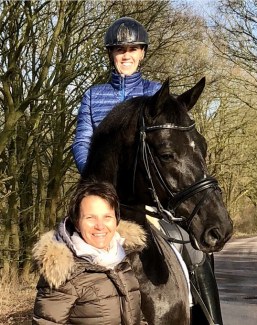 Viola Abrahams and Lientje Schueler of northern Germany are passionate about bringing horses and people together and make a conscious effort to responsibly find the right horse for the right person.
Most recently the two of them were involved in finding the perfect fit for Bridget Walker of San Francisco, by mentioning the gorgeous black gelding Hoftanz (by His Highness x Rotspon) to her. 
"As trainers and agents it's part of our job to act responsibly to all parties involved," said Lientje. "We like to go test ride potential horses well before we mention them to our clients. We think to look at the horses in their home environment and truly understand their behavior and history is often as important as the test ride itself ."
Over many years Viola Abrahams has built up a great network with exclusive trainers, owners, and breeders by continually going through the efforts of following bloodlines, horse's couriers, meeting people in person, as well as going to auctions and competitions. It's a hands on approach that is quite different from the nowadays popular ways of forwarding videos of horses, whom trainers and agents have never even seen in person by the time the client comes for a test ride. This is not to say that modern online platforms aren't utilized as well. Such was the case with Hoftanz being advertised on Eurodressage.com.
Viola had known Hoftanz (formerly a licensed stallion) from a very young age on and was always very fond of this impressive horse. She contacted his owner Lone Boegh Henriksen immediately to find out the details on vetting, latest show results, and Hoftanz's current state.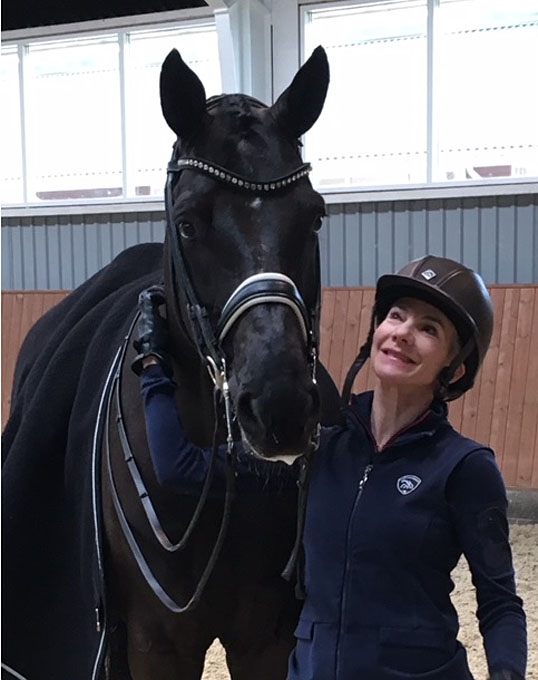 Since she deeply believed in the horse, it didn't take her long, to pick up the phone and get in touch with Lientje to brain storm on who might be looking for a horse like Hoftanz. Lientje, who finds herself fortunate to have been based in California as part of Team Peters for 10 years, knew just the client. 
"As soon as Viola enthusiastically told me about Hoftanz, his history, and showed me the ad on Eurodressage, I knew he would be just the horse for my friend and client Bridget Walker," said Schueler.  "Bridget had been dreaming of a once in a life time horse for a very long time. Because we understand how much effort our international clients go through, when coming to look at horses in Europe, we wanted to be sure to see Hoftanz again in person."
Viola took matters seriously and was very quick to arrange for us to go see Hoftanz in Denmark at HP Horses. After the 6 hour drive to Copenhagen, Lientje and Viola were very pleased to find Hoftanz in perfect condition. He was very well presented by his bereiter Maria Falkner and it is not that often that we see a Grand Prix horse at age 14, truly sound and happy to be doing their work.
"Lone and Maria were very open about all information on Hoftanz, which was helpful as well," Viola added. 
Since the test ride went as well as it did, it was now time for Bridget Walker to make some decisions.  Being the energetic, smart woman that Bridget is she too didn't hesitate.  Only a few days later, Bridget jumped on a plane to make the long journey from San Francisco to Copenhagen.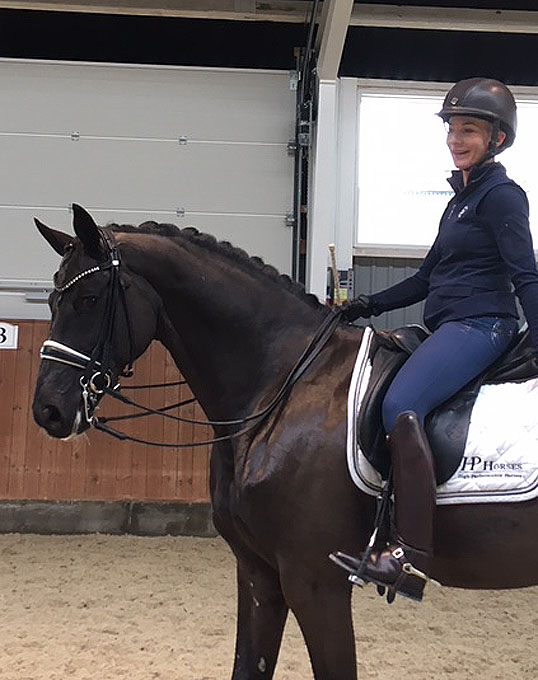 "Bridget understood that this was a great opportunity and both Viola and I are extremely thankful for her trust in us as trainers and agents," said Lientje.
As expected all went truly wonderful when Bridget tried Hoftanz at his former home in Denmark and all parties involved were very quick on closing the deal - so it happened that Hoftanz sold in only one week after being advertised. 
Hoftanz is currently in Germany with Lientje, continuing to be happy in his work. He enjoys his time in turn out and gets spoiled by his groom Johanna, who adores him and is passionate about all horses in her care. Soon Bridget will come over for a week of training to get a "starter kit" for her new horse, and in early April Hoftanz will make the journey to California.
Viola described the match between Hoftanz and Bridget as "the perfect Easter surprise. A gift for all of us."
For more information about Abrahams and Schueler visit www.clever-reiten.de or contact lientjeschueler@gmail.com
Related Links
Lientje Schueler and Mike Tyson Heartmade and Ready for the Big Time
Schueler and Regalo Win 5-year old Division at 2012 U.S. Young Horse Championship