2018 CDI Wellington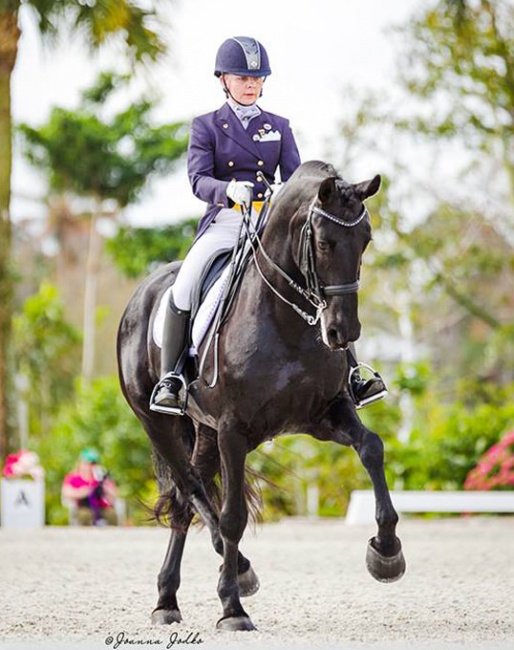 Creating new paths and making the best of every situation is not new to Canadian FEI rider, trainer, and coach Janine Little. Now, as she and the 2008 Friesian mare, Ebony continue to earn successes in the CDI ring, FEI judges and the wider dressage community are taking note. Little and Ebony have earned four Top 10 finishes in CDIs at the Adequan Global Dressage Festival (AGDF) so far this season, along with the Prix St. Georges High Score Award at AGDF 1.
LIttle and Ebony, who is owned by Shawneen Jacobs, are currently leading the White Fences Prix St. Georges Championship Series.
Although some initially dismissed Ebony because of her breed, the mare, whom Little has brought along since Training Level, is currently schooling all the Grand Prix movements with ease.
"I didn't envision myself taking a Friesian into the international ring," Little acknowledges, as most of her other national and international successes – such as being listed to the Canadian Team in 2010, 2011, and to the Dressage Canada Rider Development Squad in 2017 – have primarily been with various Warmbloods. "Yet dressage is all about training, willingness, and correctness, and Ebony exemplifies those qualities – she has the heart to succeed."
Ebony (by Beart 411 x Fabe 348) was originally purchased as the ride for her adult amateur owner Shawneen Jacobs. However, as Little brought Ebony up the levels, she kept surpassing expectations with strong scores and victories including the High Score Award at AGDF 1 in 2016 for their 72.20%, multiple championships and freestyle victories such as at Parc Equestre Olympique Bromont and Palgrave in Canada, plus a win at Dressage at Devon in 2017.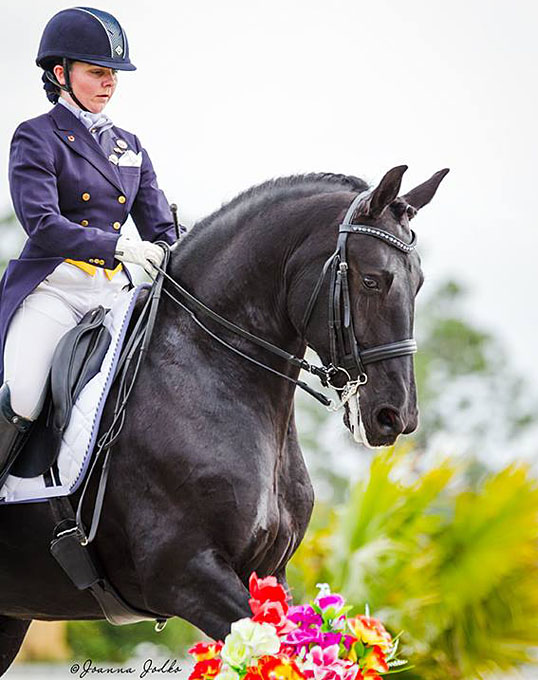 Jacobs, Little, and fans alike are thrilled.
"I'm honoured that I consistently get comments from FEI judges about her being very correct in her training and way of going," Little says, noting many top breeders are increasingly breeding for optimally well-rounded athletes that emphasize the 'sportier' side of the sport. "Emphasizing the importance of correctness and training is key for dressage – and diversity is vital, including in the international ring."
Recognized for her ability to maximize scores in the ring as well as for patiently bringing out the best in the horses she develops, Little is not one to impose limits on a horse's future. And the results the partnership have achieved are inspiring many to look beyond assumed horizons.
Indeed, Ebony has become known as "the little mare that could" among her growing fan base. 
"We make a good team because we have a lot in common," Little laughs. "We may be small in stature but we're hard working, focussed when put to the task, and ready to give it our all."
Text by Joanna Cockerline
Photos © Joanna Jodko
Related Links
Scores: 2018 CDI Wellington
Scores: 2018 CDI-W Wellington
Scores: 2018 CDI Wellington