Clinics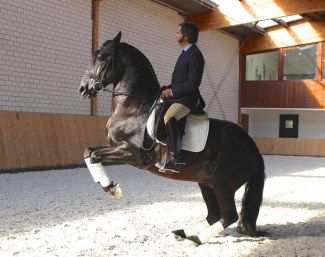 Two years ago German Kareen Heineking-Schütte had announced to cut back her own breeding operation by hosting a yard auction and steering more towards the service and training side of things with her stud farm and veterinary business. Since her little home village has seen a variety of clinics covering a variety of equestrian topics catering to both the ambitious sport rider as well as those without show-aspirations.
In 2018 Germanhorseconnection is celebrating its 15th anniversary. "We have managed to get a true master in to celebrate this special occasion," explains the busy blonde who took over the farm from her parents in 2003 and has increased it significantly over the years.
Portuguese master Luis Fernandes is coming to Raddestorf, Germany,  for a 3-day clinic from May 11 through May 13.
The internationally renowned classicist will hold the clinic in English with German translation available if needed. Fernandes will first work with each horse himself either from the ground or from the saddle before getting the rider to feel how it changes. His system has been well established over many years.  Fernandes owns his own Picadeiro (riding centre) in the south of Germany.
"The clinic is open to outside riders and will cost 400 euro including food and drink on site,"explains Heineking-Schütte who met Fernandes a few years back when the family purchased a pony from her and was deeply impressed by Fernandes' way and philosophy in training. "Single day participation will be 150 Euro and spectator tickets are offered at 25 euro so in order to open up the event to as many people as possible," the 43 -year added.
"I feel truly blessed that both my children take a vivid interest in the horses as I know many veterinary and equestrian colleagues who suffer from not having anybody to pass it down to. I have a gut feeling I won't have anymore say here once my youngest hits driving age", she is joking.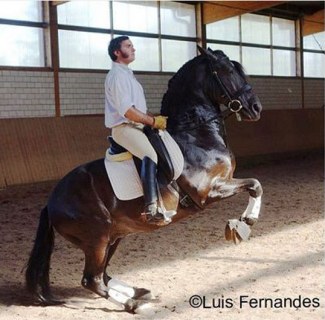 The farm consistently hosts around 60-70 horses on behalf of various owners who are spread out all over the world. At the same time the team works on increasing access to training for the local scene which is ideally situated amidst three of the most important warmblood breeding areas in the world Oldenburg, Westfalian and Hanover. "The horse always comes first, has been our business principle from the start and it is what makes our clients feel at ease leaving their horses in our care even when they are thousands of miles away," said Kareen.
All horses and riders are welcome to participate in the clinic regardless of breed, age or size although horses should obviously be balanced and comfortable under saddle in all three gaits to warrant the best possible training result.
Reservations can be easily made via the website contact form or email. Should reservations exceed available spots there will be another date to fit all in.