F.O.C.U.S.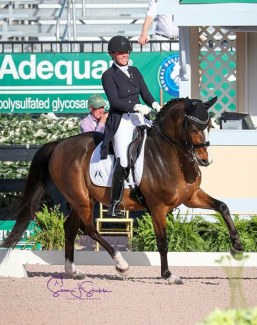 Swiss horse dealer and trainer Daniel Ramseier and his partner Silve Dietrich-Osten traveled to the Global Dressage Festival in Wellington, Florida in March to soak up some sun and reconnect with the horses they have sold across the Atlantic. One of them was Codiak, Eliane Cordia-van Reesema's rising FEI level star. 
"We came to visit "our" beloved horse Codiak," Silve Dietrich-Osten explained about his relaxing holiday in Florida. "We sold Codi as a 6 year old to Eliane and promised her to come over one day to visit. There was a big hole in our stable and our heart after Codi was gone, because he was such a special, highly intelligent horse and he was so attached to us. He was our best friend and every day of work with him was a great pleasure for us."
The Dutch born American Eliane Cordia-van Reesema owns Jewel Court Stud with facilities in Belgium, Connecticut and Florida. She acquired Codiak (by Cristallo I x Carabas) three years ago and with the supervision of her coach, Olympian Ashley Holzer, has trained him to small tour level and showing high quality for piaffe and passage.
Eliane and Codiak made their CDI debut on the 9-year old Rhinelander in September 2017 at the CDI-W Sauguerties, where she won the Inter I kur to music and finished third in the Prix St Georges and second in the Intermediaire I. In Wellington she campaigned him at three international 3* CDi's  with a 71.725% as season high score. 
Daniel and Silve were eager to catch up with Codiak's progress and got re-acquainted with him in Wellington.
"We kept our promise to come over and visited him," said Silve. "We could connect this interesting journey to Wellington to find a horse for another costumer. We can not say how overjoyed and thankful we are, that this horse has found a new home and a special horsewomen like Eliane is. She lives for her horses and gives everything for them."
<
Eliane discovered Codiak in Ramseier's barn in Germany through mutual friend Tristan Tucker. The Australian rider and trainer regularly commutes to Florida to coach Eliane in combination with Holzer. 
"Codiak enjoys his wonderful life at Eliane's beautiful farm. He developed in a great way and won a national Intermediaire I test while we were there. We had a few amazing days. We are grateful to Tristan for finding this dream home for our horse and for his unbelievable horsemanship and love, which he give to the horse every day."
For Ramseier and Dietrich-Osten the trip to Florida was particularly fruitful as they also scouted San D'Or for Swiss Olympian Marcela Krinke-Susmelj. Krinke's long-time sponsor Irene Meyer bought Megan Lane's San d'Or after a succesful try-out. 
Ramseier and Dietrich-Osten run Sportpferde im Brook in Germany, a sales and training facility where they personally guide their clients on their path with their new horses. Silve also owns Four Seasons together with Diederik van Silfhout, who represented The Netherlands at the 2017 European Championships in Gothenburg, Sweden. 
Photos © Sue Stickle - Astrid Appels
Related Links
Megan Lane's San d'Or Sold to Switzerland
Tristan Tucker Challenges Happy Athlete Concept in 2017 TRT Show Case at Jewel Court Stud U.S.A.
Daniel Ramseier Back in the Show Ring with Ferra
Surprise, Surprise: Markus Graf is the 2011 Swiss Dressage Champion