Events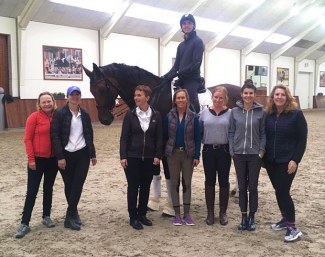 For the second, consecutive year DressageQuest will be hosted a clinic at Helgstrand Dressage on 27 May - 1 June 2018 with an optional day on 26 May 2018 to join the VIP and watch the international show Equitour Aalborg.
Ride and train horses at world class Dressage rider Andreas Helgstrand's breathtaking facility in Aalborg, Denmark. Helgstrand Dressage is one of the world's most recognized sales and training stables for high-level dressage horses. The best young horses in the world are produced in beautiful facilities here at Helgstrand. With 200 horses in the stable, guidance from Andreas and his team; top trainers and riders - this is the prefect opportunity for you to find and connect with your new champion.
Quest Vacations has events for both dressage and a jumping enthusiasts in 2018: Join DressageQuest Vacations at Helgstrand Dressage in Denmark May 27-June 1, 2018 with and optional day May 26, 2018 to attend the VIP at the international show at Helgstrand Equitour Aalborg. This event is not to be missed!
Champagne, Sport Horses and Olympic Trainers. Who's in?
JumpQuest Vacations and DressageQuest Vacations combine luxury destination travel with the opportunity for training with world-class clinicians on high quality sales horses. How about having an Olympic coach help you find your next champion?
Yes, sleep in a castle, eat gourmet food and find your next champion! And that is just the beginning: In addition to riding quality sport horses daily that are perfectly matched for you, participants are treated to daily ground sessions such as receiving mental coaching from top riders, sessions highlighting the perspective of the FEI judge and wining and dining with top Grand Prix Riders. Each week is packed with fun and knowledge.
"In Europe we see the top riders from America" says Amanda Freeman of Quest Travel "I wanted to widen the scope of participants. I fell more deeply in love with the sport after traveling and living in Germany. Riding is such a part of the fabric of the culture. I really wanted to share that. It is really fun to see people step up their game after coming to the clinics".
The clinics are truly luxury concierge events. You are picked up at the airport and treated to a whirlwind week of riding, local equestrian culture and sharing knowledge from the icons of the sport. The itineraries reflect the style and the culture of the clinician and the local area. For instance, at Helgstrand Dressage in Denmark, participants sat with Severo Lopez and learned how he mentally prepares for competition. Severo also demonstrated in a mounted session his strategy for communication with young horse Springbank II verses how he modified that strategy with an older more challenging stallion. It was priceless and everyone was in awe.
For the jumping rider, we have the honor of working with the legendary Nelson Pessoa in Belgium June 17- 22, 2018. This is a rare opportunity to spend a week with the legendary "Neco" at the home of the Masters show jumping series Ecole d'Ecaussinnes.
"Learn how to develop a horse that wants to work for you"
Enjoy private riding sessions under the supervision of Andreas Helgstrand and his team. Well-­trained schoolmaster dressage horses will be provided for riding sessions, or hop on a top quality young sales  prospect if you are so inclined. In addition to mounted sessions, daily lectures and demonstration will  include subjects such as mental preparation, the progression and training of the dressage horse, and the  judge's point of view by an FEI judge.
Learn from Andreas the secret ingredient that he has used to create the successful progression of  training from prospect to champion: from choosing the bloodlines to breeding the best young horse  prospects for the future, to cultivating the training to produce a finished world champion. You will also  hear his key tips for his students when they go in the ring at the Olympics, or other major competitions.
Live in a beautiful 12th century castle. Enjoy the beautiful landscape and management of  Helgstrand Dressage. Ride and watch some of the best horses in the world. This is not just an  event; this is an experience you will never forget.  
You are also invited to join DressageQuest Vacations on May 26th 2018 at our VIP table at  Andreas' own horses how Equitour Aalborg. Here top international riders will compete in both  Jumping and Dressage.   Enjoy the show and one night all-­inclusive accommodations before the  clinic. Dine, wine and party with the nation cup riders, before your own action starts.  
Includes: 5 nights accommodation at a 12th century restored Danish castle. All meals included. Transfer to and from  Aalborg Airport and Helgstrand Dressage.
Per Person: Clinic 4 days, 5 nights Superior Double including breakfast 1 person, 5 x Lunch at the barn, 5 x Dinner at our Restaurants,  5 x Beverages (Beverages, House Wine, Beer), 2 x Transfer to and from Aalborg Airport in Denmark
Contact Amanda Freeman on Facebook DressageQuest Vacation or at: