F.O.C.U.S.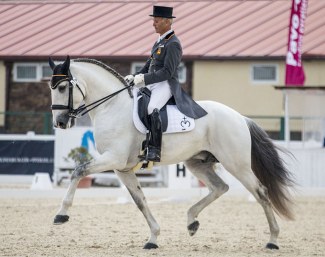 Euclides MOR (by Riopelé x Ruca) turns heads wherever he appears; people watch him and even though he is not that tall, he's got looks. Just two years ago he entered the stable of Spanish Olympian Juan Antonio Jiménez Cobo and now Juan Antonio is returning to the international competition stage with this talented 10-year-old Lusitano stallion.
The pair has begun its tour through the north of Europe in their very first Grand Prix season together. Their first competition outside Spain will take them to Luxembourg to the CDI4* Leudelange at Dressage Grand Ducal. Other events they have planned to attend in August will be the shows in Cappeln and Donaueschingen in Germany, if everything goes as hoped the coming month.
Euclides MOR is owned by Las Morerías, a stud farm that breeds and competes Iberian horses in Monterey, Mexico. Juan Antonio is their rider and advisor for dressage and their representative in Europe.
Juan Antonio Jimenez Cobo says, "I believe that Euclides MOR is one of the best horses I have ever competed in my entire life. I have had a couple of good competition horses but his attitude and capacity top almost everything. You won't find such a horse easily. I believe in his quality and our results are backing us up. Last year we achieved a hat trick at national Criterium level, two Champion titles at the most important competitions throughout the year and winning the Kings Cup was a boost for a start. You never know and I don't like to talk about what will happen next but it seems that the future looks bright."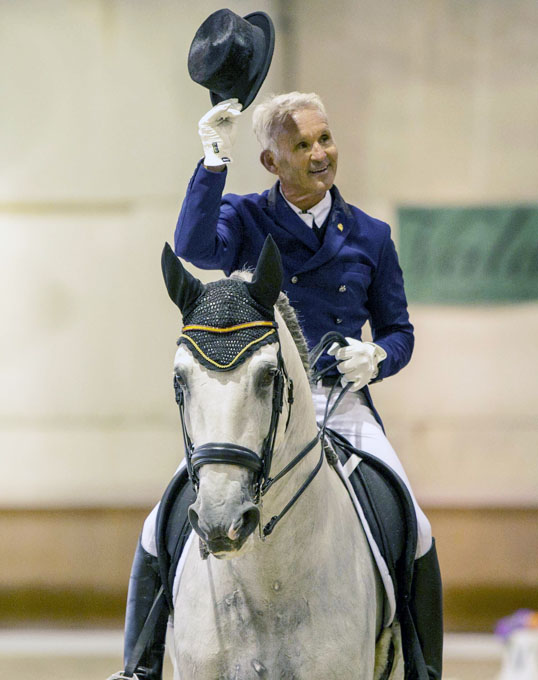 The combination won the Criterium at the National Spanish Dressage Championships, at the Masters (for 7 to 9 year olds) at the Spanish National Young Horse Dressage Championships and at the King's Cup in Madrid at the end of the year; they took them all.
They debuted this year at Grand Prix level with a good start at their first CDI3* in Segovia, achieving 70% in their first Grand Prix Special ever.
Dressage fans will remember Juan Antonio with Guizo, another Lusitano stallion. This pairing represented Spain for a decade and was part of the first Spanish medal winning team at the 2002 World Equestrian Games in Jerez at 2003 European Championships in Hickstead, as well as in Aachen and at the 2004 Olympics in Athens.After Sydney they achieved numerous placements and team medals at the most important international Dressage events.
Juan Antonio has been waiting until now to debut this new stallion at Grand Prix level although the exercises were already there. "Euclides MOR is a willing and sweet horse, he always wants to give it all. This characteristic is a privilege and a pleasure for the rider but it also makes him vulnerable, as his body or his mind might not resist the pressure; he is a calm horse but with the spark of the Lusitano stallion, so you have to convince him to give you the exercises. It is highly important with these horses that they are on your side. And I believe I do have him with me, I have waited for this moment."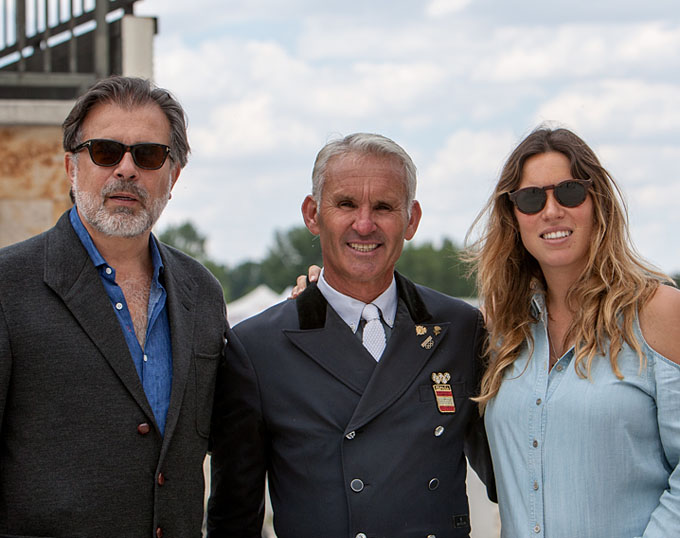 Lorena Morales, breeder and Dressage rider, from Las Morerías stated that, "we love our Iberian horses. Through them and Juan Antonio, we discovered Dressage. We became fans of this beautiful discipline and now we are excited to present our horses with Juan Antonio at the international Dressage top level: EUCLIDES MOR as well as ORGULLOSO MOR, a PRE stallion from Morerías which Juan Antonio will show at the Intermediate A/B."
Juan Antonio Jimenez Cobo added that, "when we arrive at a clinic or a competition, EUCLIDES is calm, attentive to what is happening around him. Look at his eye, his clear glance, very open, to me he is one of the best horses I have had in my life."
Text by Katharina Braren - Photos © Top Iberian
Related Links
Juan Antonio Jimenez Partners with Las Morerias to Compete at 2016 Global Dressage Festival
Jimenez Finds Silver Lining by Winning 2013 Spanish Developing Prix St Georges Horse Championships
Juan Antonio Jimenez Returns to the Big Time with a Foursome of FEI Stars
Jimenez Wins 2005 Spanish Dressage Championships in Home Town