U.S.A.
The 2018 North American Youth Championship organizing committee recognized two athletes and a chef d'equipe with special dressage awards on Sunday 5 August 2018.
They honoured Callie Jones with the Dressage Style Award and The Fiona Baan Memorial Trophy as well as Martin Kuhn (Region 4) with The Albers Award
The Dressage Style Award is presented to the rider that has shown "style" throughout the competition, not only when mounted, but also in the form of manners and overall demeanor. The panel of judges that voted on the winners included Ground Juries from both disciplines, veterinarians, Technical Delegates, FEI Stewards, Appeals Committee, and the NAYC Organizing Committee.
The Fiona Baan Memorial Trophy is awarded to the Young Rider in the championships who receives the highest combined average percentage score from the Team, Individual and Freestyle dressage rides. The award is to honor a remarkable woman who dedicated more than 30 years of her life to the United States Equestrian Team and the Young Riders Championships. This award recognizes hard work and the pursuit of excellence in the sport Fiona dearly loved.
The Albers Award is presented annually to the dressage Chef d' Equipe, named in honor of long time Region 1 Chef d'Equipe, supporter and good friend, Patsy Albers, who best demonstrates the same level of dedication, enthusiasm and team spirit that Patsy has shown throughout the years. This award is open to all of the dressage Chefs d' Equipe to be nominated by fellow Chefs d'Equipe by submitting a written explanation as to why that chef deserves to win the Albers Award.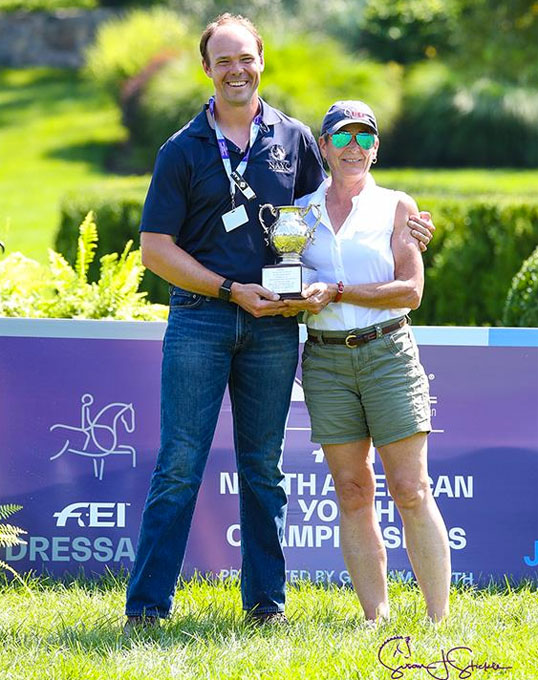 Photos © Sue Stickle
Related Links
Callie Jones Wins Individual Test Gold at 2018 North American Young Riders Championships
Chase Shipka Awarded 2017 Fiona Baan "Pursuit of Excellence" Memorial Trophy
Nicholas Hansen Awarded 2016 Fiona Baan "Pursuit of Excellence" Memorial Trophy
Catherine Chamberlain Awarded 2014 Fiona Baan 'Pursuit of Excellence' Memorial Trophy 
DelGiorno Dances Her Way to a Freestyle Gold at 2009 NAJRC
Leslie Eden and Region Three Gold Medal Dressage Winners at 2001 NAYRC
Sue Bender, Recipient of 2017 Patsy Albers Award Perpetual Trophy
Joan Clay, Recipient of 2016 Patsy Albers Award Perpetual Trophy
Heather Oleson Awarded 2015 Patsy Albers Award 
Debbie DelGiorno Recipient of 2014 Patsy Albers Award Perpetual Trophy
Patsy Albers Award Fund to Honour High Performance Young Riders