2018 PS Online Auction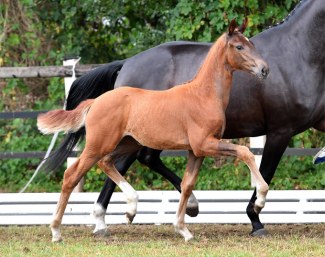 On 11 August 2018 the fifth PSI Online Foal Auction will start and the top collection is gifted with chique, charm and World Championship genes!
In Ermelo, The Netherlands, the best young dressage horses in the world were assessed. At the CHIO Aachen in July the world's best show jumpers competed for the most coveted victory in the Grand Prix. Absolute top horses with top genes; genes which can be found in the collection of the fifth PS Online Foal Auction!
The Vitalis son Villeneuve enthused in Ermelo with his exceptional basic gaits, expression, elasticity and outstanding rideability. Villeneuve became the reserve World Champion in the 6-year old division. In the PS Online Foal collection there are three offspring from top producer Vitalis, who all have the best dressage blood in the dam line. 
In the 7-year old division in Ermelo there were two medalists who are sired by one of the world's most beloved and used sire: Furstenball. He passes on high modern, excellent performance blood to his offspring and the collection has two hand-picked colts by Furstenball. 
In front of 40,000 spectators the CSIO Aachen Grand Prix took place in July. Five top show jumpers qualified for the jump off and all five were fault-free. Two of them were offspring by Balou du Rouet. He belongs in the top 10 of the world's best producing jumper sires and is of course also represented in the PS Online Foal collection. Furthermore there are combinations with world class genes from Big Star x Eldorado van de Zeshoek that will thrill the show jumping experts. The June born filly Big Eldacenta is exactly this combination of chique and charm.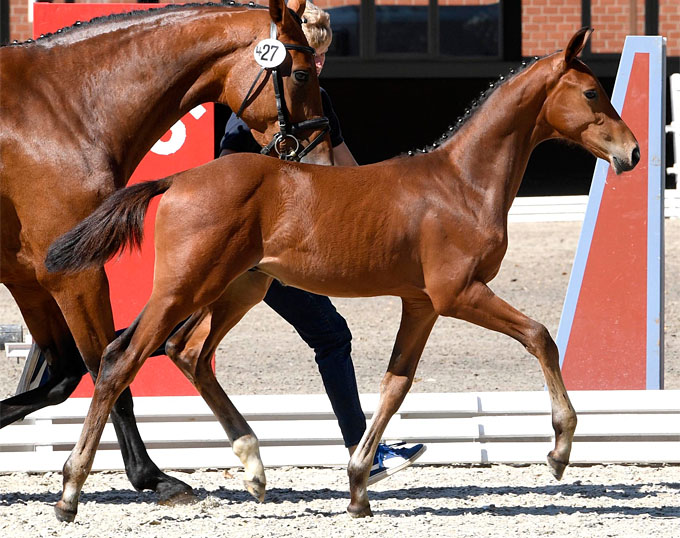 The fifth PS Online Foal Auction features highly modern breeding with exclusive attention for performance. It started as a pilot project last year, but now is a confirmed auction on the international equestrian scene. The concept of the PS Online Foal Auction works and offers a win-win situation for all: the breeders, the foal buyers and most of all the mares and foals. No travel stress, no hectic. It offers a relaxed platform for carefully selected top foals, which can be discovered and bought by clients from all over the globe. 
The collection of foals will go online on 11 August 2018 at www.ps-online.auction. The collection can be viewed with action videos, photos and a description, pedigree and the veterinary report. 
Those who want to bid can sign up in a few clicks.  The bidder will be informed by email or SMS (optional), when a higher bid has been placed or when s/he is the highest bidder. 
The auction ends on 21 August 2018. 
For more information, visit www.ps-online.auction or contact Hengsthaltung Paul Schockemöhle in Mühlen, Tel.: +49-(0)5492-960135 or cell: +49-(0)171-7249870