2018 European Pony Championships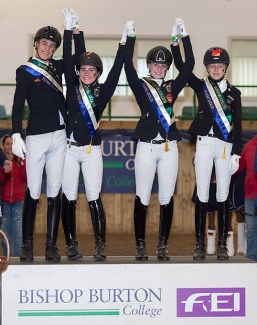 Germany has won the team gold medal at the 2018 European Pony Championships in Bishop Burton, United Kingdom, on Thursday 9 August 2018. Denmark claimed silver and The Netherlands was back on the podium with bronze. 
Germany Has Firm Grip on Gold
Germany was in the lead after the first group of riders had competed in the team championship test on Wednesday 8 August and the strong pony nation only confirmed its dominance even more on Thursday.
Not double European Pony Champion Lucie-Anouk Baumgurtel, but the south German based Moritz Treffinger became the star of the team aboard his 10-year old mare Top Queen H (by Top Anthony II x Dark Rubin). The judges panel, which consisted of Lopes, Ebert, Van Daele, Wessels and Romanov, unanimously placed the pair first with 77.429%.
Baumgurtel and her 14-year old buckskin gelding Massmiliano (by Monsun N x Cap Cennedy N) have been unbeatable in 2016 and 2017, but this year the pair has struggled to find that consistently winning form and in Bishop Burton they started off with a 72.286% earning ride and seventh place in the team test, making them the scratch score for the team.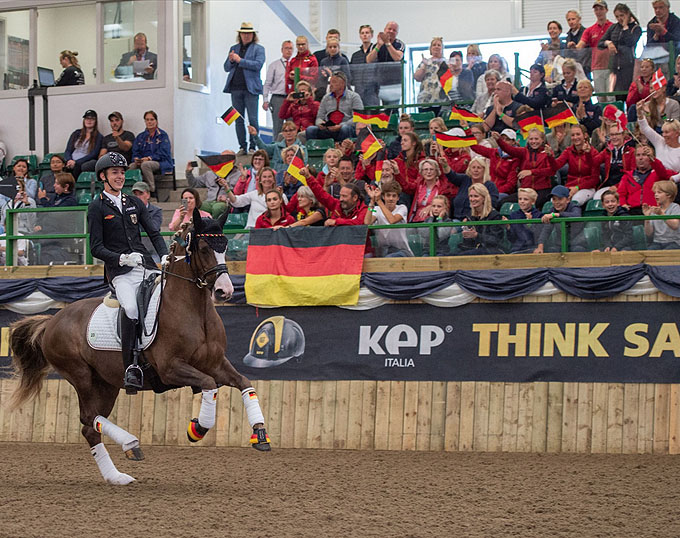 The judges struggled to score this highly decorated combination with judge Van Daele having them at 75.286% and Lopes at 68.000 (30th place!). There were issues with the halts as well as one simple change. 
Germany's team total for gold was 226.62 point with contributing scores from Treffinger, as well as the group 1 riders Jana Lang (74.514% - 3rd) and Julia Barbian (74.343% - 4th). The team total was no less than seven percent ahead of the silver medalists.
"Moritz really rode well and executed everything meticulously," said German team trainer Conny Endres. What happened to Massimiliano at the beginning of the test is still unclear. "We don't know what bothered him. In the warm up he was his usual self and Lucia still managed to make the best of it."
Denmark Climbs to Silver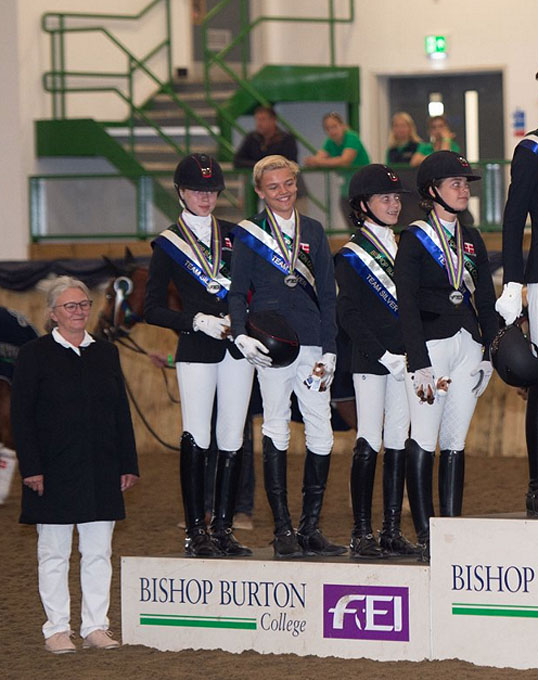 The Danish team were on silver repeat in Bishop Burton having also won this colour of medal in 2016 and 2017.
Denmark's leading rider was team new comer Alexander Yde Helgstrand on the highly experienced FEI pony Adriano B, a 12-year old Rhinelander gelding by De Angelo B x Flying Dream previously competed by Danes Claudia Kjaer and Karoline Rohmann. Helgstrand scored 75.371% for a second place finish. 
Denmark's second contributing score come from another team rookie, Sophie Winther Andersen on one of Denmark's most consistent team ponies, the 16-year old Rhinelander stallion Der Harlekin B (by Golden Dancer x Dornik B) who is now competing at his sixth, consecutive European Pony Championships! Winther Andersen finished eight with 71.943%. 
These two scores, as well as Maja Emilie Leth's 71.714% from Wednesday brought Denmark's team total to 219.028 points for silver. 
Holland Back on Bronze
At the 2017 European Pony Championships in Kaposvar, Hungary, the Dutch team was pushed off the podium by Great Britain, but the orange team came back this year and grabbed the bronze ahead of the British home team.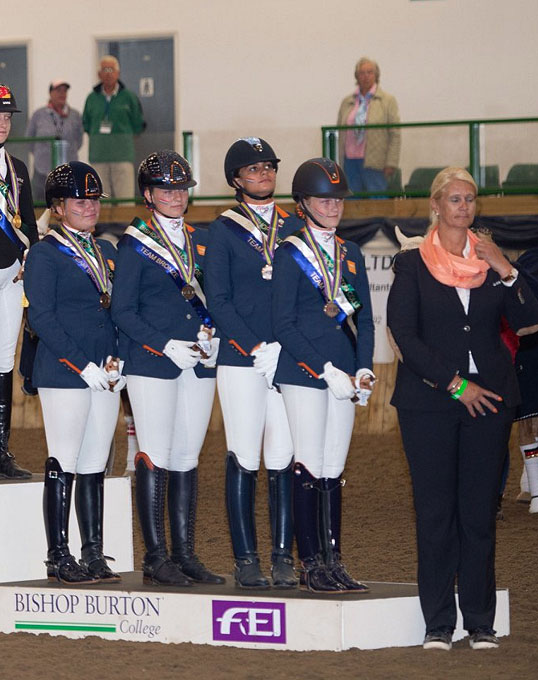 Holland's best scoring rider was Micky Schelstraete on Rose van der Lof's 16-year old Hanoverian bred Elin's Noncisdador (by Nostradamus x LP Nixen). The highly seasoned grey stallion made his mileage count and helped his rider put 73.829% on the board to place fifth in the team test. Their marks ranged from 72.28 to 76.143%. A bobble in the extended canter was the only issue in the ride.
Team new comer Kiki Romney and the 10-year old Dutch Welsh pony Reedborder Amazing (by Bodo x Bokkesprong Czardas) were sixth with a personal best score of 73.457%. Fleur Prinsen achieved 71.429% on Wednesday and this brought the team total to 218.715 points and the bronze medal.
"We are super happy with bronze," said Dutch team trainer Monique Peutz. "We had hoped for a medal but knew it would be difficult. I have to say that everyone rode very strongly at this Championship and there has been good judging. Aside from Micky all are team new comers. It's a strong team, but it always has to work out at the Championship itself."
The highest placing non-team medal winning rider was Swedish My Sandgren on the 13-year old stallion Twenty Two (by Durello Top x Mister Man). She landed 11th place with 71.400%. For the home team, Sophie Taylor led the British effort on the Dutch registered and British bred George Clooney BS (by Caesar) with 71.314% and a 12th place. 
Photos © Bishop Burton Equine Centre
Related Links
Scores 2018 European Pony Championships
Eurodressage Coverage of the 2018 European Pony Championships