F.O.C.U.S.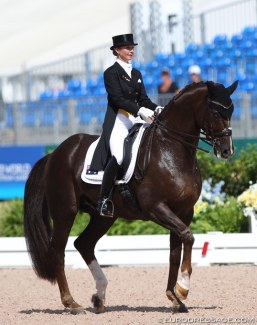 It was a watershed moment for Australian Dressage and Kristy Oatley at the 2018 World Equestrian Games in Tryon, U.S.A. The Hanoverian gelding Du Soleil carried her to a, Australian record score of 74.605% in the Grand Prix Special.
In hot, humid conditions the pair kept their cool and everything came together for a memorable test that thrilled the large crowd of Australian supporters and left Oatley overcome with emotion as she left the arena.
"It has sort of hit me, but it hasn't. Before it someone said what would your ideal score be and I said that to hit 74 would be an absolute dream and we did it," said Oatley.
The effort earned her 12th place overall against the world's best and a spot in the Freestyle on Sunday which was an unexpected outcome. Due to heavy rain fall because of Hurricane Florence, the freestyle was cancelled though.
Oatley now holds the Australian record for the Grand Prix Special and Freestyle. Her cousin Lyndal and Sandro Boy still hold the Grand Prix record for the highest score ever achieved by an Australian rider (72.800%)
Australian Dressage Team Chef D'equipe Deb MacNicol said;
"I think this is very exciting for her because she represented Australia for the first time in 1998 in World Championships in Rome at the age of 20. She then went on to Sydney 2000 as a 22yo who had been living in Europe for ten years. She has worked very hard ever since. This is a very nice horse, good quality world standard and today she rode as well as I have ever seen her. It's the shot in the arm we need, it's exciting for Australia and hopefully we can gain momentum from it," said MacNicol.
Making Oatley's outstanding achievements as a rider even more significant is the busy personal life she leads. She's the mother of three children based near Hamburg, Germany, but still manages to make herself enough time to get her horses going.
She travelled on the plane to Tryon with Du Soleil and was with him through the entire quarantine process leaving no stone unturned in his preparation.
Photo © Astrid Appels
Related Links
Kristy Oatley Quits Training in Holland, Reinhard Nielsen Now Eyes on the Ground
Kristy Oatley and Du Soleil On the Road to Omaha
Kristy Oatley Added to 2012 Australian Olympic Shadow Team
Du Soleil Sold to Kristy Oatley as Rio Hopeful
Kristy Oatley's Clive Sold to Australia