F.O.C.U.S.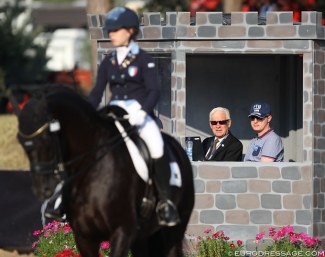 Judges often face much criticism from the dressage community, but if you understand the lengthy and ongoing training that international judges undertake to get to where there are, you begin to see that they are all striving and working hard to get it right for the good of the sport! 
After a conversation recently, I felt it important for people to understand just what it takes to be an international judge.
I decided to talk to a few international judges about their rode to the judging top.
Leif Törnblad
Danish 5* judge Leif Törnblad started to ride at age 9 and got his first horse at the age of 14. 
"I competed in dressage, show jumping and eventing at low and medium level until I got another horse when I was 19. With this horse I did a little showjumping and dressage Up ti Intermediate I. I became regional champion and won a lot of competitions on that horse," said leif.
On his next horse Leif began to focus on dressage. After having moved to England for one and a half years, Leif made it into the top 20 ranking list, while at the same time working with British Petroleum as an economist.
"My judging career started in Denmark when I was only 24 years old and I quite quickly became a Grand Prix Judge (1984). I was Chef d` Equipe for the Danish Dressage team from 1985-1992 and in 1992 I was asked by the Danish Federation to try to become International Judge," adds Leif.
By 1993, as a Candidate Judge (3*) Leif judged at his first European Championships, judging the juniors in Helsinki. "I have since then judged more than 25 international championships including 2 Olympic Games and 6 World Cup Finals," he added.
During the time when his wife Anne Grethe was competing Internationally Leif was appointed to judge the European Championships for ponies, Juniors, and Young Riders almost every year.
"My wife Anne Grethe was European Champion, silver medalist at the Olympic Games,  World Champion and World Cup winner. All the time when I was travelling with her and or the Danish team I tried to get time to sit in the spectator stand and judge on my own, that way I gained experienced and became fast since I also was my own scribe," Leif reminisced. "After our marriage I decided to stop competing and focus on helping my wife and judging. I became International (4*) Judge in 1995 and a 5* in 2005."
Leif comments that to be a good judge it is useful to have been an active competition rider yourself and the FEI is requiring new judges to have been riding at Prix St George level.
"I also think it is useful if the judge continues to ride," he said. "You also have to judge a lot to be in top shape . Apart from that you need a good eye and a natural feeling of how a horse is when it is supple, through over the back and engaged. It is not a bad idea to have trained other riders. I still ride and we have 3 Grand Prix horses in our little stable."
by Sarah Warne - Photo © Astrid Appels
Related Links
Wüst, Törnblad and Roudier New O-Judges
Leif Tornblad, a Special Back to Back
Tornblad Suspension Causes Discussion on Social Media
Dutch Equestrian Federation Files Complaint Against Danish 5* Judge Leif Tornblad