Oldenburg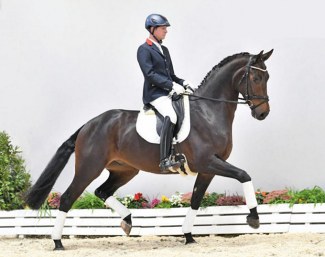 The 65th Winter Mixed Sales in the Oldenburg Horse Center Vechta shone with excellent Oldenburg horses and happy customers. Auctioneer Fabian Kühl gave the international customers a very special Christmas. Especially the Oldenburg show jumpers were in great demand.
For the top price of 68,000 euro, a regular customer from Switzerland found an unique Christmas present in Vechta: the four-year-old high flyer Christiano (by Christian - Recaro Brillant), bred by Diedrich Fick, Buxtehude. "A four-year-old with all possibilities, top technique as well as a lot of scope and the highest motivation make this very interesting youngster so covetous", emphasizedauctioneer Fabian Kühl.
Second price peak was 48,000 euro for Summer Air (by Spartacus - Numero Uno), bred by Bernhard Moss from Meppen, and exhibited by Yvonne Trojahn from Meppen. She will mpve to the international jumping stable Lindelöw in Sweden, where the young owner will be trained for top-class sport.
The third best selling horse was the strong-moving Focus (by Follow Me OLD - Statesman - Dream of Heidelberg I), bred by Marcel de Wilde in Belgium. Dam Soraya is the sister of the Grand Prix winning Renaissance Tyme (by Royal Diamond) under Evi Strasser and her daughter Tanya Strasser-Shostak from Canada. The magnificent gelding moved to a prestigious dressage stable in Bremen for 45,500 euro.
A German dressage lover bought Quality Tyme (by Quantensprung x Placido) for 36,000 euro, while Helgstrand secured Good Guy (by Grey Flanell x Sir Donnerhall) for 35,000 euro.
Clients from Spain paid 28,000 euro for Furstenboy (by Furstenball x Sunny Boy). Spaniards Diego Martínez del Moral and Victor Álvarez paid 25,000 euro for Diego (by Destano x Argentinus). Beatriz Aguilar bought Fonné (by Fursten-Look x Don Gregory).
A Belgian customer bought Zirkon (by Zonik x Florestan) for 26,000 euro, a Swede got Sunset (by Sir Donnerhall I x De Niro) for 25,500 euro, while a French customer acquired Dorian Grey (by De Niro x Lord Liberty G) for 25,000 euro.
Americans secured Babylon Berlon (by Bordeaux  Sandro Hit) for 26,500 euro, Leonie (by Lestat x Ginsberg) for 25,000 euro, and Qimagic (by Quasar de Charry x Silvio) for 23,000 euro.
Wilhelm Weerda, president of the Oldenburger Verband, resumees: "The Oldenburger Verband can look back on a successful breeding and sport year 2018. Quality is crucial - that's our golden rule, which has been impressively proven again this year. The extremely successful auctions throughout the year and the growing international customers have shown that we are on the right track. The origin of this are our successful breeders who combine the best with the best. On behalf of the Oldenburger Verband, I wish you, dear Oldenburg breeders and friends, a Merry Christmas and good luck, success and health in the new year for you, your family and your horses."
Oldenburg fans from abroad purchased 19 of the 32 horses. The Oldenburg horses will bring joy to their new owners in USA (4), Spain (3), Sweden (3), Switzerland (3), Belgium (2), Chile (1), Denmark (1), France (1) and the Netherlands (1).
The 2018 Oldenburg Winter Mixed Sales achieved an average price of 25,234 euro.