F.O.C.U.S.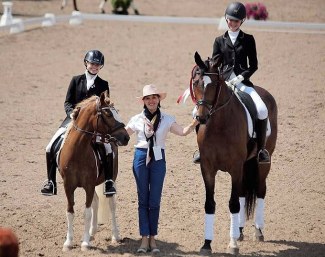 Judges often face much criticism from the dressage community, but if you understand the lengthy and ongoing training that international judges undertake to get to where there are, you begin to see that they are all striving and working hard to get it right for the good of the sport! 
After a conversation recently, I felt it important for people to understand just what it takes to be an international judge.
I decided to talk to a few international judges about their rode to the judging top.
Natallia Rubashko
"The top judge has to be honest, avoid nationalistic judging, follow the Code of Conduct and never complain of being tired, or ill, or in bad mood," says Natallia Rubashko, 4* FEI Dressage Judge from Belarus.
Beginning her judging career as a judge secretary, Natallia learnt that being a top judge is about strength of character and perseverance.
"Following the dissolution of the USSR, Belarus became an independent country in 1991 and started to create its own National Federations. In 1992 the Belarusian Equestrian Federation was organized, and has been affiliated with the FEI since 1993. Of course, we began to host international shows and I was that lucky person who was invited to join the team of organizers because I spoke English, rode Dressage and knew how to work on a computer. To work as a judge secretary for many top FEI judges was an excellent experience," Natallia explained.
To judge at the top one has to have a strong will and work ethic. Natallia was reminded of this a few years ago when she was judging at the Baltic Dressage League show in Latvia.
"The children class was scheduled as the last in the evening. At that moment I had had already enough horses to judge but I agreed to continue. I was sitting and thinking how tired I was. But when I looked at the first kid who was preparing to enter the arena I said to myself: "STOP! Look at this kid. He is not guilty that the class was scheduled so late and you are in a bad mood because you are tired. He was training for a long time, arrived to this show from hundreds of kilometres away, did his warm up without complaining about the starting hour, all just to have only 5 minutes to show a judge what he and his horse have learned and hopefully get an objective assessment. So you have no right to complain. It's your personal choice to do this job and you should do your best"," Natallia told herself. "Now I remind myself of this experience every time I am judging."
Going on to later become the chairman of the Judges Committee of the Belarusian Equestrian Federation, Natallia passed the exam to become an international judge in 2006. 
"From the very beginning I have been supported by Polish 5* FEI Judge Wojciech Markowski. In general, he has encouraged and helped many judges in our region and his untimely death is a great loss for us. So when I have received the proposal from the IDOC Board to take over the position of Representative for Central & Eastern Europe to replace Wojtek because he passed away I felt very privileged for the offer and accepted it with a great honor. In 2017 I was officially elected to this position. This year I also became the FEI Young Horse Dressage Judge after the FEI Course in Moscow," she added.
To highlight the extensive knowledge and understanding that the world's best judges possess, Eurodressage has been asking our judging leaders about how and why they give constructive advice to riders on how they can ride balanced and accurate tests.
Natallia advises that to effectively influence the horse, the rider's job is to find his own balance first. 
"The soft back, open hip angle and long upper body, give the rider suppleness and strength to keep their position in balance no matter which horse is under the saddle or what the horse is doing. The rider needs to be able to control and optimise the horse's movement with their seat, as well as absorbing the horse's movement with their body."
Natallia notices that the balance of the rider shifts back slightly when the hip angle is open versus closed, helping the horse shift his weight off the forehand. 
"When the rider learns to open the hip angle and soften the seat muscles to find their own balance, the horse's back can then soften and he can come more through from behind—meaning the horse allows the rider's aids to move through his body unrestricted from front to back and back to front.  Otherwise, the rider uses the horse to balance."
In order to help riders improve, Natallia says that in this case a judge should tell riders about problems with their balance as well as give them correct recommendations.
"It's also important to give appropriate comments while watching the movements. Generally speaking almost all movements have such characteristics as "balance". But more obvious movements are transitions, lateral movements , half and full pirouettes. The accuracy of the figures can also characterize balance."
Using "cutting off corners" as an example, Natallia sees this as a sign of a lack of balance. 
"A lot of riders make corners complicated  by not being brave enough to ride right into them. They turn too early, which means they lose marks for accuracy, and it also means that they don't reap the benefits of having the corner to rebalance and prepare for the next movement."
In the case of the above, or where a horse and rider are showing a lack of balance, Natallia typically gives a general comment like "loosing balance", "lack of balance", "more balance" or "well balanced" if it's good.
"When I see the problems with rider's seat, hands or legs I try to clarify what exactly happened," she explained. "Riders often pull too hard on their horses' mouths because of nerves, lack of balance or an uneducated leg. The horse can't carry himself or work correctly if he's using the rider's hand as a fifth leg. A stiff, restrictive hand, or a variable or see-sawing contact are incorrect and encourage leaning or evasion of the contact."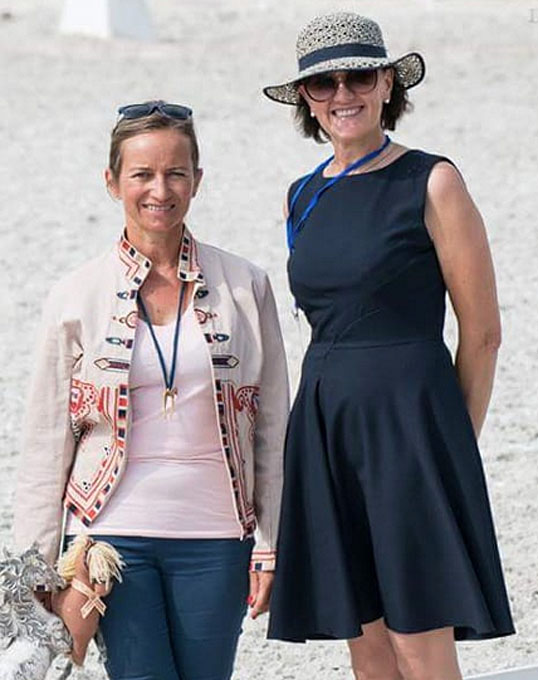 When Natallia sees the riders using the reins to balance themselves instead of developing their own balance in the saddle she likely gives a comment like "too much hands" or "too stiff hands/arms".
"If the rider has stiffness in the ankles, tight leg muscles or tight hips his upper body will have a tendency to lean or tip either forward or backward. To influence a  horse effectively, the rider cannot allow his upper body to tip in front of or behind the motion. Stiffness in any part of the lower body joints will often cause a rider to tense up or stiffen up the upper body, as they try to create stability in response to the compromised balance –particularly in the shoulders."
According to Natallia riding with an effective seat allows the rider to use their seat in coordination with their legs and hands to balance the horse in the corners, collect his stride, and perform more advanced skills, such as the lateral work, and the half and full pirouettes. 
"The most suitable comments to help a rider become aware they need to give this area more attention would be "sit more relaxed", "develop relaxation", "improve your balance", "work on your seat"."
by Sarah Warne - Photo © Private - Lukasz Kowalski
Related Links
What It Takes to Be a Judge. Advice from the World's Best: Leif Tornblad
What It Takes to Be a Judge. Advice from the World's Best: Tiina Karkkolainen