End of the Year Questions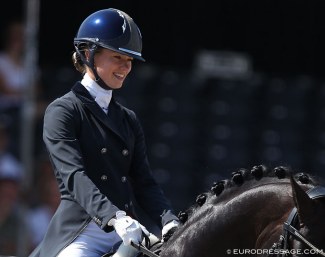 Between Christmas and New Year, Eurodressage used to feature an interview series called "End of the Year Questions". We asked some stand-out dressage figures of 2018 to review their year and share their personal enterprises, observations, endeavours and opinions on life and equestrian sport. This year we changed the format slightly and went for a heart-to-heart with some dressage personalities.
British Charlotte Fry is the 2018 European Under 25 Champion on Dark Legend and 2018 World Young Horse Champion on the 7-year old Glamourdale. This young Grand Prix rider is an assistant trainer at Van Olst Horses in The Netherlands
In her own words.. 
I describe myself as.... Passionate!
Dressage changed me....In every way! The horses and the sport rule my life
When I'm not working, ... I'm eating or sleeping! I have a great t shirt that sums up my life 'eat, sleep, ride, repeat'
My biggest vice is....Sometimes I can be very stubborn!
The last time I was embarrassed was...When I turned up to the physio at 6.30am on Christmas Eve and he asked me if I was still sleeping? I had no idea that I had 2 completely different socks on
The last time I cried was...Yesterday with laughter at one of Anne's Christmas jokes, I almost fell off my chair crying with laughter
My most treasured possession is...My medals! They still amaze me!
The best book I've read is...On holiday this year I read 'why the Dutch are different' I learnt a lot.
My greatest regret is...I don't really have regrets.. I just try to accept things as they are
I would like to be remembered as...I hope that one day I will have enough influence on the sport that I can be remembered as myself.
Photo © Astrid Appels
Related Links
Heart to Heart 2018: Hans-Christian Matthiesen
Fry Secures Kur Gold at 2018 European Under 25 Championships
Glamourdale Shining Star of 7-YO Final at 2018 World Young Horse Championships