End of the Year Questions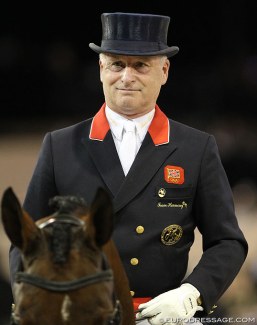 Between Christmas and New Year, Eurodressage used to feature an interview series called "End of the Year Questions". We asked some stand-out dressage figures of 2018 to review their year and share their personal enterprises, observations, endeavours and opinions on life and equestrian sport. This year we changed the format slightly and went for a heart-to-heart with some dressage personalities.
British Richard Davison is an international Grand Prix rider and represented Great Britain at the 2012 Olympic Games. He also works on several show organizations as well as consulting for FEI working groups.
In his own words.. 
I describe myself as…. I don't describe myself. I hate doing that. I have a media biography to save that embarrassment on a professional level, but after that there's definitely no analysis and no description!
Dressage changed me…. I don't think dressage has 'changed' me but it (more accurately horsemanship) has 'shaped' me, and given me huge enjoyment, drive and a sense of purpose. I have always loved riding and being around horses even since I had my first pony as a young child. I do not take that for granted, and more than 50 years later I know how lucky I am still to be riding and competing and getting the same level of enjoyment. 
When I'm not working as a rider… I am a Trustee of World Horse Welfare, a Visiting Fellow for Nottingham Trent University and on a commercial level I work with our sponsor partners for which we are Brand Ambassadors and assist with product development or opening up market opportunities. I am also part of the organisational team for shows such as Olympia CDI-W, Royal Windsor CDI4*, Bolesworth CDI4* and Liverpool. I train and mentor a limited number of private dressage students and have monthly training obligations in Germany and the UK,although these days these are mostly focused on training show jumpers. I have a stable of 14 show jumpers which keeps me busy on the jumping show circuit, as well as at dressage shows, too. I also enjoy doing the occasional TV and media work such as for Horse and Hound magazine and also selectively still accept some legal work.
My biggest vice is…. Oh I've got lots of them, as my wife is always reminding me, but I've no idea which is the biggest. Is gin a bigger vice than red wine?
The last time I was embarrassed was… At Olympia - I was on my way walking from the nearby hotel to the show. In the half light of early evening, I thought I spotted my brother-in-law across the busy London street in rush-hour. I was in my breeches and quite close to the show ground entrance, so I shouted at him and beckoned him to make his way though the traffic and cross the road to my side. He duly took his life in his hands and weaved between the traffic, motor bikes and fumes, but as he got close I realised I had never met this guy before in my life, and he certainly was nothing like my brother-in-law. When he  finally made it across he asked what I wanted, and I had to think quickly. I said I thought I saw something drop out of his pocket onto the pavement and suggested he went back across the road to check. He looked confused and patted his pockets for his phone, but without giving him time to think I stressed the importance of him losing no time to get back across the road  and collect the 'missing item' and ushered back into the traffic, at which point I legged it into the crowds queuing for the show and hoped I would never see him again. Recognition errors seem to be a recurring issue for me and sadly I cant blame it on age.
The last time I cried was... The day before yesterday. I was listening to the radio in the car while driving. It was a story about the background to Pink Floyd's 'Shine On You Crazy Diamond' which featured a mother whose son had committed suicide due to a mental health issue. Luckily I was alone in the car as, although I cry much more easily these days - both on happy and sad occasions - I'm still 'old school' and have not adjusted to weeping in public..but its only a matter time.   
My most treasured possession is… my family
The best book I've read is… I've read lots of 'good' books recently, but I haven't thought which is the 'best'. I enjoy Felix Francis and Tami Hoag novels, but currently I am really fascinated in cognition and especially how it relates to how horses learn and its impact on training methodology. So my books are all rather science and brain related.
My greatest regret is… I don't do regret, it's pointless. I do make lots of errors though, and from some of them I do (eventually) kind of learn.
I would like to be remembered as.. I'm realistic as far as this is concerned. Recently I have said goodbye to too many colleagues with whom I have shared my 'horsey journey'. I think memories are a very personal thing and I've no idea if anyone will remember me  - it would be nice if my children did though, at least for a short time. But I will have lots and lots of lovely memories of horses and people - both friends and colleagues - to take to my grave and keep me amused….at least until I decide to return.