End of the Year Questions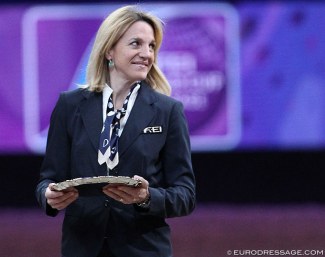 Between Christmas and New Year, Eurodressage used to feature an interview series called "End of the Year Questions". We asked some stand-out dressage figures of 2018 to review their year and share their personal enterprises, observations, endeavours and opinions on life and equestrian sport. This year we changed the format slightly and went for a heart-to-heart with some dressage personalities.
Our last interviewee for the 2018 series is Swiss-Dutch Bettina de Rham, who is the FEI Director of the Dressage and Para-Equestrian Dressage Department since 2016. She has been with the FEI since June 2008, and is also in charge of the Vaulting and Reining disciplines. She is an amateur Dressage and Eventing competitor and an event organiser at national level. 
In her own words.. 
I describe myself as....passionate, ambitious, dedicated, caring and enthusiastic! As with everyone else… I also have my faults… I can be stubborn!
Dressage changed me....I would rather say that horses changed me… I started riding late (I was previously a skiing athlete and trainer). Starting on that equestrian journey was a dream come true and still is. I treasure every moment I spend with my horse and with horses in general. Dressage (riding I mean) is taking me to another level of communication and this feeling of "being one" with a horse is very special and unique. #TwoHearts – I'm living the brand!
When I'm not working ...I am riding, running, spending time with family, friends and my dogs – I probably should have listed my dogs first??
My biggest vice is....too passionate? When I like something, I do it 200% and all the rest comes second, which can be annoying or frustrating for those around me
The last time I was embarrassed was... when I stood in the stables to have my picture taken with the great Totillas. The poor horse had to stand there with many of us for the same reason… I was embarrassed to impose on him like this but,  at the same time, I let my "little girl" heart speak and didn't want to miss this special moment!.
The last time I cried was...at the WEG Medal ceremony in Para Dressage… what the Athletes achieve and what the Horses do for and with them is particularly emotional for me
My most treasured possessions are… Alkony my horse, Peanuts and Cashew my two dogs.
The best book I've read is...I read a lot and many books have been great journeys – I mainly read French novels and I regularly read books on Dressage and Jumping exercises, such as those written by Reiner and Ingrid Klimke. 
My greatest regret is...that I didn't start riding when I was a child and that I cannot make a living out of my passion for riding. However, my position with the FEI is taking me as close as possible to this dream, so I feel very privileged and lucky!
I would like to be remembered as... a happy and positive person, I don't let negativity consume me! 
Photo © Astrid Appels
Related Links
End of the Year Questions and Answers 2017
End of the Year Questions and Answers 2013
End of the Year Questions and Answers 2012
End of the Year Questions and Answers 2011
End of the Year Questions and Answers 2010
End of the Year Questions and Answers 2009
End of the Year Questions and Answers 2008
End of the Year Questions and Answers 2006