2019 Helgstrand Dressage Open House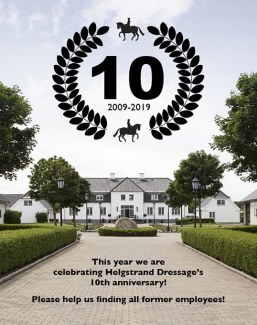 Helgstrand Dressage will celebrate its 10th anniversary with a special Open House Day and Stallion Show on 13 April 2019. 
13 April will be full of celebration, honouring the accomplishments Helgstrand Dressage has achieved in the last decade.
The day begins with an open house at the brand new facility "Ny Ravnstrup" in Hjallerup from 13h00 - 15h00. Visitors can explore the brand new facility where Helgstrand rears its foals and youngsters, before they move to the main facility in Vodskov to get ridden. 
The festivities then continue at Helgstrand Dressage where the stallion show in partnership with Deckstation Paul Schockemöhle starts at 15h00. The admission to the stallion show is free and no sign-up is required.
"We are looking forward to showing  our 'old' stallions, who are already quite far in terms of training, as well as our new super stars," said Andreas. "This afternoon we will also show some of the best stallions from Paul Schockemöhle in Germany."
In the evening there will be a 10th anniversary party for all current and former employees, business relations and friends of Marianne and Andreas. The party starts at 19h00.
Mark your calendars for this spectacular day!
More details about the Open House Day and Stallion Show will follow soon. The event will be streamed live on Clip My Horse.
Discover Helgstrand Dressage on www.helgstranddressage.com or on Facebook.