2019 CDI Hagen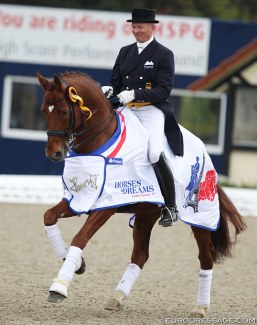 No developing Prix St Georges horse classes for 7-year old Denoix. German team rider Hubertus Schmidt took the American owned New Kid on the Block for a plunge into the small tour division and won at the 2019 CDI Hagen Horses and Dreams Meets France competition at Hof Kasselmann in Hagen, Germany. 
The very talented 7-year old Oldenburg stallion Denoix is definitely a rising star for Schmidt's future and one to watch!
Bred by Friedrich Kuhlmann and owned by Nancy Good of Plum Creek Hollow (PCH) in Colorado, U.S.A., Denoix is by Destano out of Princess (by Pik Noir x Quattro B x Thannhaeuser).
He is a licensed breeding stallion of which the breeding rights belong to the Celle state stud. He was first approved at the 2014 Oldenburg Stallion Licensing and in January 2016 for the Hanoverian society. He did his 30-day suitability test in Neustadt/Dosse and scored 8.09 for dressage and 7.04 for jumping to finish on a total of 7.96 points. 
Denoix began his competition career under Janina Tietze as a 4-year old in 2016 and became reserve champion at the 2016 Oldenburg Young Horse Championships in Rastede. A long-time sponsor of Hubertus Schmidt, Nancy Gooding purchased Denoix at the 2016 Oldenburg Autumn Elite Auction for 300,000 euro.In 2018 Schmidt's student and assistant rider Katharina Hammer presented the stallion at two local shows at M-level and won both.
Hagen was Denoix' very first competition under riding master Hubertus Schmidt himself and the horse was sent straight into the international senior small tour. They were second in the Prix St Georges with 71.647% and won the Intermediaire I with 73.147%.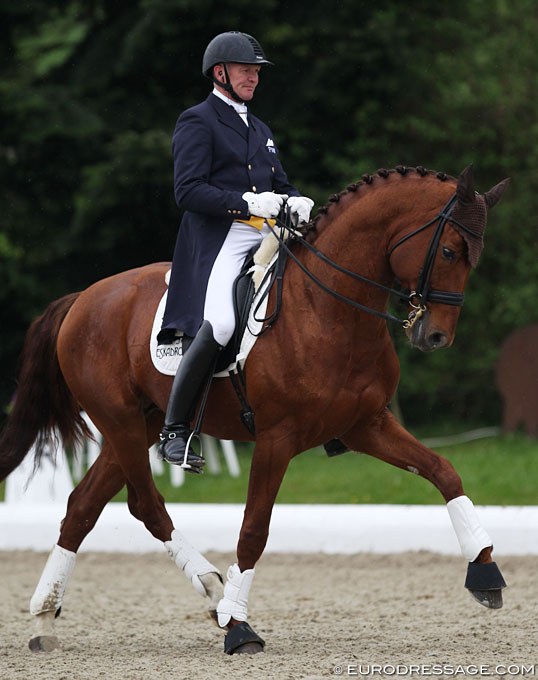 "In the St. Georges there were a very hiccups, but in the Inter I I had a very good feeling for the majority part of the test," Hubertus Schmidt told Dressursport Deutschland. "He was good to ride. I risked much in the extended canter and collected too late for the flying change, which made him do the change in two phases, but overall I have a super feeling and he was nice and loose over the back throughout the test."
The talented Denoix moved with much self confidence through the ring and had an interesting ear play in the prize giving, sometimes flatting his ears and then immediately pricking them back forward.
"He's a rascal for sure, but a fun horse which is incredibly trainable," said Schmidt. "I work this horse maximum 30 minutes per day. It is like with all stallions, you can't ask too much from them and you always have to find the right amount. I tried a few piaffe steps carefully and he's like thunder."
Photos © Astrid Appels
Eurodressage photographed all riders at the CDI Hagen. If you are interested in photos for social media or prints, email us!
Related Links
Scores: 2019 CDI Hagen
Sir Olli, Price Highlight of the 2016 Oldenburg Autumn Elite Auction
Let's Dance: The 2016 Oldenburg Fall Elite Auction in Vechta
Nine Dressage Stallions Accepted at 2016 Hanoverian Stallion Approval
Oldenburg Riding Horses Selected for the 2016 Bundeschampionate