2019 CDI Windsor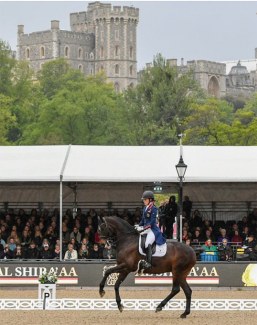 Home favourite Charlotte Dujardin scored a magnificent victory with a score of 78.087% in the CDI 4* Grand Prix on a chilly and damp Thursday evening at the 2019 Royal Windsor Horse Show.
The golden girl of British Dressage, who is a two-time winner at Royal Windsor (2014 and 2018), entered the Castle Arena to warm applause from the knowledgeable crowd, looking resplendent aboard her relatively new ride, 12-year-old bay gelding, Erlentanz, which she took over as a catch ride from student Sonnar Murrey-Brown who broke his leg. Dujardin displayed her trademark extended trot to the delight of those watching on, while her relaxed walk and beautiful extended canter were highlights of her combination.
Dujardin and a quality field of 10 further horse and rider combinations, which included five Britons - among them Dujardin's long-standing mentor, Carl Hester - wowed Windsor's animated audience in the Castle Arena. With competitors building towards the FEI European Championships in Rotterdam, The Netherlands in August 2019, Royal Windsor is seen as an important place to gain some valuable confidence and experience in front of a packed crowd.
The 2019 CDI Windsor is a small British invitational in the garden of Windsor castle. Fourteen pairs were invited to the show, eleven competed and they are mainly Brits, their students or British based riders. Traveling from the European continent were just two pairs: Danish Mai Tofte Olesen (Rustique) and Tommie Visser (Chuppy Checker CL).
Dujardin scored a whopping 78.087% for the victory from the international panel of judges, that included Colliander, Storr, Wust, Almasy and Clarke. The marks were all over the place, with foreign judges Colliander and Almasy at 74.674% and 76.522% and British judges Storr and Clarke rewarding the ride with 80.326% and 81.087%.
"The rain couldn't dampen what was such a special day today at Royal Windsor Horse Show," said Charlotte. "From introducing Blueberry to Her Majesty this morning, to the lovely Erlentanz, owned by Sonnar Murray Brown, winning the Grand Prix tonight! So proud of this super horse."
Carl Hester and his 15-year-old gelding Nip Tuck, whose stable name is Barney, were back on the circuit after a quiet couple of years. The duo, who finished second behind Dujardin with a score of 74.304%. His marks went from 72.717% to 75.978%.
"A rainy but lovely evening at Royal Windsor," Carl commented. "It was nice to compete without the pressure and just enjoy the ride on my old friend Barney; who slotted into a decent second. Will go for it in music tomorrow, so do come down to this wonderful show."
On her winning performance and competing at Windsor, Dujardin commented: "Erlentanz tried his heart out and I'm really pleased with my score, particularly as it was a new combination. I've been competing at Windsor since I was a small kid – it's a fantastic Show for me, with some great people and fans. Seeing all the other disciplines that Windsor offers is great to see. It's always good to watch my boss [Carl Hester] so I'll have to be polite what I say! We bounce off each other and I'm really pleased for him. I just hope and pray tomorrow evening goes according to plan [in the Freestyle]."
Fellow Briton Richard Davison steered his home bred 13-year old KWPN gelding Bubblingh (by Lingh x Picandt) to a third place with 72.978%. His scores bounced from 69.022% from Colliander to 76.087% from Storr. 
Delighted with his performance, Richard Davison, commented: "I'm really pleased with my score but I'm even more pleased with the horse's [Bubblingh] performance. He suffers from what I'd call stage nerves, so I'm really impressed with how he dealt with everything in front of the crowd. He's a real privilege to ride and it was one of the easiest rides I've ever had on him. I rode his mother in the Olympics and we ended up breeding him. He really is such a lovely horse to ride; he's got so much power and talent. I hate to compare him to his mother, but he's a top horse. This Show is truly magical, and it doesn't matter about the rain, as the facilities for the horses, including the stabling and the footing in the Arena are top quality."
Related Links
Scores: 2019 CDI Windsor
Valegro Receives Royal Visit from Queen Elizabeth II
Mount St. John Freestyle's Come Back Planned for 2019 CDI Bolesworth
Al Shira'aa to Sponsor Dressage at 2018 Royal Windsor Horse Show
Hester and Barolo Do the Double at the 2017 CDI Windsor
Carl Hester and Nip Tuck win Small 2015 CDI Windsor Grand Prix Class
Dujardin and Uthopia Repeat Victory in 2014 CDI Windsor Grand Prix Kur
Davison and Dujardin Shine at 2009 Royal Windsor Horse Show