2019 CDI Windsor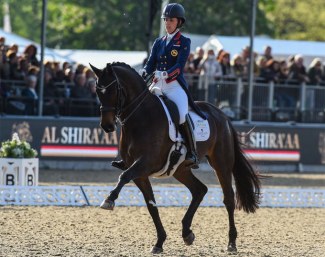 The 2019 CHI Royal Windsor Horse Show basked in glorious late spring sunshine on its third day of world-class equestrian competition with Charlotte Dujardin making it a clean sweep, clocking up two first places from two starts.
After the event had to deal with heavy rainfall on Grand Prix day on 9 May, it fortunately stayed dry for the Kur.   Dujardin commandingly won the Al Shira'aa Grand Prix Freestyle to Music CDI4* on Friday, adding to her previous day's win in the Grand Prix. All three podium finishers racked up huge new personal bests in the atmospheric Windsor arena.
Charlotte partnered her pupil Sonnar Murray Brown's bay 12-year-old Trakehner gelding Erlentanz to an impressive winning score of 81.9% — the first time the horse has achieved over 80%. This was only Charlotte's second CDI with the son of Latimer, whom she is riding while Sonnar recovers from a broken leg.
Carl Hester, who was second in the grand prix, withdrew the 15-year-old Nip Tuck ahead of the freestyle as he was found to be slightly lame. That left 10 combinations to battle it out in the shadow of the iconic Windsor Castle.
Richard Davison and Bubblingh (by Lingh x Picandt) improved a place from the previous day, slotting into second with 78.31%. Last to go, Ireland's Heike Holstein, finished third with 74.915% riding her home-bred mare Sambuca (by Samarant).
Charlotte said: "That's my second freestyle with Erlentanz so it's all really, really new. I wanted to test out a few things today; I wanted to go for a bit more, get more in my extensions, get him a bit braver in that arena."
Charlotte rode to music from her double Olympic gold-winning partner Valegro — who met The Queen at Royal Windsor the previous day — which suited the bouncy Erlentanz well. Her high mark from the five judges came from Germany's Katrina Wuest (84%) and the low of 79.625% from Finland's Maria Colliander.
The popular home rider produced a superb test, showing clockwork passage, ground covering extensions and expressive flying changes. She received a perfect 10 for both her one-time changes and the double pirouette to the right. The only mistake in the test came when Erlentanz dropped into trot coming into the canter pirouette left. But Charlotte is the consummate professional and knows this music inside out, so was able to improvise and repeat the movement later in the test to claw back marks.
"I came in and half-halted but — and it was totally my fault — I think I was too close to the board at the top end and as I went to turn, he just backed off me and trotted," explained Charlotte. "I did manage to do it again and kept thinking the whole way through, 'Where am I going to put it back in, where am I going to put it in?' I decided to do it at the end of the one-times, landed on the left and managed to fit it in, so that was a relief — at least I got it back. I've only ridden him for about three months so it's just a question of getting to know him, finding the buttons and knowing how much I can push, and when I can't."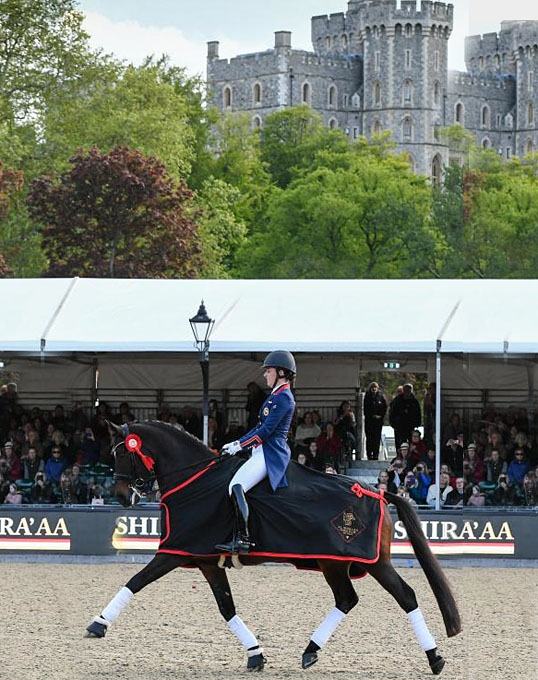 Charlotte is a regular at Royal Windsor, coming into the 2019 show to defend her double wins from last year aboard the young mare Mount St John Freestyle.
"This week's been amazing," she added. "Yesterday I met The Queen with Valegro, and today the sun is shining and this is the most amazing arena to go into. You have the backdrop and the crowd around you. I love this show."
Richard Davison has taken his time with the tall, powerful home-bred Bubblingh. The 13-year-old looked stronger and more balanced than ever before, with particularly notable self-carriage. Richard's bespoke Gangsta's paradise music is fitting for the horse, and he was on the beat, particularly in the piaffe work, which achieved a 9.5 from the judge at C, Stephen Clarke. Richard showed off Bubblingh's straightness and power with 14 flowing one-time changes down the centre line right at the judges, into a pirouette.
Fellow British rider Louise Bell was just pushed off a podium finish by the last combination, but her 73.34% ride to Sweet Home Alabama and Justin Bieber's Despacito was also a new personal best. Her horse, the 13-year-old Into The Blue, is no stranger to Windsor; Louise used to ride him in the showing classes before switching disciplines.
Windsor is always a valuable litmus test for riders hoping to bid for a championship place. The arena is atmospheric and selectors will have been keeping a keen eye on proceedings ahead of this year's European Championships in Rotterdam in August.
Related Links
Scores: 2019 CDI Windsor
Dujardin and Erlentanz Fulfil Favourites' Role to Win 2019 CDI Windsor Grand Prix