Saddlery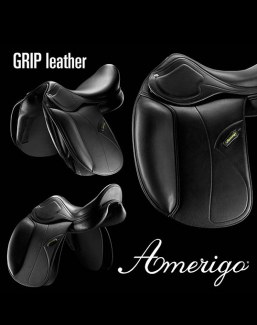 Amerigo's soul is directly connected to the scientific approach of the saddle design, the tailor-made manufacture with the highest quality leather and the deep knowledge of horse and rider needs for top performance.
Research & Development is also a constant commitment for Amerigo, with the aim to fulfill the requirements of a ever changing market.
From this brand philosophy a new leather version for the Amerigo saddles was born: the 'Grip' leather is a specially developed, hard wearing calfskin for the flap that offers all the comfort of the classic calfskin but comes without the lower reinforcement to enable the rider to be even closer to the horse.
In addition to the Pinerolo Leather, Amerigo's famous soft classic calfskin finish and the traditional high quality cowhide in plain or printed leather finish, the new grip leather is available for all Amerigo and Amerigo Vega saddles, including the dressage models in all colours. All Amerigo saddles are individually handcrafted in Italy using top-choice Italian and French hides, coming from qualified tanneries with sustainable working processes.
For further information:
Amerigo Saddles
Email: info@amerigo-saddles.com
www.amerigo-saddles.com