2019 CDIO-PJYR Hagen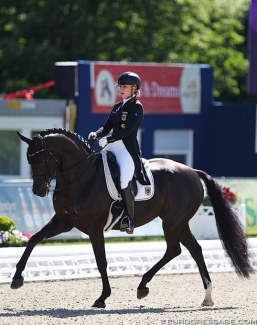 The 2019 Future Champions CDIO-PJYR Hagen, which served as an Olympic test event for Tokyo 2020, came to a conclusion on Sunday 16 June 2019 with Freestyle day. 
In the Almased dressage stadium, music played almost the whole day, not just any music, but the wonderful freestyle music that sounded for the young dressage riders. In the Liselott & Klaus Rheinberger Foundation Prize, places one through four went to German talents. As expected, Semmieke Rothenberger won the age group of young riders, i.e. the U21, with Dissertation. Second went to Helen Erbe with Prince Kaspar, followed by Alexa Westendarp with Four Seasons and Lia Welschof with Linus K. 
At the end of the dressage competitions at Future Champions, other young riders met for their freestyle in the Prize of the Professional Green BV, where the only Spanish rider, Natalia Bacariza Danguillecourt, with her nine-year-old dark chestnut gelding Romantico Ymas won the competition. Second place went to the German rider Henriette Schmidt and Rocky's Sunshine.   
The Children rode out their final in a regular test. Allegra Schmitz-Morkramer with Lavissaro won this prize of the Horse Competence Center Germany ahead of Lisa Steisslinger with Havanna Negra and the Dutchwoman Lara van Nek with Amazing Comeback. 
An annual highlight at the Future Champions are the LVM Masters of the national federations. Here you will find teams of different ages and disciplines that collect points together for a ranking. Thus the long-standing partner of the Hagen tournaments, the LVM insurance company from Münster, promotes the sense of unity between older and younger talents in the jumping and dressage saddles. The LV Weser-Ems secured this year's championship title.  
The P.S.I. events will continue in autumn with the autumn tournaments of the Ankumer Dressur Club on 16-20.10.2019.
Instagram - @hofkasselmann
Facebook – Horses & Dreams / P.S.I. Events
YouTube – Horses and Dreams
#had2019 #horsesanddreams  
Photos © Astrid Appels - NO REPRODUCTION ALLOWED
Eurodressage was on the scene photographing all rider in Hagen that competed there on Thursday. If you are interested in photos for print or social media, send us an email.
Related Links
Scores: 2019 CDIO-PJYR Hagen
Children Give It Their All at 2019 CDIO-PJYR Hagen - Future Champions
Photo Report: Shona Benner on Strong Form at 2019 CDIO-PJYR Hagen
Olympic Flair at Future Champions 2019 CDIO-PJYR Hagen
Future Champions / 2019 CDIO-PJYR Hagen Attracts Talent from All over the World
Espe and Nuit d'Or Win 2019 Hagen Bundeschampionate Qualifier