Oldenburg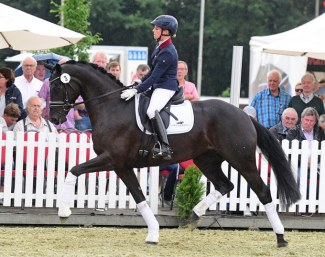 The debut of the 1st Oldenburger Special Edition in open air with brilliant sunshine in the elegantly arranged Reiterwaldstadion was a great success. The collection of sports partners, embryos and elite foals was in high demand among customers around the world.
"We are pleased that the premiere of the 1st Oldenburger Special Edition received so much popularity and that international demand was again high. Especially the interest from overseas was gigantic. In the future ten Oldenburg horses will delight their riders in the USA", summarized auctioneer Fabian Kühl.
A long-time customer from Denmark can look forward to a great time with Great Time. For 165,000 euro, a dressage stable secured Great Time, a daughter of Grey Flanell - Hotline - Rohdiamant, bred by Martin Otten from Steinfeld. "
Great Time is an absolute dream mare with excellent movements and all possibilities for the big sport. I am sure that in the future we will hear a lot about this exceptional talent", says sales manager of the dressage horses Thomas Rhinow.
The second price highlight was the high-flyer Zonic Empire (by Zinedine - Corrado II - Fernando), already successful in 1.30 m jumping competitions. The bay, bred by Rolf Harbeck from Wahlstedt and exhibited by SR Sportpferde from Leipzig, sold for 142,000 euros and will compete for Switzerland as of now.
An Austrian client purchased the black mare Darling (by Dantano x Sorento) for 55,000 euro. 
The average price of the sport horse collection was little over 36,000 euro. Twenty-one sport horses were sold for a total of 761,000 euro. Nine Oldenburg horses will make an international career, they will move to Austria (4), Switzerland (2), Denmark (1), Mexico (1) and the United States (1).
Future star for America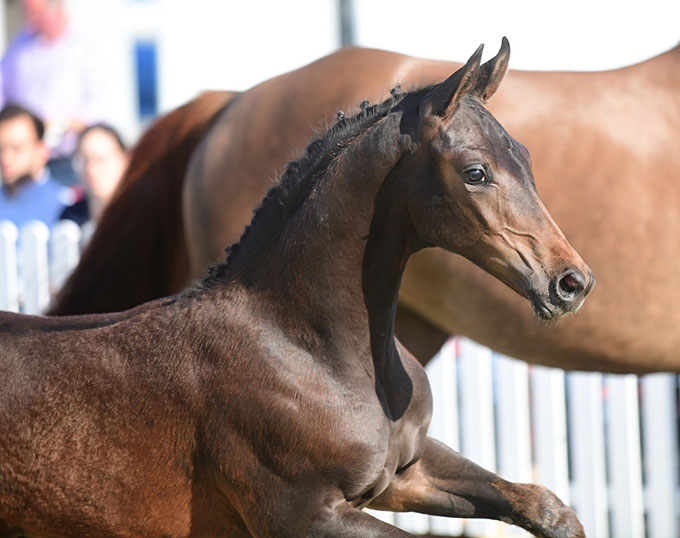 The price highlight of the foal collection was Creed (by Chacco-Blue - For Pleasure - Carthage - Grand Veneur). The jumper colt will move to the United States for 37,000 euro. The rarity from the heritage of the legendary Chacco-Blue is bred by the Italian Franca Zanetti and was exhibited by SR Sportpferde from Leipzig. 
The little sunshine Farrington (by Fürstenball - Romanov Blue Hors - Aquilino), became the second most expensive foal of the collection. For 36,000 euro a buyer syndicate, led by Kerstin Klieber and specialized in stallion rearing, secured this young colt. From this dam line are the stallions Jovian (by Apache), Dream Boy (by Vivaldi), Dream of Heidelberg I + II (by Donnerschlag) and two-time World Young Horse Championship winner Astrix (by Obelisk).
Americans also bought the chestnut colt Battlecry (by Baron x De Niro x Akzent II) for 33,000 euro.
A Hungarian client secured the liver chestnut filly So Sweet (by Sezuan's Donnerhall x Furst Romancier) for 34,000 euro
Dutch clients obtained the black colt Gucci World (by Governor x Bretton Woods) for 25,000 euro, while a German bought filly Elisabeth (by Escolar  x Stedinger) for 24,000 euro.
Swedish customers purchased colt Bombastic (by Benefit x Sezuan) for 22,000 euro. Another Benefit offspring, the colt Brighton (by Benefit x Destano) sold for 20,000 euro and will stay in Germany.
German Grand Prix rider Bernadette Brune acquired the chestnut colt Brecourt (by Belissimo M x Sir Donnerhall) for 14,000 euro.
In total, 54 auctioned foals generated a total turnover of 857,500 Euros. On average, the foals cost around 16,000 Euros. In the future, 20 Oldenburg young stars will be delighted abroad. In detail, they will move to the United States (9), Denmark (2), Spain (2), Hungary (1), Italy (1), Latvia (1), Netherlands (1), Russia (1), Sweden (1) and Switzerland (1).
More Oldenburg Auction News on Eurodressage
Photos © Feldhaus