F.O.C.U.S.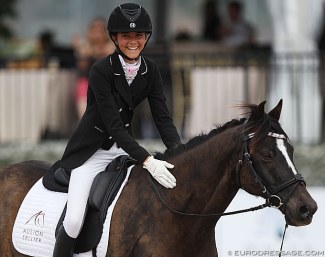 Fifteen year-old Scarlett Hansen of Outremont, Quebec, has been taking the dressage world by storm, claiming win after win at the FEI Pony level across North America with her two pony pals. Not only in Canada but also in the U.S.A. she is wielding the axe of power in the FEI pony division.
As dressage is all about the rider's connection with the horse, her success with 14-year-old Rêve de Glatigny (by Vierzen x Dornick B) and 11-year-old Selle Français Pony, Umour de Glatigny (Doppelspiel x Viersen K) comes as no surprise since Scarlett has been partnered with the geldings since the very beginning.
"They were both born at home to be sold," said Scarlett. "Rêve was my first, so I kept him, and the second, Umour, broke his leg when he was a foal so I couldn't sell him, and that turned out very good for me."
The ponies' names are a reflection of their home breeding: the suffix "de Glatigny" refers to the family's hometown in Normandy, FRA, where both Scarlett and the ponies were born and raised. The names "Rêve" and "Umour" were chosen by the Hansen family, and also have stories behind them.
"'Rêve' in English is a dream," explained Scarlett. "In France, all the names start with a different letter each year. When Rêve was born it was the letter 'r', so we named him Rêve because my sister wanted to call him that. Umour was born the year of the letter 'u'. We called him [Umour, which means 'humour' in English] because the first day we saw him, he came in a canter and lay down on us like a horse that's been human for all his life, so he was really, really funny. And he was born on April 1!"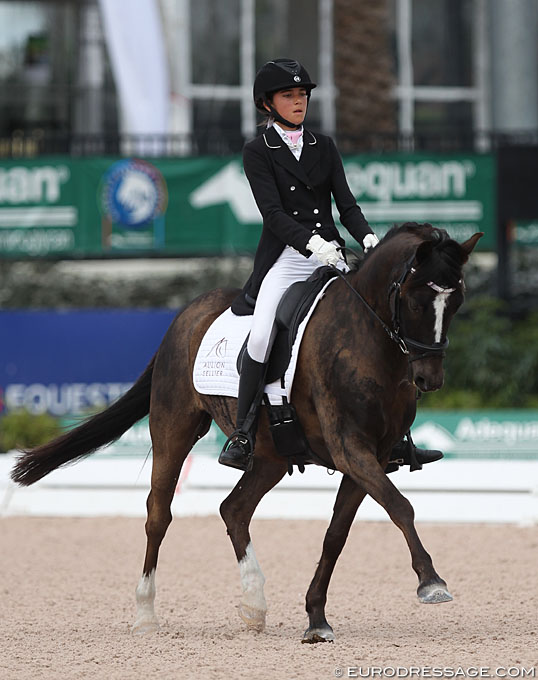 While Rêve and Umour grew up side-by-side, they couldn't be more opposite in personality. Umour is anxious but always wants to do his best, while Scarlett describes Rêve as happy-go-lucky and a bit lazy.
"He is more like a pony with his character; really friendly and always happy," said Scarlett of Rêve. "He speaks all the time with his eyes and ears, and we really have a connection together. I play with him all the time and we also work really hard. My ponies have been together since they were born until now; they can stay in the same stall, field or trailer together. They are really friendly."
So friendly, in fact, that Scarlett has even brought her ponies along to see friends or go on holiday, putting them up in gardens while she made her visits. But fun with the ponies is balanced with long hours of hard work. Amazingly, Scarlett, who has been riding since the age of five, trained both ponies herself without soliciting help from an adult. The road to the winner's circle has been long, but Scarlett has persevered through it all – even through Rêve's first show, when the little black pony entered the ring, then immediately decided against staying there.
Scarlett's mother, Ingrid Hansen, remembers with a laugh, "Rêve was in Paris, the show was on the Champs d'Élysées, and there was a lot of people and it was noisy. He was scared, so he jumped the fences and ran away!"
But Scarlett didn't despair. She and Rêve returned to the ring, and were ultimately named the first level champions of Paris in 2015.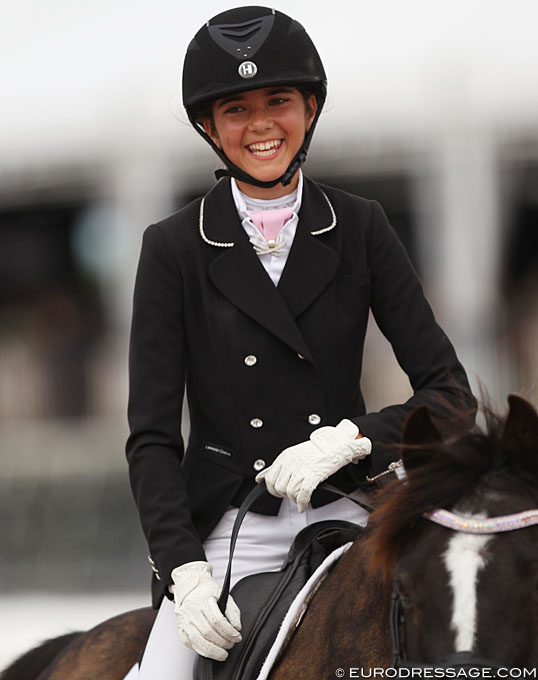 Not long after, Scarlett moved from France to Bromont, QC, bringing her ponies with her and quickly resuming their upwards dressage trajectory under the Canadian flag. Since her FEI career began in 2018, Scarlett has only placed outside of the top three once out of 46 classes, and has a win rate of over 60%. She earned her personal best scores with each pony at the 2018 Cedar Valley Children's Division Championship, scoring 70.833% to win the Children's Team Competition with Umour, and 70.095% to win the Pony Team Competition with Rêve.
Additionally, the team has amassed quite a few titles together. Scarlett and Rêve were named the 2016 Children's Division Canadian National Champion, 2017 FEI Pony and Freestyle Canadian National Champions, and Pony Division Champion at the 2019 Florida International Youth Dressage Championships. Umour picked up a title of his own, winning Champion of the 2017 FEI Children's division. 
While Scarlett's record with Rêve and Umour is truly exceptional, perhaps even more remarkable is the strong bond the talented trio has maintained across countries and competitions. Scarlett added, "They always live with me and I'm always outside with them; it really is the best life." 
Text by Equestrian Canada - Photos © Astrid Appels
Related Links
Bacariza Dominates 2019 Florida International Youth Dressage Championships
Megan Lane and Zodiac MW Win 2018 CDI Cedar Valley Big Tour
Ebeling and Sergio Leone Win Inter I Kur at 2018 Palm Beach Derby