Saddlery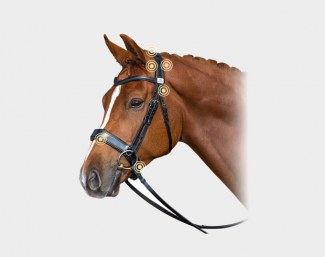 1 Based on scientific research
The Performance Bridle is unique in that it has been developed using independent pressure mapping and gait analysis. Vanessa Fairfax, the product designer spent two years looking at traditional bridles, identifying common pressures and assessing whether pressure affects the horse.
2 Pressure affects the horse's way of going and the Performance Bridle helps eliminate pressure
Gait analysis consistently recorded significantly better hock flexion, knee flexion and forelimb protraction when bridle pressure was relieved. Comfort factors built into the Performance Bridle help eliminate the six key areas of pressure identified by Fairfax. They include Prolite pads which lift the bridle clear of pressure points below the browband and pads on the noseband to lift it clear of the nasal bone, relieving pressure on the sensitive areas either side.
3 Stability is essential for comfort
Fairfax's research shows that the more movement there is around the crown of the horse's head, the less comfortable he is. A shaped headpiece is one feature that helps the Performance Bridle remains stable against the horse's head. This stability is consistent even as the horse is in motion. This bridle moves with the horse, not against him.
4 Articulation improves stability
Articulation rings mean that the components of the bridle move independently as the horse moves. Instead of being a fixed and rigid item against his face, the bridle pressure remains stable and therefore pressure is effectively reduced.
5 Symmetry is significant
Fairfax proved a significant decrease in knee flexion when there was asymmetry around the horse's head. So in the Performance Bridle there are equal buckles each side and the bridle is fitted so that the cheekpieces, noseband and throatlash all buckle at the same level.
6 Fairfax claims are proven!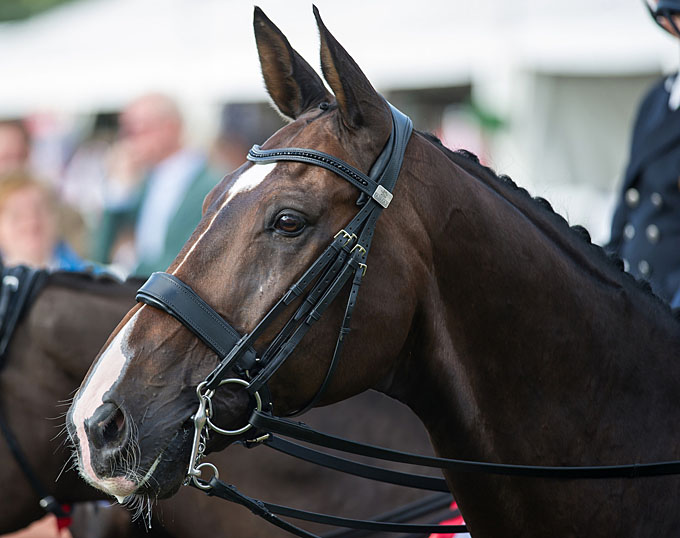 The Journal of Equine Veterinary Science published a scientific paper about the results of Fairfax's research. This is recognition that the testing was carried out under controlled scientific conditions with little or no room for misinterpretation. It is confirmation that the research is proven and can be trusted.
7 Top riders agree
The science is being proven 'in the field'. Top riders such as Gareth Hughes and Spencer Wilton are achieving their best ever results with the Fairfax Performance Bridle.
8 Fairfax has pedigree
The Performance Bridle comes from the same designer and production team that brought us the Performance Girth – still referred to as the 2012 Team GB's secret weapon!
9 Try before you buy
The Performance works best if it fitted by a trained bridle retailer. This way, you can feel the difference it makes to your horse for yourself before parting with your cash.
10 Made in England
Fairfax is one of the few companies to make bridles in England. Each Performance Bridle is entirely made in Walsall by craftsmen using the finest bridle leather. The bridle is cut, stitched, assembled and finished in England from start to finish.
To find your nearest retailer and book a Performance Bridle fitting
Related Links
Fairfax Performance Bridle Granted Two Patents by the GB Patent Office
Team GBR Rider Spencer Wilton Launches His New Fairfax Saddle
Fairfax Saddles Receives Queen's Award for Innovation
Fairfax Classic Open Seat Dressage Saddle for Riders of More Shapes and Sizes
Fairfax Performance Girth Now Available in 20" Narrow
Fairfax Saddles Celebrates Success of its Scientifically-Proven Performance Panel