Foals for Sale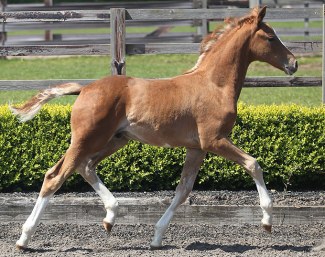 The elite dressage breeding farm Mount St. John in Felixkirk, Great Britain, has produced a record crop of foals in 2019 and many of them are offered for sale.
Mount St. John was launched in late 2012 and since has seen a rapid rise within the dressage world. The spotlight is now firmly on Mount St. John Freestyle partnered with Charlotte Dujardin. 
Mount St. John, Sport and Breeding Combined
Emma Blundell, the stud founder and director, strongly believes in using performance lines to breed for the top sport, explaining that "the further the mares go themselves in the sport the more we know their true strengths and weaknesses for our sport, which enables us to make honest decisions when selecting the best dam lines to focus on in our breeding and which stallions fit them best."
Starting the stud from scratch Blundell grasped the huge opportunity when many breeders were reducing their stocks during the recession and gave an possibility to acquire some special mares and filly foals that may not have been available at another time. This produced a very strong set of foundation mares for the breeding programme, including former Bundeschampion and Bronze Young Horse World Medalist FBW Deja'vu, who has produced 9 fillies and 1 colt since joining MSJ. Amongst her offspring are a licensed Hanoverian stallion and the oldest two daughters are already successfully competing at FEI small tour.  
Girl Power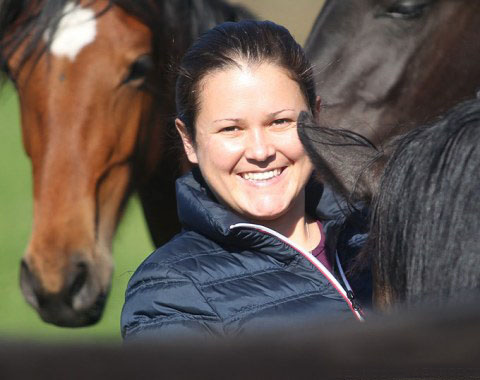 MSJ focuses on the mares and has around 20 horses in training, all of which are mares. Colts are sold as foals or youngsters. The mares perform in sport as well as combine breeding by embryo transfer. In addition there is a developing herd of around 30 broodmares carrying their own foals on the Mount St. John estate, which covers 500 acres of North Yorkshire countryside. 
Due to this philosophy, mares are favoured over colts to retain for the breeding and sport programme, which has proven very popular with stallion keepers and riders who are able to buy unselected colts each year from top damlines and all by well known stallions.
World renowned clients already include stallion stations Schockemohle (Germany), HP horses (Denmark), Helgstrand dressage (Denmark), Pape hengstation (Germany), Reesink (Netherlands), as well as top international riders and breeders in mainland Europe, USA, Canada, Australia & NZ, including Charlotte Dujardin, Micheal Eilberg and many more youngsters coming up for the future. 
Freestyle, Flagship Horse for Mount St. John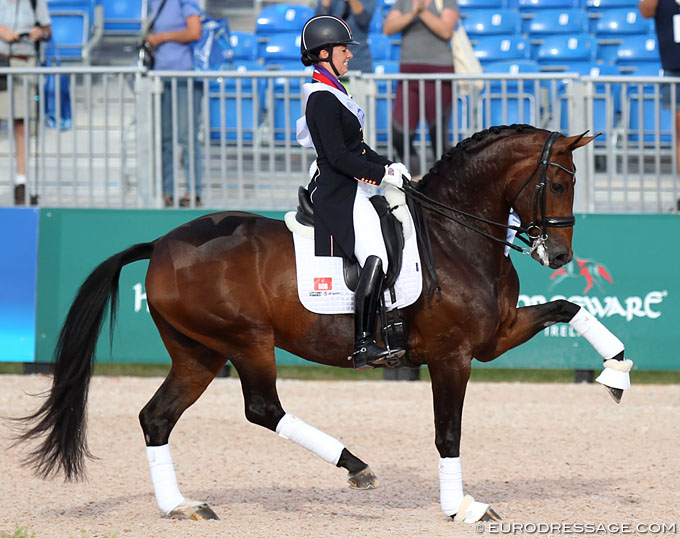 Mount St. John stud's stellar broodmare line up includes many renowned names.  
Flagship horse Mount St. John Freestyle, who ridden by Charlotte Dujardin in her first season at Grand Prix at only 9 years old and the youngest in the field claimed the individual Bronze medal at the WEG in 2018 at Tryon together.
 Freestyle herself is a dam by embryo transfer to MSJ A La Freestyle (by Ampere) and MSJ Dancefloor (by De Niro), both actively involved in the MSJ breeding programme. Dancefloor produced a Van Gogh colt this season, who is the sire of Sonke Rothenberger's Cosmo, the individual silver medalist at the 2017 Europeans and the team gold medalist at the 2018 WEG.
Recent addition is Josephine, the Johnson x Donnerhall half sister to Freestyle who is expecting embryos by Jameson and Springbank for 2020. 
Exciting Foals Born in 2019, Many Offered for Sale
Former dressage World record holder Totilas features heavily at MSJ with his offspring appearing every year since he started breeding in the foal lists. This year was no exception with four being born and another five due for 2020.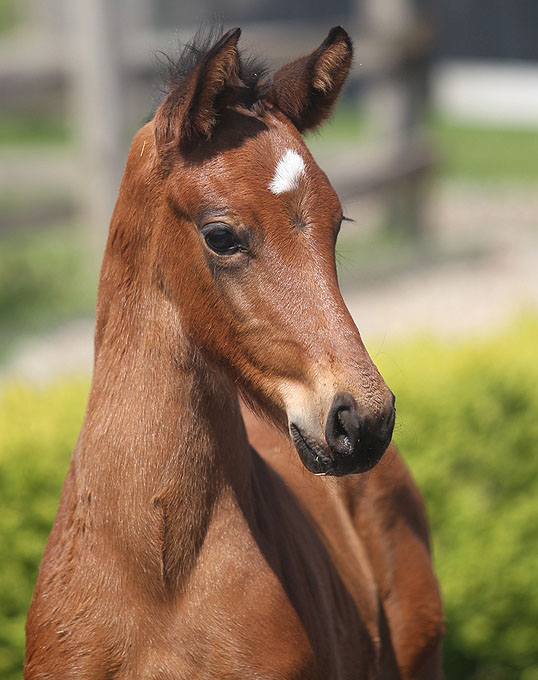 The addition of Furstin Totilas his maternal half sister by For Romance x Glendale has strengthened the broodmare line up at MSJ who is producing top offspring by embryo transfer with Secret and Don Juan De Hus foals due for 2020. 
Resia (by Ferro x Balzflug), dam of the  legendary stallion and sport horse in his own right Dream Boy (Vivaldi) resides at MSJ. Dream Boy is a current member of the Dutch team with Hans Peter Minderhound. Resia has a colt available from Desperado (Vivaldi) this season, who has proven himself already scoring up to 77% internationally at GP. 
Mount St. John VIP is another mare training and competing with Charlotte Dujardin is an outstanding performer in her own right with 8 British national titles to her name and already with wins at international small tour up to 78% at only 8 years old. VIP, by Vivaldi from Maradonna (Donnerhall x Classiker) is the half sister to Furstenball, one of the most popular dressage breeding stallions of all time. She is also actively in the breeding programme with a super Escolar filly born this season sold to Germany, and with Jameson embryo due for 2020. 
Vivaldi bloodline is popular at MSJ with the full sister Diva Uthopia also being part of the broodmare herd, she produced a stunning Toto Jr colt and is expecting a Danone for 2020. 
Charlotte Dujardin also recently took over the reins of rising star Mount St. John Valencia (by Vivaldi x Ferragamo), this gorgeous mare has produced 2 embryos for 2020 between her training and competition schedule. Kasey Perry's Dublet (Diamond Hit x Ferro) ranked no 5 in the current FEI world dressage ranking is very closely related to our Viva Dublet (by Vitalis x Don Schufro x Ferro) who's expecting her first foal by Jameson in 2020. 
First Lady (Fidermark x Rosenkavalier) the dam of Steffen Peters former 8th FEI world ranking mare Rosamunde has been with the stud for a few seasons and is in foal to Totilas for 2020. 
In Utero Foals Available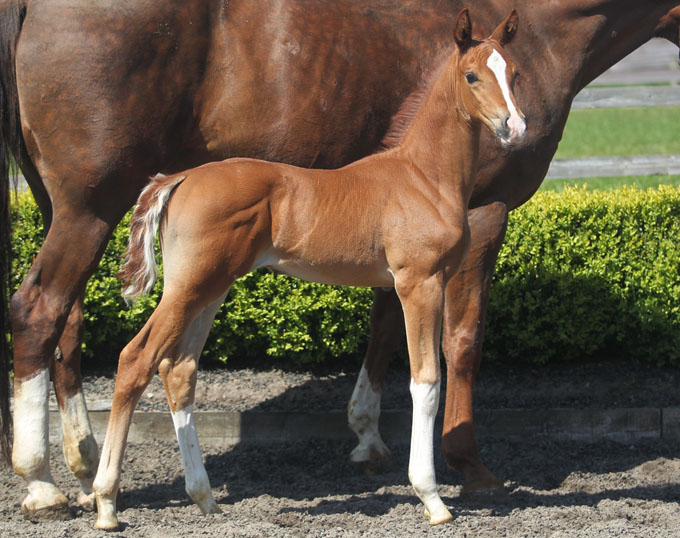 This year has been a very strong year for pregnancies, collaborating together with the expert veterinary team from Equine Reproductive Services headed up by James Crabtree, who are based in Malton only 30 minutes away. 
As a result some broodmares in foal or embryos available in utero of their recipient mares will be available this year.
Emma particularly enjoys assisting smaller breeders start up or develop their breeding programme worldwide, to include selecting MSJ mares, ongoing advice for suitable stallions to match as well as helping future plan to the new breeders needs and budget. Sometimes this involves spending time at MSJ to learn about handling, foaling, care of the mare and foal etc. 
For full details of mares, foals or embryos available check out the website or contact enquiries@mountstjohnequestrian.co.uk 
Photos © Thomas Bach Jensen
Related Links