Hanoverian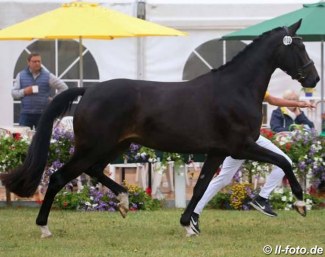 Flora (by Furst Belissaro x Don Crusador) was named the champion in the dressage division at the 2019 German Mare and Foal Championship in Lienen, Germany, on Sunday 14 July 2019. 
The Hanoverian verband celebrated a powerful success in Lienen with the top three in the Mare Championships all being Hanoverians.
Bred by Janina Tamke and owned by Heinz Pferdmenges, the Hanoverian mare earned an overall total of 9653 points. She scored between 8 and 9 for type, between 8 and 8.5 for conformation, between 7.5 and 8.5 for correctness, between 8.5 and 9 for trot, between 8.5 and 9.5 for walk and between 8.5 and 9 for general impression. 
Frank Moormann's Hanoverian mare Bella Flora M (by Bon Coeur x Floriscount) became the reserve champion with a total of 9153 points.
Heinrich Ramsbrock's Hanoverian mare Diva (by Diamond Hit x Furst Heinrich) scored the bronze with an overall total of  8653 points. Horse dealer, stallion owner and breeder Ramsbrock had no less than 3 mares in the top 10.
In the pony mare division Jorg Zagn's Rhinelander bred mare Nadja d'Alpen (by FS Numero Uno x FS Mr Right) claimed the champion's title with an overall total of 10154 points. Anton Schindelel Jr's Bavarian bred Giulietta (by Cosmopolitan D x Losander) was the reserve champion with 9658 points.
Photos © LL-foto
Results - 2019 German Mare Championships - Lienen
1. Flora (HANN, by Fürst Belissaro x Don Crusador) - owned by Pferdmenges,Heinz & bred by  Tamke,Janina - 9653
2. Bella Flora M (HANN, by Bon Coeur x Floriscount) - owned and bred by Moormann,Frank - 9153
3. Diva (HANN, by Diamond Hit x Fürst Heinrich) - owned and bred by Ramsbrock,Heinrich - 8653
4. Amora Millefiore (BAY, by Millenniumx  Quaterback) - owned and bred by Reglauer,Jakob - 148 points
4. Lolita (HANN, by Vivaldi x Donnerhall) - owned and bred by  Droege,Walter  - 148 pts
4. Marie (HANN, by Millennium x Alabaster) - owned and bred by Ramsbrock,Heinrich - 148
7. Millisima (WESTFl, by Millennium x De Niro) - owned and bred by Ramsbrock,Heinrich  - 147,5
8. Claire de Lune (BAY, by Rock for Me x Boston) - owned and bred by  Waller,Tanja  -  147
8. Fabelle Noir (WESTFl, by For Romance I x Gribaldi) - owned and bred by Fengler  - 147
10. Amore (BAY, by Dante Weltino x Lord Sinclair) - owned and bred by  Reglauer,Jakob  - 146.5
Related Links
Gloria Named 2018 German Mare Championship
Ratina B Wins 2017 German Mare Championship