F.O.C.U.S.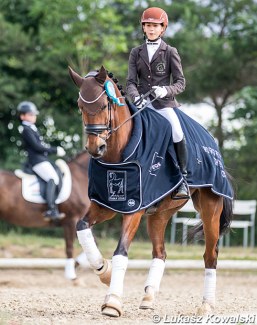 Russian FEI rider Irina Zakhrabekova and her two daughters Karina and Agata are proving that dressage can be a family affair. Commuting between their bases in Germany and Spain, the Zakhrabekova's are making mileage in the competition arena. Their efforts have paid off as Karina has secured a spot on the Russian team for the 2019 European Children's Championships this summer.
Irina and her husband Eduard Zakhrabekova run a pharmaceutical business in Russia, but to be closer to the centre of horse sport and have access to top class trainers they live abroad in Spain and Germany. Irina heads her equestrian company ZettaSport, which focuses on the training, breeding and sales of high performance dressage horses, and both her children Karina and Agata got infected with the horse bug. Dressage has become a passion that unites the family.
Coached by Isabell Werth and having worked with Spanish trainers Jose Antonio Garcia Mena and Juan Matute sr, Irina made her international show debut at small tour level on Sandro's Welt at the 2014 CDI Barcelona. In 2015 she took along Armonioso JF. In 2017 Irina moved up to medium tour level with Armas Balago II, while her new ride Quadroneur, a stallion she sourced at Isabell Werth's yard, was shown in the small tour. From 2018 through 2019 Irina is showing both at medium tour level. At the 2019 CDI-W Brno Armas Balago II stepped up to the plate and facilitated Irina's international Grand Prix debut. 
"I'm taking my time with Quadroneur, who is strong and full of highlights, but stubborn. I'm keeping him at medium tour until after the CDI Crozet," Irina explained. "This year I am very focused on my daughters' riding and training Grand Prix at home. Fortunately, I'm very well supported by the best riders and trainers."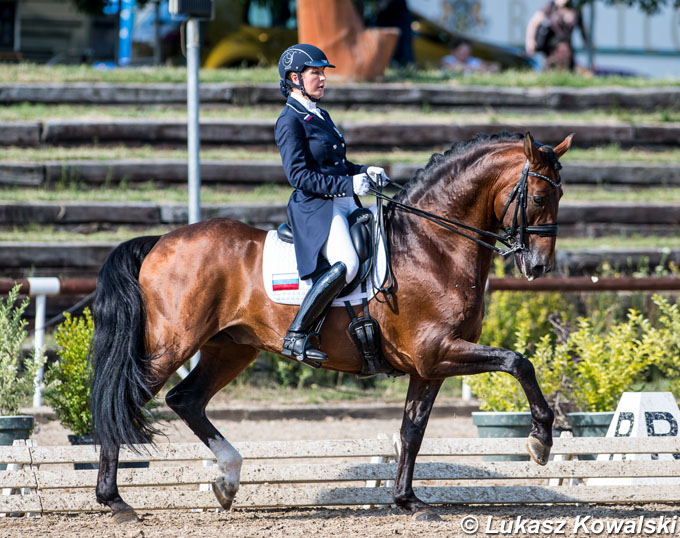 And there is more excitement for the family in store. At the 2019 CDIO-PJYR Hagen "Future Champions" at Hof Kasselmann, the 13-year old Karina represented Russia for the first time in the Children's Nations Cup and placed fourth with team. Aboard her mother's 10-year old Westfalian gelding Ein Stern (by Estobar x Full Speed) she proudly posted scores of 76.677% for second place in the preliminary test, 65.641% in the team test and 70.298% for fifth place in the individual test. These results earned her a spot on the Russian team for the 2019 European Children Championships in San Giovanni, Italy, on 23 - 28 July 2019.
"Hagen was my dream," said a thrilled Karina. "I felt very excited and happy to ride in such a big show and was proud to present the Russian federation. In a way I wasn't nervous because I was making my dream come true. On the first day my horse did a very good job and got 76.6%, but then I wanted to do my best and made a few mistakes the next day. On the last day it was better again and overall I am very proud to stand on the podium together with the strongest riders of my class."
Irina added that she was proud her daughter handled such a highly competitive environment well at her young age. "The 76.6% was really up to her level and I believe the next day Karina wanted to repeat that result and got nervous, but she rode like a as real professional the last day and overcame her emotions to finish fifth."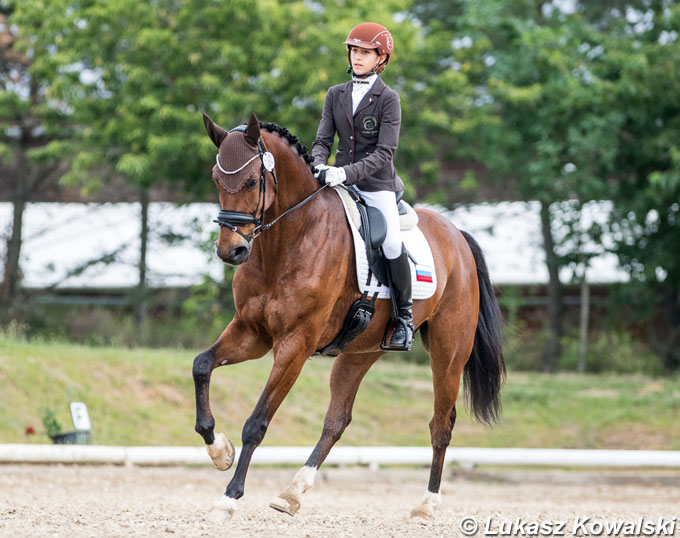 Karina has been competing Ein Stern since February 2019 with starts at two CDI's in Sevilla and Cascais, where she clocked no less than seven victories in a row! Originally the horse was intended to become Irina's future Grand Prix horse, but Karina really liked him and took him on in the autumn of 2018.
"I always had especial feeling on Ein Sterm and dreamed to ride him one day," said Karina. "In September I lost my promising children's horse and I was so sad that my mother told me I could choose any horse of the stable and of course I asked for Ein Stern. Everybody who knew him was against this decision, because he is a very special, sensitive horse and they said it's impossible for a 12 year old girl to ride him, but my mom strongly believed in us. We started step by step without any rush and my mother is helping me achieve these successes."
The youngest of the clan, 11-year old Agata, has been riding and competing in her first shows in Spain. With the family currently back in Dusseldorf, Agate will most likely start showing in Germany this autumn with a jump to international FEI pony level planned for 2020.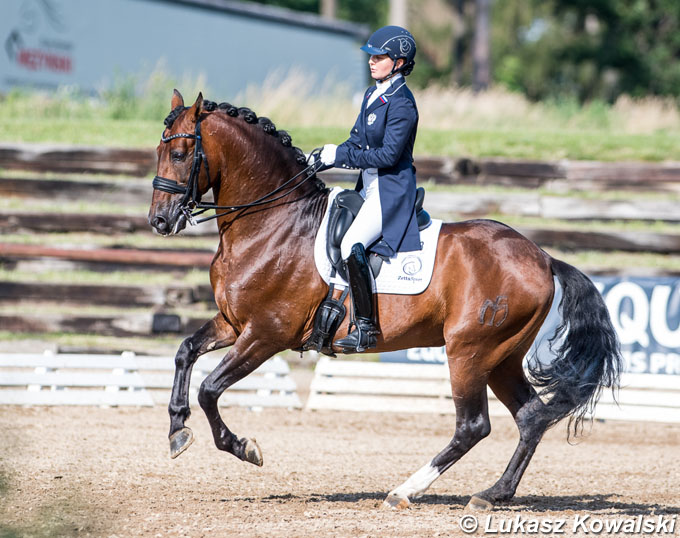 "I started to ride my sister's Welsh pony Miki when I was 4 years old and when I was 9 we did our first national start in Spain," said Agata. "We had a lot of fun together but I grew so then we started to look for an experienced FEI pony and found Daddy's Sunshine. She was only 5 years old but I fell in love with her and we bought her. I know it takes longer to reach FEI with a young pony, but she is so talented and I'm very lucky to have the best trainer in the world, my mom. So I'm sure one day we'll get there."
When asked if it is more special to train one's own children than other students, Irina said that for her it is an act of love and commitment. 
"I can talk about my children for hours," said the proud mum. "My family is most important to me in my life to be honest. I love my children and my family extremely, but at the same time I can say that I am quite strict as a mother and trainer. For me good education is a mix of love without end, discipline and expertise. However, first of all it is love."
Photos © Lukasz Kowalski
Related Links
Scores: 2019 CDIO-PJYR Hagen
Quadroneur Sold to Bulgaria as Ride for Russian Irina Zakhrabekova
Sir Schiwago Sold to Switzerland
Rothenberger and Cosmo Win Again and Take ZettaSportMusic Grand Prix Special at 2016 CDI Jerez
2015 International Madrid Dressage Festival, the Biggest Show in the South of Europe
Caetano and Coroado Write History for Lusitano Breed by Cracking 80% Barrier