F.O.C.U.S.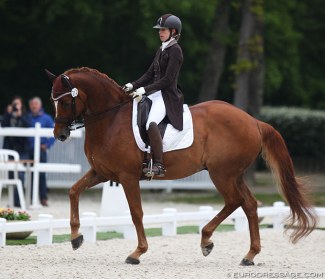 French Grand Prix coach Anthony Astier and his student Charlotte Chalvignac have taken their trainer-student collaboration to the next level thanks to heart horse Lights of Londonderry. After closely working together for five months, they reaped the fruits of their dedicated work by claiming the 2019 French Grand Prix Champion's title in Vierzon at the beginning of July. 
The 27-year old Chalvignac is quite fresh out of the Under 25 division and has become the shooting star on the French senior Grand Prix scene this 2019 show season. 
Her stellar rise is thanks to the generosity of German Grand Prix rider Bernadette Brune, who gave Chalvignac the ride on her 15-year old Hanoverian gelding Lights of Londonderry (by Londonderry x Weltmeyer) in March. Charlotte received a horse with the movements and training that launched her to the highest echelons of French Dressage.
Working on a Higher Level to Reach the Next level
With so much bolstered potential offered in March, rider Charlotte Chalvignac, her husband Jean Vesin and coach Anthony Astier believed the time was ripe to take their collaboration to the next level as well.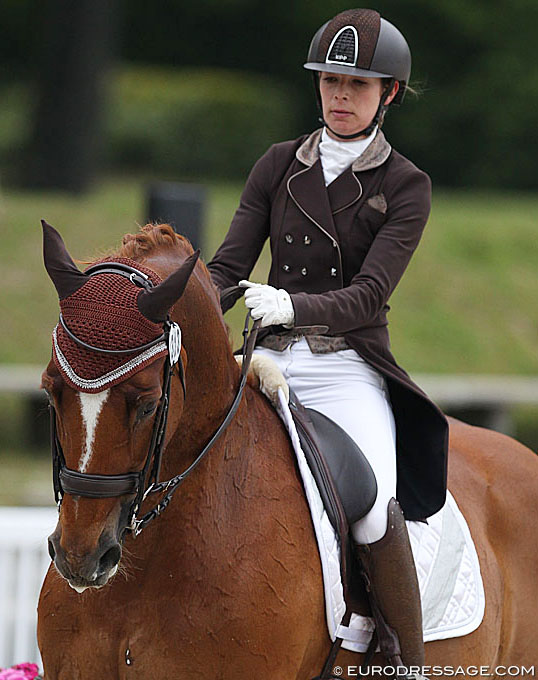 "Charlotte and I have been good friends for many years. Often she would send me videos for help with technical advise or to solve a problem," Astier told Eurodressage. With Lights we all believed it was important to give Charlotte all the chances to succeed. It's an opportunity of a lifetime to ride such a good horse and she got it thanks to Bernadette. We all believed that our experiences together would be necessary to get the best out of Lights."
Chalvignac agrees: "it's the perfect compatibility and the complicity that has been established between us has not stopped developing in a positive way. At this moment the strength of the horse is that it has no weaknesses. He has a particular talent for the collected movements. He is especially supple and elastic."
Charlotte has collaborated with 48-year old Grand Prix trainer and rider Astier for many years, but it intensified with Lights of Londonderry. Anthony praises his student for her concentration and precision in the saddle.
"Charlotte is very special," he said about the 27-year old. "Her temperament, her character and her willingness are just incredible. She has a strong focus and determination in what she does. The more pressure she gets, the better she is. She's very athletic and strong in the saddle and an ideal rider for high level sport."
Building on a Broad Base for Peak Performance
To bring a horse to top sport level, it takes a village. Astier credits the quick success of Chalvignac and Lights in the show ring to the whole program they have set up revolving around the horse.
"We try to have a strong team around him," said Anthony. "Charlotte rides him, but Jean has the system in place and manages every thing, from professional farriers and vets to the daily training at home. Groom Barbara Boulanger takes care of the horse at home and at shows and I assist especially at competitions."
The duo not only concentrates on the Grand Prix movements, but also works on strengthening the basics. 
"I insist on a strong basis and try to focus on what a 5* judge wants to see in the ring," said Astier. "What is  also very important is that we can not afford to be strong in some movements and weak in others. Everything is important in a test. This can not be just piaffe-passage tour or a canter movement. Everything has to be at the maximum."
Charlotte added: "The points on which Anthony insists much are bridle contact and the roundness which are preponderant elements for a better functioning of the horse. Because Anthony is also a rider, he respects the work done and the personality of the horse and rider. This suits me particularly. His technical contribution is clear and concise."
French Dressage Stagnated?
Despite many efforts from the French Equestrian Federation, by hiring a team trainer and hosting regular clinics, French high performance dressage sport has stagnated since the 2016 Rio Olympic Games. When asked what Astier believes is the reason for this plateau, he identifies the problem as a lack of culture amongst riders, and willingness to train, develop and improve as an individual.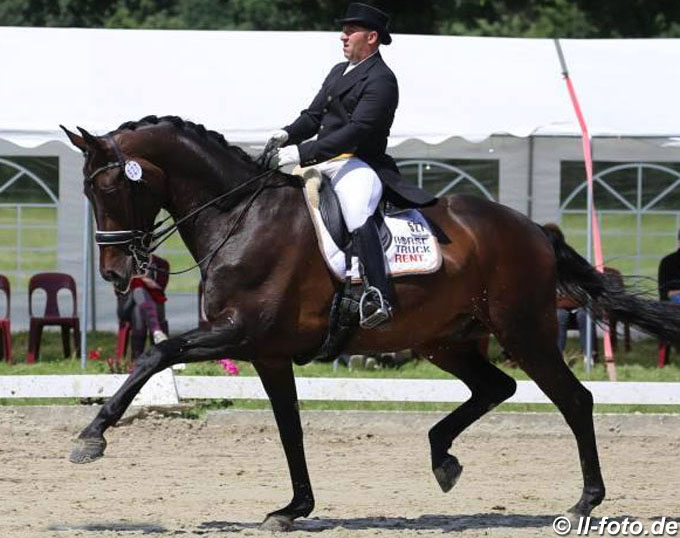 "We have good horses, there is no problem with that, and I think there are also good riders, but I learned from Helen Langehanenberg the past six years what a real professional system is. You have to learn from the best, this is the key," said Astier.  "You also have to get used to the international culture of dressage traveling and learning the most you can. In my opinion what we should improve now is the training. I learn much from Isabell Werth and from Helen. They are not only fantastic riders, they also have a very strong training system which makes them so strong at shows. Riders are always willing to learn and improve their riding, but also the trainers must keep on learning and not pretend to be "the one who know all." 
Rotterdam in Sight
Chalvignac hopes to get selected on the French team for the 2019 European Dressage Championships in Rotterdam (NED) at the end of August. 
"We have to stay focused on good riding and how to get better," Anthony stated. "Charlotte is the new French National Champion, but we can not afford to be satisfied with that. We have to keep on working hard to always be better. There is always another show next week. The plan is to go to Rotterdam, but our federation will decide who is going. Our job is to work and improve our riding; we just keep the rest in mind."
As a final preparation for potential team selection, Chalvignac and Lights of Londerry will compete at the 2019 CDI Crozet at Jiva Hill Stables in 8 - 11 August 2019.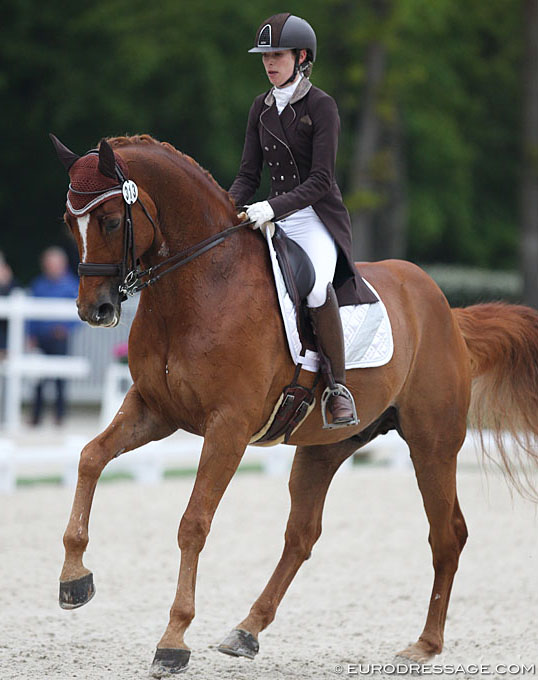 "The goal are the Europeans and as final preparation we go to Crozet, which is near Geneva and near to our stable," said Charlotte. "I want to continue to progress by riding a few World Cup qualifiers next winter."
When it comes to long-term plans Charlotte hopes to train high quality youngsters up the levels herself, using her mileage and knowledge gained on Lights of Londonderry as a stepping stone for the future.
"I would like to take advantage of the experience I gained with Lights to strengthen my current horse stock, which includes some very good youngsters acquired by very loyal owners. My real dream would be to continue to ride horses of the magnitude of Lights at international level. I take this opportunity to thank Bernadette for the trust she gave me."
Photos © Astrid Appels - private
Related Links
Charlotte Chalvignac Wins 2019 French Grand Prix Championship
Charlotte Chalvignac Gets Ride on Brune's Lights of Londonderry
Isabella Tovek Acquires Astier's Sam Donnerhall
French Horses Selected for 2012 World Young Horse Championships