F.O.C.U.S.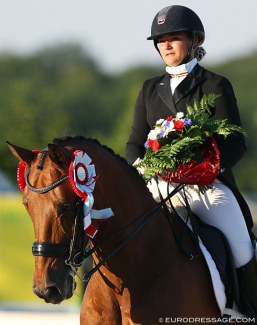 Hungarian dressage rider Jazmin Yom-Tov has achieved the extraordinary feat of qualifying not just for the 2018 European Under 25 Championships in San Giovanni in Marignano, Italy, but she has also secured a starting place in the 2019 World Championships for Young Dressage Horses in Ermelo, The Netherlands, one week later. And this at the young age of 17. 
Final Preparations in Leudelange
Jazmin travelled to the 2019 CDI Leudelange in Luxembourg on 2 - 7 July 2019 as her final show preparation for the Under 25 Euros. She brought along  two Grand Prix horses for the Under 25 division and placed second twice. The judges appreciated her two solid rounds on her more experienced schoolmaster Hexagon's Zodinde (by Louisville x Rubiquil) and rewarded the tests with 67.676% and 65.692% for a double second place. Her greener GP horse Bojengel (by Uptown x Gribaldi) was there for more mileage.
Her horses were not disturbed by the grass safari animals in Leudelange, which were an interesting and unique ringside decoration but proved to be a challenge for many horses and ponies at the show.
"I really like the atmosphere there. It's always a fun show to go to and my horses enjoyed it too. Fortunately they didn't mind about the grass wild animals around the arena," she joked.  "They both did their best and that is all that mattered for me that week. Zodinde is now in an even better shape than she was there. For Bojengel this was only his second international at U25 level and only his fourth U25 test ever. It's still a long way for him but I really believe he is going to be a very nice U25 horse."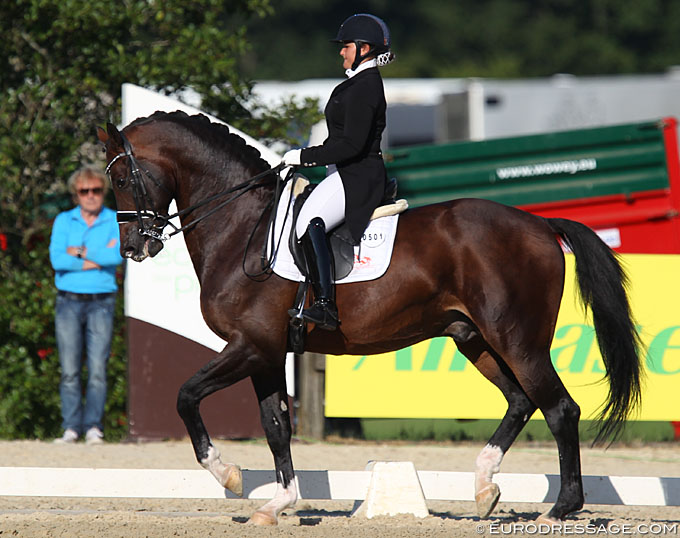 Jazmin is based in Hungary but spends the majority of her time in Holland, where her father Arie has an equestrian yard called, Sport Pro Horse. By being located in The Netherlands the access to trainers and shows is much more convenient. A year ago Jazmin started training with Sjef Janssen. 
"We have been working on the basics mainly. Before shows, we practice the exercises more and the tests," said Jazmin about the work she has done with Janssen. "The preparations for the Euros are now over for us, so Zodinde has some relaxed training before her long trip to Italy next week."
Summer Highlights
Jazmin hopes to be in peak condition at the Europeans in San Giovanni. In 2018 she was the first Hungarian to ever qualify for the U25 Championships, that were held in Exloo (NED). In Italy she wants to raise the bar. 
"This year my ultimate goal is to be in the top 10, but I would be super happy to be in the finals," said Jazmin. "That would make us the first ever Hungarian combination to make it to the finals. I just want to enjoy and ride my best test there with Zodinde."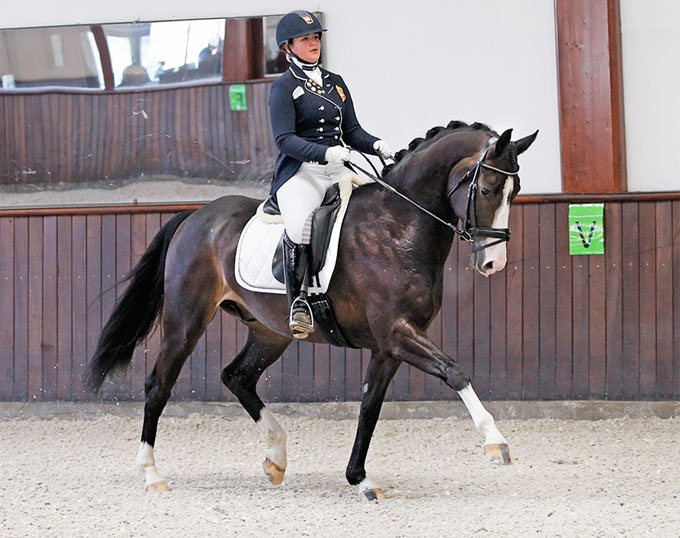 Jazmin will not be resting on her laurels after San Giovanni as she will travel straight back to Holland, where her 6-year old Westfalian For Joy (by Feedback x Donnerbube) is waiting for her to be ridden in the 2019 FEI/WBFSH World Breeding Championships for Young Dressage Horses in Ermelo.
"I am super excited to compete For Joy in Ermelo, because I've had him since he was just saddle broken and I am very proud of him," said Jazmin. "He is always willing to work and learning so fast. It's a pleasure to ride him!"
Hungarian Dressage Back in the Spotlight
Dressage sport in Hungary has been a booming business. While almost thirty years ago Grand Prix rider Gyula Dallos and his grey KWPN horse Aktion were a beacon of light for the sport in Hungary, since then that light has extinguished. Only in the last five years Hungary has gaining ground again with a first ever senior Grand Prix team at the 2017 European Dressage Championships in Gothenburg and young Jazmin blazing trails in the youth and young horse classes. In 2017 she rode at the World Championships in Ermelo for the first time as a 15-year old on the 6-year old Dodge Raider.
Jazmin loves riding youngsters as well as upper level trained horses. With a solid team of riders and trainers at Sport Pro Horse in Holland, she has all the back-up needed to learn and develop as a rider.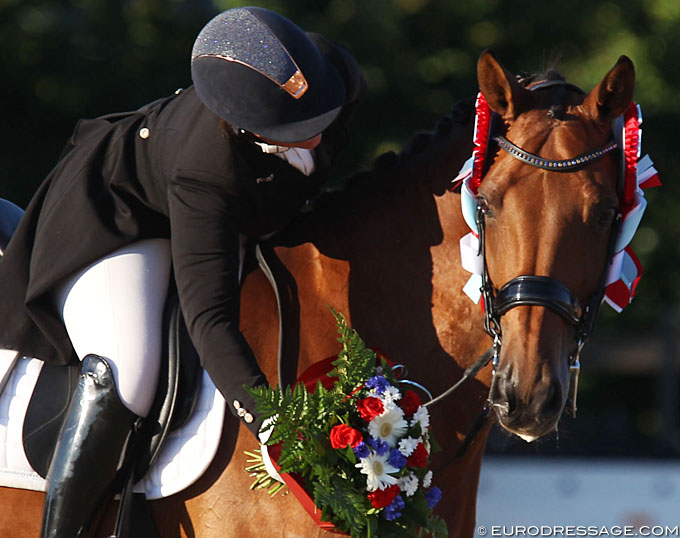 "I find riding young horses very interesting," she explained. "I think teaching a horse to do all the exercises is super fun and I learn much from them. Each is so different. Riding youngsters teaches you patience. When they reach a higher level, or I just feel that they are improving so much, that's the best feeling. I ride with a full smile on my face, when I know the horse has learned something new and I am the proudest owner in the world at that moment."
As she commutes between Holland and Hungary, Jazmin goes to a private school which is more flexible with her schedule. She has been getting top grades in class and has proven to balance school and riding well.  "I do plan to go to university, because I find it very important to have a degree next to horses," she added. 
Photos © Astrid Appels - Anett Somogyvári 
Related Links
2019 World YH Championships in Ermelo to Include 4-Year Old Challenge in Programme
Jazmin Yom-Tov Geared Up for First European Under 25 Championships
Bojengel and Zodinde Sold to Jazmin Yom-Tov
Janssen Signs Contract to Take Jazmin Yom-Tov to the Olympics
Stable Unikornis' 2019 Open Winter Cup to Promote Dressage in Hungary and Neighbouring Countries
Stiffelio, Die Oder Keine, Kitti Win 2017 Hungarian Young Horse Championships