F.O.C.U.S.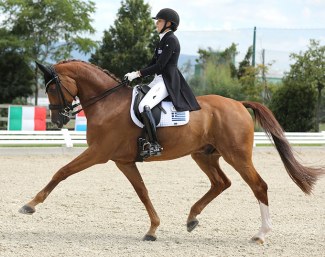 At age 18 Theodora Livanos is pursuing her Olympic dream with schoolmaster Dono di Maggio OLD as a trailblazer for her birth country Greece, as the first rider coming through all levels and heading towards the Olympic Games as a potential third dressage Olympian for her country.
Based in Geneva, Switzerland and training with Christian Pläge and Birgit Wientzek-Pläge, Theodora has been an active competitor on the international dressage scene since 2015.
Writing History for Greece through the Levels
The young talent has developed through the classical dressage system, learning on ponies and moving on to junior-young rider before making the big leap to Grand Prix level. 
She began her international show career on the German Riding Pony Cognac IX (by FS Chambertin x Waldemar) in 2015, but rode her first big international championship as a junior in 2016. At the 2016 Balkan Games at the Markopoulo Olympic equestrian centre in Athens, she won the team and individual gold in the junior division on the Lusitano Zidane (by Universo x Neptuno), her first opportunity of making her mark for Greek dressage sport at junior level. One month later she also rode in the 2016 European Pony Championships in Vilhelmsborg, Denmark, where she made it into the Kur to Music Finals, another first for Greece. 
In 2017 she rode the Dutch warmblood gelding Winston (by OO Seven x Cocktail) at the European Junior Riders Championships in Roosendaal and finished fifth in the Kur to Music Finals! In 2018 it was Dutch warmblood Fido Dido (by Florencio) that took her to the European Young Riders Championships in Fontainebleau, France.  Livanos is the first Greek rider to have competed at the Pony, Junior and Young Riders European Championships in a row. 
Learning from the Best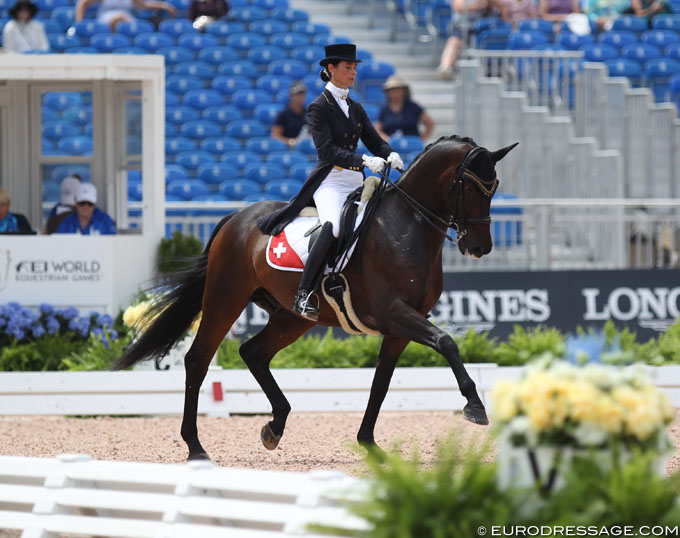 With an incredible support system backing her up, Theo can dream big about her future in dressage. Her parents Peter and Lara saw the potential, talent and drive in their daughter and have always been thinking long-term, acquiring rising Grand Prix 
Already back in 2010 the Livanos family purchased the then 6-year old Rhinelander stallion For Compliment for trainer Birgit Wientzek-Pläge to take to Grand Prix. Five years later the pair represented Switzerland at the 2015 European Championships in Aachen. In 2017 Livanos purchased Robinvale (by Rubinero x Wittinger) at Hof Kasselmann in Hagen, Germany, as a second iron in the fire for Birgit. They went to the 2018 World Equestrian Games and 2019 European Championships together. 
For Compliment became a schoolmaster for Theodora who could learn the feeling and movements on the stallion at home. In competition Theo rode the now 15-year old For Compliment at young riders' level for the first time at the CDI Le Mans in February 2019. 
Crossing the Alps with Dono di Maggio
The majestic feeling of riding at Grand Prix level has whetted Livanos' appetite for high performance dressage sport. The family returned to Hof Kasselmann, where they found an excellent match for Theodora in British WEG team horse Dono di Maggio OLD.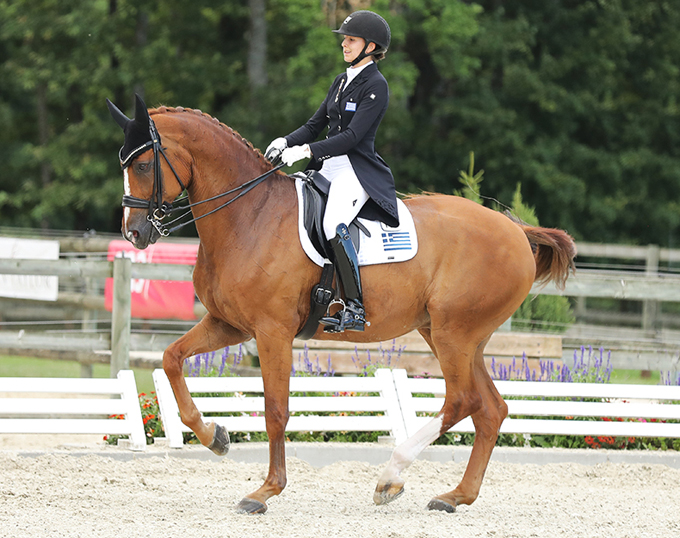 The 12-year old Oldenburg gelding Dono di Maggio (by Dimaggio x Santander H) won team bronze at the 2018 World Equestrian Games in Tryon, Great Britain, under British Olympian Emile Faurie and became the fitting piece in the puzzle for Theodora's future. 
The brand new duo has gelled well and made a low-key show debut at the 2019 CDI Achleiten in June, where they dipped their toes into the Grand Prix pool for the first time. A month later they travelled to the CDI Cappeln for some more mileage. 
"Someone once said to make the transition from Prix St Georges to the Grand Prix you have to cross the Alps first," said Theodora. "Riding the Grand Prix is a completely different ball game and a big step which requires experience and given that I just turned 18 this summer it can be a trial. However, I am enjoying the challenge and find that my reactions have to be much quicker and of course it is more technical. The transition has proved tricky at times but I have been very fortunate to have the great help of my trainers.  I also have the opportunity to learn with the skillful Dono Di Maggio. His previous rider, Emile Faurie has been so encouraging and continues to help us. Dono Di Maggio has already taught me so much and I continue to learn daily and for this I am very grateful."
Dreaming Big, Dreaming Olympic
Like any ambitious rider, Theo has the dream of riding at the Olympic Games. She could become the third Greek Olympian in dressage sport, following in the footsteps of Alexandra Sourla and the German born Gerda Lehmann who rode at the 2004 Athens Olympics.
"I have been taught to always have a goal to focus on and this is very important throughout the stages and it helps if one has luck along the way," Livanos explained. "Of course, like all riders I've had my difficulties along the way and it definitely hasn't always been an easy road. Loosing the ride on Winston due to injury as well as facing injuries with other horses along the way has taught me that with the highs come the lows as well. Still, Tokyo is definitely an aspiration of mine, but I keep grounded and work daily on the enormous challenge this presents."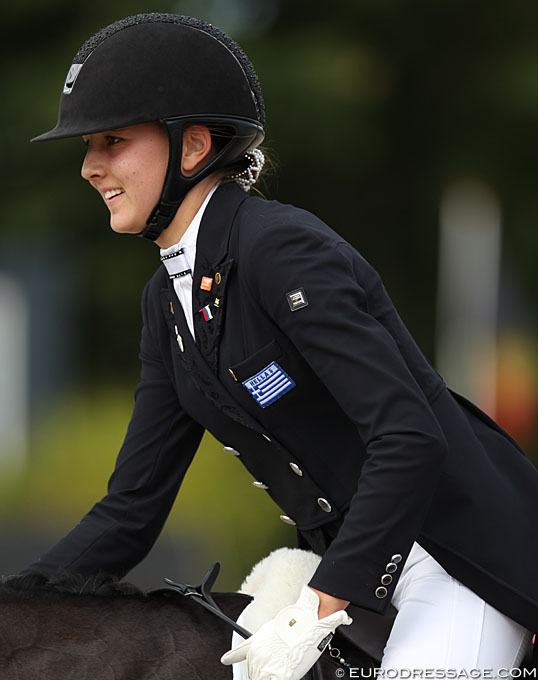 At the 2019 CDI Crozet at Jiva Hill Stables in the Alps in August, Theo and Dono achieved their first Minimum Eligibility Score for the 2020 Tokyo Olympic Games by scoring 66.783% in front of a 5* judging panel. A week later they traveled to the CDI Donaueschingen and went on repeat, scoring their second required MES of 66.826% in the Grand Prix. 
"I would be immensely proud to represent Greece," said Theo. "I've only been riding Grand Prix for three months, but I do have the two minimum eligibility scores required by the FEI and I realise I still have a long way to go to gain more experience with my horses."
Theodora is  now heading to the 2019 CDI Ornago in Italy this week to consolidate in the arena what she has learnt over the summer.
"Ornago will be my fifth show with Dono Di Maggio and we are slowly improving as we get to know each other," she said. "Dono Di Maggio had a two-week break after Donaueschingen but we have started back again focusing on our canter work and of course working through the tests. Dono also enjoys his field times which is so crucial for his well being and stress management. Dressage is my passion and I am learning to cope with the stresses along the way but I adore my horses and what I do."
Photos © Astrid Appels - Celine Bocchino
Related Links
Dono di Maggio, A New Horse for Greece's Theodora Livanos
Robinvale Sold to Theodora Livanos
Theodora Livanos Acquires Fido Dido
Theodora Livanos' Winston Retired from Competition Sport
For Compliment Sold to Switzerland