Horse truck for sale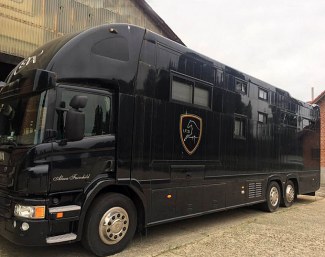 For Sale: Stephex Horse Truck for 6 horses, American kitchen and pop-out. 
This Scania horse truck dates from 2015 and has low mileage, standing at 18,355 km. Automatic transmission, GPS. 26 tons. 410 horse power
Sleeps 6 people + groom bed. Bathroom with shower, toilet, sink and towel heater. 
American kitchen with microwave oven, double stove
Living room pops out with tv & dvd player. TV pops out from counter  in living area. 
Fans for horses and temperature gage in truck cabine. Cameras on back, side and horse part of the truck. 
Price negotiable. Located in Belgium.
Owner Contact Into