2019 CDI-W Herning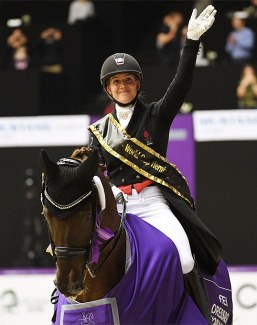 Denmark's Cathrine Dufour and the Zinglersen family's Bohemian won the Grand Prix with a personal best score of 83.022% at the 2019 CDI-W Herning on Saturday 19 October 2019.   Dufour received a standing ovation as she left the spectacular arena "Jyske Bank Boxen" . 
For the third consecutive year  the World Cup in Herning gathered some of the best dressage riders to compete for honour and points in the prestigious tournament.  The opening leg of the 2019-2020 Western European League World Cup season is held at the MCH Messecenter in Herning, Denmark, where dressage riders can collect their first points towards the Finals  in April 2020 in Las Vegas, USA.
The home crowd held their breath in anticipation as Cathrine Dufour and her 9-year old partner Bohemian (by Bordeaux x Samarant) showed a spectacular test, scoring lots of 9.0 for their impressive and energetic piaffe and passage. Foot-perfect transmissions resulted in multiple 10s from the judges as did the rider's position and seat.
The spectators followed Cathrine with enthusiasm as she entered the last centre line, a wonderful piaffe with beautiful transitions to passage released an impulsive clapping from the audience. Bohemian spooked and lost his step, but Cathrine quickly brought him back on track for  their final salute.
"The atmosphere is so cool in there and he has to learn it," Cathrine emphasized. "So thanks to the audience, it wasn't their fault he reacted in that way. I'm glad the audience is so enthusiastic", she continued.
A total of 83.022% and a personal best for the Danish pair made Cathrine cheer together with the national coach Nathalie zu Sayn-Wittgenstein.
German riders Benjamin Werndl/Daily Mirror (77.239%) and Helen Langehanenberg/Damsey FRH (75,761%) both received 10 from the judges for their horse's perfect walk, but Denmark's Cathrine Dufour was out of reach.
Spanish Olympic rider Severo Jurado Lopez made an impressive World Cup debut on the 9-year old Danish Warmblood mare Fiontini (by Fassbinder x Romanov). The beautiful mare is well known as she has secured the gold medal three times in a row at the World Championships for young horses together with Severo. Their partnership dates back to when she was only four years old. The pair opened today's competition in Boxen with a score of 75.435%.
A moving goodbye to Jojo
The Danish crowd clapped their hands while tears were falling, as Agnete Kirk Thinggaard and Jojo AZ rode up the penultimate centre line. The 16-year old Hungarian warm-blooded gelding retires after a long and glorious career in international dressage sport.
"It was so wonderful to feel the love and support of the audience for JoJo. He deserves it", states a moved Agnete Kirk Thinggaard after their ride and tribute in the Boxen arena. The pair secured their spot among the 15 best riders in today's Grand Prix with a score of 72.609%.
Related Links
Scores: 2019 CDI-W Herning
Eurodressage Coverage of the 2019-2020 World Cup Season
2019 CDI-W Herning: Come Back Show for Three International GP Horses
2019-2020 Western European League World Cup Season Underway - Eleven Legs to Las Vegas Finals
Agnete Kirk Thinggaard to Retire JoJo AZ from Sport