WBFSH
In spring 2019 the WBFSH Board decided to investigate the possibilities of creating a new system for a breeding ranking based on the international genetic evaluations through competition results, preferably in cooperation with the FEI which holds the database of all international competition results.
Stallion breeding values estimated using an extended data basis which include FEI data will benefit the breeders and WBFSH member studbooks worldwide.
Interstallion, First Project to Measure Stallion Heritability in Sport
Already in the late 1990s a serious attempt for international collaboration about genetic evaluation of sport horses was made. Back then the task was given to a working group which was established by WBFSH, together with EAAP (European Association for Animal Production) and ICAR (International Association for Animal Recording) and eventually named "Interstallion".
The project was partly successful, in laying out the prerequisites and conditions for international genetic evaluation of sport horses. However, consensus in how to proceed to such a joint evaluation was never achieved, so engagement in the project was terminated from the side of the WBFSH.
Modern Day Breeding, No Loyalty to One Studbook
Today the landscape has changed for sport horse breeding. The breeding itself has got more and more international over the years, and that trend is likely to continue. What is changing too is that increasing numbers of sport horse breeders do not consider themselves to be breeders of a particular breed.
Many breeders today don't really care where they register their foal, they just want to get the best terms and conditions for breeding and marketing. They are okay with changing studbook on a regular basis, depending on where they get the best service or the best status for their product. This, in combination with the fact that many stallions are used in multiple studbooks, causes that information on horses and their offspring are spread over several studbooks which makes it difficult to get a complete overview of for example the inheritance of stallions.
At the same time, everybody wants more information. We are living in an information society. Information about anything you like is usually just one or two clicks away on an electronic device. All the studbooks are working hard to be able to serve their members with more and more accurate information. To be able to support the breeders with the tools and information they want and require in order to produce better horses, studbooks will have to cooperate. At the same time, data availability may have changed in a favourable direction when it comes to the top horses, i.e. horses competing on an international level.
The FEI horse and sport results database is online and updated with breeding information on a regular basis, thanks to cooperation between the WBFSH and FEI. Also, many studbooks have established cooperations with their national equestrian federations.
All those factors together make it interesting for the WBFSH to again investigate the possibilities of international genetic evaluation for sport horses.
Exploring New Possibilities to Compare Stallions' Inheritance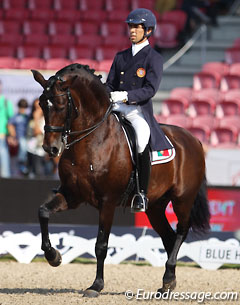 You may ask: Why? Why could international genetic evaluation be interesting for me, for studbooks, for breeders? Well, it is obvious that bringing all the information together from different countries and FEI will give us a more complete and reliable picture of the stallions' inheritance than information from single countries.
However, there are also less obvious, but nevertheless important gains with international genetic evaluation. Just looking at the number of offspring a stallion has on a certain level, doesn't give us any information about how large the proportion of the stallion's offspring that compete on that level. Nor does it take into account the quality of the mares the stallion has served.
By using international genetic evaluation, including both national and international competition data, both problems can be solved.
Fair comparison between old and young stallions is another issue which is properly handled by the methodology used for genetic evaluation. At least but not last, international genetic evaluation could, if the right methods are used, correct for the preselection that takes place in each country. That makes the influence of one or two super-successful offspring smaller, if it turns out the rest of the stallion's offspring were not that good.
First Discussions Held at 2019 WBFSH General Assembly
To enlighten and explain what the new project is about, a seminar and workshop on international genetic evaluation was arranged in connection with the WBFSH General Assembly 2019 in Saumur, France, in October.
Renowned experts on the subject, from both the cattle side, where international genetic evaluation has been successfully used for decades, and the horse side gave insight into the procedures and steps to be taken, should the WBFSH decide to go on in the direction of international genetic evaluation. 
The minutes of the WBFSH General Assembly and conclusions from this meeting have not yet been posted. 
Related Links
Lena Sellman: "Hail to the Breeders at the FEI/WBFSH World Breeding Championships for Young Dressage Horses?"
De Niro Tops 2018 WBFSH Dressage Sire Ranking
De Niro, Hanoverian Stallion of the Year 2008