2019 French Youth Riders Championships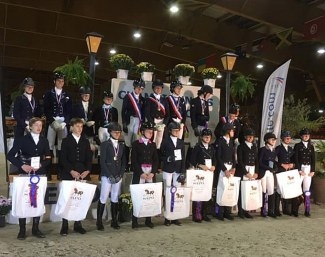 Children's rider Maud Hebras, junior rider Léa Bonifay, young rider Capucine Noel and Under 25 Grand Prix rider Rachel Bastady became the winners of the 2019 French Youth Riders Championships held in Le Mans, France, on 24 - 27 October 2019. 
Six combinations competed in the children division and it was Maud Hebras and the 12-year old KWPN gelding Chicco (by Tuschinski x Uddel) that ruled the roost with three winning rounds. She scored 72.80%, 71,10% and 71.531% to take the gold medal and the title. Thanais Capelle Morosi and the Lusitano cross bred Escortgirl Maupertuis (by Don Juan de Hus x Rieto) were silver after one highlight round and two solid performances. She scored 66.833%, 70.267% and 65.750%.  Thanais was sandwiched in the ranking by two riders that represented France at the 2019 European Children Championships in Italy last July.  Anne Louise Bertange and the 11-year old French bred Hanoverian Sergio LH (by Sir Donnerhall x Rotspon) scored the bronze medal with 66. 500%,  and 67.700%,  and 65.750%.
The junior riders' division was the largest of the Championship with 10 pairs competing. Routinier Lea Bonifay and the 12-year old Belgian bred Oldenburg gelding Fantastique (by Fidertanz x Dream of Heidelberg I) was undefeated as the only pair to score three times over 70%. the 2018 French Junior Champion won all three rounds with 72.054%, 72.368% and 73.925% and renewed her title. Only in the Kur Bonifay felt the heat in her neck from silver medal winning Mado Pinto on Jacqueline Bouche's 8-year old Oldenburg Sirano de Luxe (by Sir Donnerhall x De Niro). Pinto, who dropped from young riders level down to junior riders level to compete this horse, placed second overall after posting 69.432%,  69.368% , and 72.475%. Alexandre Cheret, who also competed in the "Cadet" division (a non FEI league between ponies and children), earned bronze aboard the 13-year old Dutch warmblood mare Bamona (by United x Inspekteur). Cheret took over the ride on the Grand Prix level trained Bamona from Veronique Pruede Seguret and began competing her in 2019. At the Nationals he scored 69.757%, 67.921%, and  71.025% for bronze.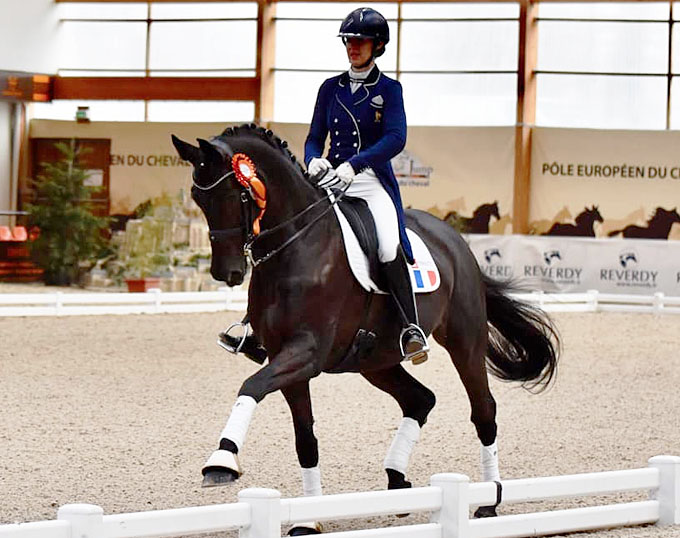 Only four young riders traveled to Le Mans with San Giovanni EYRC team rider Mado Pinto not presenting her top horse Rafale du Coussoul. Capucine Noel and her 13-year old Hanoverian Soleil Noir vom Rosenhof (by Stedinger x Weltmeyer) ended up with the gold medal after winning the team test (71.763%), placing second in the individual (70.368%) and winning the Kur (72.925%). She earned her second, consecutive title in the division and the third in her career. Camille Audo and her 13-year old Dutch warmblood Behroez (by United x Gribaldi) got the silver medal with three consistent rounds that earned her 69.737%, 70.500% and 70.175%. Clemence Audi Bussio and the 11-year old Hanoverian bred Dujardin d'Arx (by Dancier x Akatschi) slotted in third overall after posting 69.368% in the team test, 70.000% in the individual and 69.425% in the kur. 
Four pairs battled it out in the Under 25 division and the division was lead by young professional Rachel Bastady on the 14-year old Hanoverian Fandango d'Arx (by Florencio x De Niro). She scored the highest overall after the two rounds of the Championship but she had silver medal winning Cedric Gallinard on her heels. Bastady won gold with 67.474% and 66.721% (average 67.098%), while Gallinard and his 17-year old Belgian SBS bred Scherzo ZC (by Ferro x Romadour II) ended up with silver on 65.553% and 66.977%. The bronze went to Pauline Roth on the 13-year old Hanoverian bred World Champion du Loing (by World Diamond O x Walt Disney). She received 66.105% and 64.279% from the judges. 
Results - 2019 French Youth Riders Championships - Le Mans
Children
1. Maud Hebras - Chicco - 72,800% 71,100% 71,531% --- 71,810%
2. Thanais Capelle Morosi - Escortgirl Maupertuis -  66,833% 70,267% 65,750% --- 67,617%
3. Anne Louise Bertagne - Sergio LH -  66,500% 67,700% 65,750% --- 66,650%
4. Eloise Thomas - Kind of Magic Fast -  64,333% 68,133% 66,563% --- 66,343%
5. Stella Briand - U2 Jass du Derby -  65,967% 67,067% 64,000% --- 65,678%
6. Clea Beaute - Cadance la Tremblee -  63,967% 63,667% 65,313% --- 64,316%
Junior Riders
1. Lea Bonifay - Fantastique - 72,054% 72,368% 73,925% --- 72,782%
2. Mado Pinto - Sirano de Luxe -  69,432% 69,368% 72,475% --- 70,425%
3. Alexandre Cheret - Bamona -  69,757% 67,921% 71,025% --- 69,568%
4. Sarah Lopez - Diablo de Saint Val - 68,405% 68,184% 69,800% --- 68,796%
5. Ella Lostria  - Crymlyn - 67,514% 67,526% 71,325% --- 68,788%
6. Laura Jeanne Favre - Furstin Star JM -  64,757% 67,316% 65,800% --- 65,958%
7. Carla Marie Dufil - Eppo - 66,784% 63,395% 66,250% --- 65,476%
8. Elina Schmid - Ramsan D'arx - 61,811% 62,421% 66,575% --- 63,602%
9. Yoann Bourguine - First Favorite -  61,703% 66,553% 61,475% --- 63,244%
10. Flore Bonnefoix - Zodana - 63,108% 62,579% 62,475% --- 62,721%
Young Riders
1. Capucine Noel - Soleil Noir vom Rosenhof - 71,763% 70,368% 72,925% --- 71,685%
2. Camille Audo - Behroez - 69,737% 70,500% 70,175% --- 70,137%
3. Clemence Audi Bussio - Dujardin d'Arx - 69,368% 70,000% 69,425% --- 69,598%
4. Sophie Marchandeau - Fellow Rules - 66,237% 67,553% 69,350% --- 67,713%
Under 25
1. Rachel Bastady - Fandango d'Arx - 67,474% 66,721% --- 67,098%
2. Cedric Gallinard - Scherzo ZC - 65,553% 66,977% --- 66,265%
3. Pauline Roth - World Champion du Loing - 66,105% 64,279% --- 65,192%
4. Mathilde Chateau - Or Noir de Hus -  60,605% 61,767% --- 61,186%
Related Links
Jawurek, Bonifay, Noel, Gallinard Win 2018 French Youth Riders Championships
Milochevitch, Noel, Boireau, Le Gallais Win 2017 French Youth Riders Championships
Stickland, Dufil, Legallais Win 2016 French Youth Riders Championships
Pinto, Chevanne, Ducos Blanchet, Judet Cheret Win 2015 French Youth Riders Championships
Hel and Judet Cheret Win Gold at 2009 French Youth Riders Championships