2019 IDTC Annual Meeting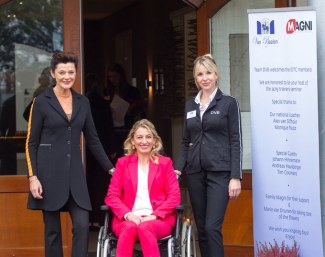 Dressage stable Van Baalen in Brakel Netherlands was the site of the 2019 Practical Meeting of the International Dressage Trainers Club on 7 - 8 October 2019.
 Approximately 110 trainers and guests coming from throughout Europe and as far away as Dubai attended the meeting. The meeting focused on youth, young horses, young riders and the importance of self-carriage. In addition there was a review of the European Championships and several presentations related to horse welfare.
Young Horses and Riders Take Centre Stage on Day 1
The meeting kicked off with an introduction by Coby Van Baalen as she described the development of her stable from a dairy farm to a state of the art training and breeding facility. She gave us insight into her climb up the ranks of dressage sport from enthusiast to top Olympic competitor. She also outlined the formation of her daughter Marlies to Olympic level and partner in their highly successful training stable. A glimpse of their new project, Van Baalen Young Horse Estate was provided as well.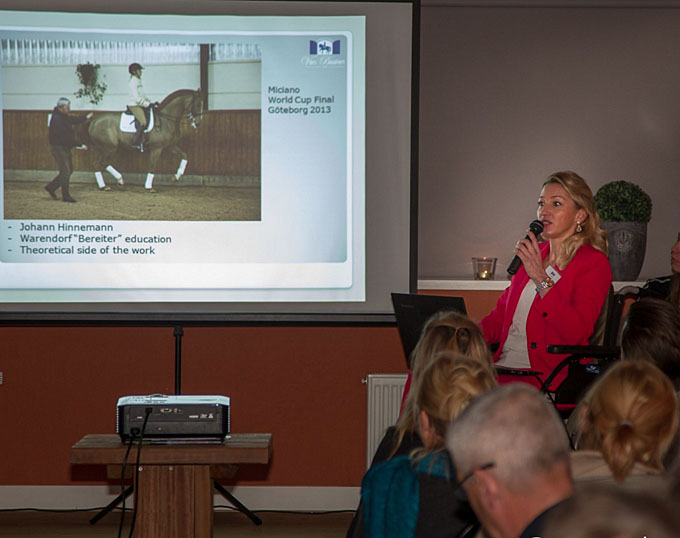 The majority of the afternoon was filled with practical demonstrations and discussions around young horses. Starting with 3-year old, Lady Di DVB (by Millennium x Gribaldi) ridden by Noah Moreno and Lorabel (by Toto Jr. x Don Schufro) ridden by Denise van Alphen and followed by 4-year old Kingston (by Franklin x Roman Nature) ridden by Olga Sergeenkova and King de Niro Magni (by De Niro x Ampere) rider Mara de Vries. Coby van Baalen and Johann Hinnemann discussed their approach to training and competing young horses. 
The audience was invited to share their opinions about when horses should start competing. There was general agreement that the decision very much depended on the individual horse and most seemed to prefer to wait until 4 years old to compete. 
Marlies Van Baalen and Dutch pony team trainer Monique Peutz worked with two DVB pony riders, Evi van Rooij on King Stayershof's Jango and Sofie van Rooij on Pablo R. They discussed their philosophy and the practicalities of training these young riders. They highlighted the importance of respecting the emotional and changing physical development of riders at this age.
Johann Hinnemann and Andreas Hausberger (Oberberiter Spanish Riding School Vienna) shared the platform to discuss the 5 and 6 year old age group. The demonstration horses were Jacky Kennedy DVB (Elite mare by Damsey x Jazz) ridden by Jos Hogendoorn, For Gold OLD (stallion by Franziskus x Blue Hors Zack) ridden by Stephanie Wolf, Icerole DVB (Elite mare  by Desperados x Painted Black) ridden by Mara de Vries and Infinity Win T (by Everdale x Jazz) ridden by Roy First.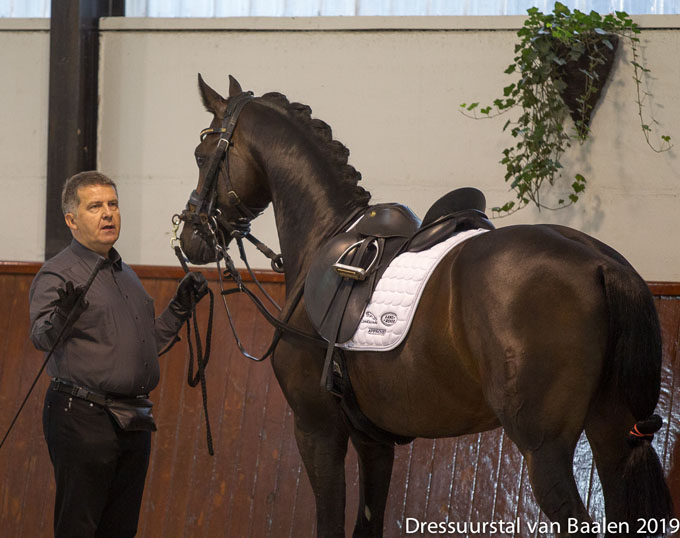 Using For Gold, Andreas Hausberger demonstrated his process to introducing a horse to in hand work for the first time. His patience and ability to 'read the horse' were very much evident. This was followed by a discussion about when is the ideal time to start teaching piaffe and why. There was also discussion regarding the requirement for perfect flying changes in the finals of the Young Horse Championships and if it is important to be able to show this at this early stage.
The demonstrations continued with Marlies van Baalen, Monique Peutz and Dutch National coach Alex van Silfhout working with DVB Junior students Shanna Baars (NED Bronze medallist on Farzana (by Ampere x Florencio), Susanne van der Pols (NED Silver medallist EC 2019) on Excellentie (by Blue Hors Don Schufro x Riverman). The audience was asked if they thought the FEI Junior test was the correct technical level or should it be made more difficult. Overall there was agreement that the degree of difficulty was appropriate.
The afternoon was wrapped up with a highly informative presentation by Dr Rachel Murray regarding muscle fitness in dressage horses. Dr Murray identified the specific muscle groups required for correct performance of dressage movements and provided a structured means of evaluating the development of these groups. She also discussed various non-ridden ways of improving muscle condition.
Growth Up the Levels with Professional Guidance from Trainers and Federation
Day 2 started with a presentation of the Young Leaders Program given by Jacobine van Gijn and Fenna Westerduin. The YLP was developed by the KNHS and is a structured educational youth program with the aim of developing well connected, self-sufficient active equestrians.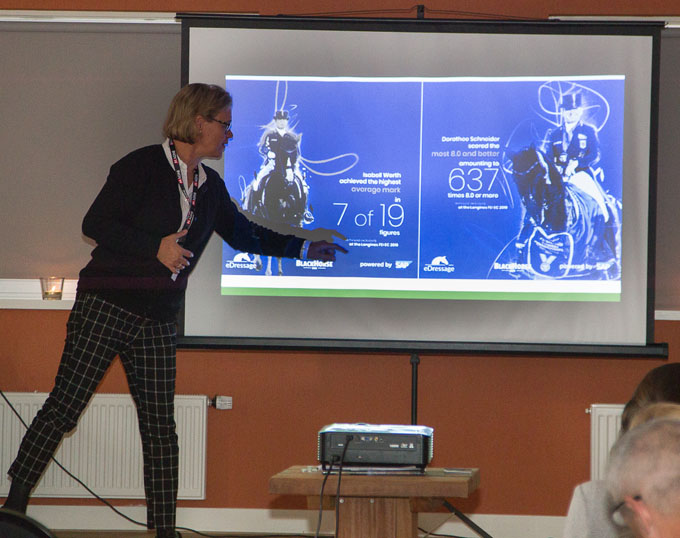 Haike Blaauw from the Federation of National Riding Schools in The Netherlands discussed the role of his organization and how it related to top sport stable in the Netherlands.
Of great interest was Mariette Sanders-Van Gansewinkel and Susanne Baarup's discussion of the European Championships. It was generally agreed that the quality of the performances was outstanding with little controversy regarding the judging. Thus Mariette analysed how the top scores were achieved. For example she pointed out that Isabell Werth achieved the highest average mark in 7 of 19 figures and Dorothee Schneider scored the most 8.0 or better. We were also given a look at the paperless protocols to see how they work and their advantages such as the ability to see all judges' scores and remarks on one sheet. Tribute was paid to the quality of all the competitors and both judges confirmed that amongst the 'non-winner' this time, future Champions would emerge.
The final presentation of the morning was by FEI Chief Steward Jacques Van Daele. He emphasized the importance of cooperation between riders, stewards, trainers and judges. Encouragingly he stated that the riding in the warm-up arena has improved vastly over the past years and praised the cooperative spirit which now exists amongst competitors and officials.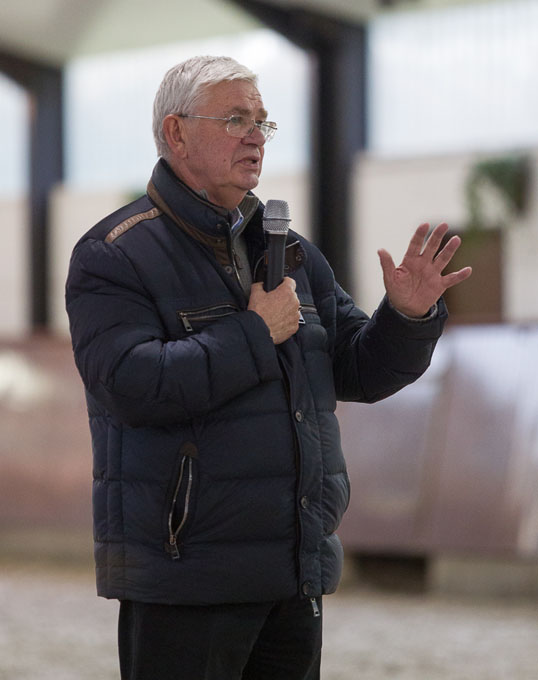 Practical demonstrations continued on Day 2 beginning with Young Riders Daphne van Peperstraten (NED Silver medallist YR 2019 on Greenpoint's Cupido (by Johnson x Duco) and Helen Erbe (GER 1st reserve German YR team 2019 on Furst Casper (by Furst Piccolo x Attraktiv). Monique Peutz and Johann Hinnemann discussed their ideas for training riders at this level.
The group also discussed whether Young Riders should be allowed to ride with a snaffle at international competitions. The majority opinion was that riding in a double bridle was an important skill that must be learned and Young Riders level is the appropriate level to do so. The necessity of changing the Young Riders test from the FEI Prix St Georges was also questioned as it has been used for such a long time. Given that riders move out of this category it was felt that the test remains appropriate.
The U25 category was represented by 2019 U25 Champion Jeanine Nieuwenhuis NED.  Discussion of this category was led by Coby van Baalen, Johann Hinnemann and Tim Coomans and included questions surrounding of the piaffe/passage in the U25 test and suggestions for improvement.
The practical part ended up with a highlight; Irish Judy Reynolds and Vancouver K.  Under the supervision of Johann Hinnemann the pair, who placed fifth in the Special and the Freestyle during the EC 2019, showed the all ins and outs of Grand Prix training.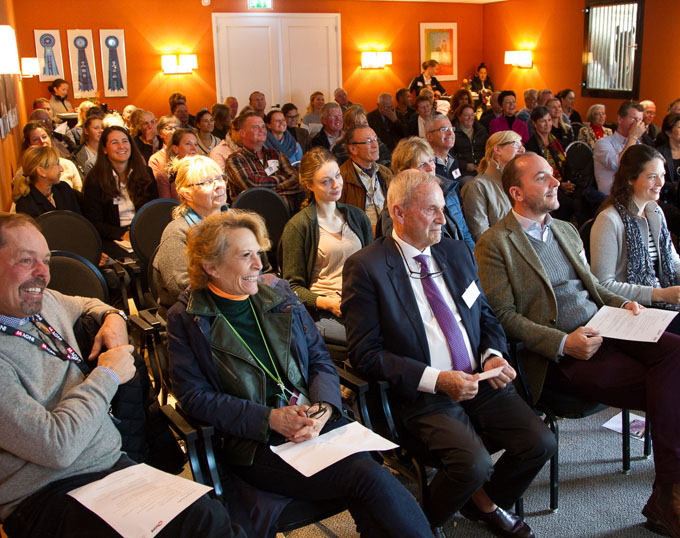 The day was brought to a close by Coby Bolger who spoke about ulcers in the performance horse. This problem is believed to be prevalent among stables horses. Coby discussed diagnosis and management strategies for ulcers.
Thanks to the hard work by the team at Dressuurstal Van Baalen and sponsor Magni, members left the meeting inspired and with a renewed sense of camaraderie. 
Text by Linda Keenan - Photos © Yvonne Termeer and Equigeniek 
Related Links
2018 IDTC Annual Meeting at Gestut Vorwerk, the New Global Dressage Forum?!
2016 Global Dressage Forum - Day One: Surprise FEI Revelations, Media and Sponsorship
2016 Global Dressage Forum - Day Two: Strong Horse Talent Holds the Olympic Future of Dressage
Global Dressage Forum Returns during 2018 CDIO Aachen
Minutes of the 2012 International Dressage Trainers Club General Assembly
IDTC Supports Ad Hoc Working Group