2019 USDF Dressage Finals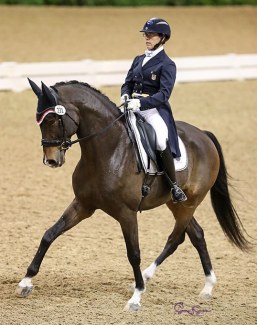 Heather Mason and Alice Tarjan took out the Intermediaire II Open and Adult Amateur champion's titles on the first day of competition at the 2019 USDF Dressage Finals in Lexington, Kentucky. 
With chilly rain and a cold wind, it may have felt like a nor'easter blew into the Kentucky Horse Park on Thursday 7 November 2019 for the start of the USDF Dressage Finals, which are the U.S. Dressage Championships excluding the professional high performance elite riders of the country. They had their Championship at the 2019 U.S. National Dressage Championships - aka the Festival of Champions - in August.
Mason Wins Intemediaire II Open Championship
In the comfort of the Alltech Arena, a field of 10 riders from across the country battled it out in the Intermediate II Open Championship, but it was New Jersey's Heather Mason (Region 8) who rode her 14-year-old Oldenburg/Holsteiner gelding RTF Lincoln to the win with 72.157%. As the only combination to score above 70 percent, they were also awarded the unanimous victory under all three judges.
"I've known Lincoln since he was a foal and sold him to a client, who then kept him in training with me. But he can be a tricky horse, so after his owner had double hip surgery she gave him back to me because she unfortunately knew she wouldn't ever ride him again," said Mason of her mount, which she presented in a snaffle bridle for the FEI-level test. "He was fantastic today and very rideable – a little more than usual. He's usually very hot, but he actually let me use my leg today, which was nice! I like riding him in a snaffle even at this level because he's always been light in the hand and I encourage more contact this way."
Also kicking off the week on a great note was Kristin Wasemiller-Knutson, who traveled from Oklahoma City (Region 9) to ride at the Finals with her 10-year-old Trakehner/KWPN/Friesian cross mare Vashti (by Nico x Thekla by Onassis, bred in the U.S. by Sherry Koella). The pair was rewarded with a score of 69.657% for Reserve Championship honors. "I had a really nice ride today – we had a few mistakes in the one-tempi's which have been a little bit of our Achilles heel this year," said Wasemiller-Knutson. "But I had a great time in there and a lot of fun. Interestingly, Vashti's older sister is James Koford's mount Adiah HP, and we hope to give them a run for their money later this week in the Grand Prix and Freestyle!"
Tarjan and Candescent Win Second Straight Intermediate II Adult Amateur Championship
With elegance and extravagant movement, it's hard not to notice Alice Tarjan of Oldwick, N.J. (Region 8) and her nine-year-old Hanoverian mare Candescent (by Christ x Farina by Falkenstern II), and the pair also caught the eye of the judges as the pair successfully defended their 2018 Intermediate II Adult Amateur Championship title with a hearty score of 73.824%.
"With this being her second year now at the level, I'm not so worried anymore about trying to get the actual movements done. Now we're working on consistency and harmony," Tarjan explained. "I used to have to rely on trying to get her a little hot and use some positive tension to get everything done, but now she understands the movements better so I'm able to back off, ride a little quieter and trust the training and that she knows what I'm asking for. It's a difficult sport and it's always a work in progress."
Jennifer Huber traveled 15 hours north from Wellington, Fla. (Region 3) to take reserve honors with her Danish Warmblood mare Madame Noir (by Nobleman x Silke by Sherwood) with a score of 66.275%. "I had a super ride and I just loved every moment of it," said Huber. "Madame gives you her heart on a plate every time and is very comfortable with this test – she likes how it flows around."
Text by Jennifer Keeler - Photos © Sue Stickle
Related Links
Candescent and Faolon Find Their Calling on First Day of 2018 US Dressage Finals
Leach and Mason Earn the First Two Titles at 2016 U.S. Dressage Finals
Mason Bags Inter I Kur Victory at the 2014 CDI-W Wellington
Heather Mason Awarded $25,000 Carol Lavell Advanced Dressage Prize