2019 USDF Dressage Finals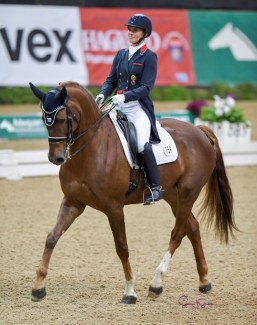 Angela Jackson and Amy Gimbel took away the Intermediaire I titles, while Alice Tarjan and Jim Koford were in charge of the Grand Prix divisions on the second day of competition at the  2019 USDF Dressage Finals, which are being held 7 - 10 November 2019 at the Kentucky Horse Park in Lexington, Ky.
Jackson Wins Intermediaire I Open Title
It's often said that nothing matters more than family, and in one of the toughest divisions at this year's US Dressage Finals;  "family" came through for Angela Jackson.
Against a field of almost 30 competitors in an Intermediate I Open Championship class that was so competitive it resembled a dressage version of "Survivor", Jackson of Henderson, Ky. (Region 2) knew who she could count on to earn her the victory with a top score of 72.157%: her nine-year-old Zweibrucker gelding Figaro H (Fantasmic x Romina H by River H), a horse she not only bred but has brought up through the Young Horse ranks to the FEI level (watch their winning ride HERE).
"This is definitely special for me, because he's family. He represents five generations of horses we've bred and ridden," she said. "I think what helped give us the edge today is that he was very focused. He's finally growing up to where he's focused on his work, and I can ride from movement to movement to movement and really have a beginning and end to each one. Today, right from the get-go until we went down the final centerline, he felt really with me."
Mike Suchanek of Blaine, Minn. (Region 4) was also delighted with his Reserve Championship ride (71.520%) aboard Hero L, a 12-year-old Hanoverian gelding (His Highness x Waterlily L by Wolkenstein II) bred in the U.S. by Leatherdale Farms and owned by Louise Leatherdale. "He has a special place in our hearts at the farm, and in mine as well - he's the first youngster I ever started when I began working at Leatherdale Farms," he explained. "I thought we had good harmony and a really nice connection throughout the whole ride today, and that made it special too."
Gimbel Claims Intermediate I Adult Amateur Championship
Five years ago, Amy Gimbel of Oldwick, N.J. (Region 8) and her young KWPN mare Eye Candy (UB-40 x Wednesday by Weltmeyer, bred in the U.S. by Judy Barrett) came to the US Dressage Finals for the very first time and went home with the Training Level Adult Amateur Championship title. Through subsequent years of ups and downs, victory and disappointment, the pair's journey has once again brought them back to Lexington, and now jumping up into the FEI levels Gimbel and her mount found the winner's circle again in the Intermediate I Adult Amateur Championship with a top score of 72.794%.
"From the time I got on today, everything just worked," said Gimbel. "We longed her a little bit today to get some of the sass out, and despite some adjustments with ring and time changes and the very cold conditions, it all just melded together quite well. The test had a very nice flow to it and I feel really lucky to be here and to have a great ride on a day like today."
Finishing on Gimbel's heels for Reserve honors was another Finals veteran in Bonnie Canter of Hockley, Texas (Region 9) and her Connemara/Hanoverian cross mare Fifinella GCF (Fred Astaire x South Ridge Bliss by South Ridge Duncan's Honor, bred in the U.S. by Sharon Garner) with 71.520%. "Despite the cold the footing was wonderful, and even though you never quite know what you're going to get with Fifi, she really did a great job today," Canter laughed. "The fact that she was quite sick this winter and we weren't sure if we'd ever have her here again makes it all that much more special."
Tarjan Now Two For Two at Finals, Claims Grand Prix Adult Amateur Championship
Just like last year, Alice Tarjan of Oldwick, N.J. (Region 8) and her nine-year-old Hanoverian mare Candescent (Christ x Farina by Falkenstern II) are on a roll at the US Dressage Finals. After winning yesterday's Intermediate II Adult Amateur division, the pair returned to the Alltech Arena to successfully defend yet another 2018 title, this time in the Grand Prix Adult Amateur Championship with a score of 70.797% for another unanimous victory and claim the George W. Wagner Jr. Perpetual Trophy (presented by the International Georgian Grande Horse Registry).
Despite her success, Tarjan is quick to emphasize that she's embracing experiences like the Finals to learn how her young mare handles the rigors of big shows for the future. "In the past she might get a little more electric after the first day because of the excitement," Tarjan explained. "But this year it seems like she gets better as she goes through the competition. We're still trying to figure out what works best for her. So I try to work as much as I can on the relaxation in the warm-up, and I ride the horse I have."
Also finding success for the second year in a row was Region 1 rider Kristin Herzing of Harrisburg, Pa. and her Hanoverian gelding Gentleman (Grusus x Rumpelstilzchen by Raphael, bred in the U.S. by Kathryn and Jeffrey Nesbit), who were Reserve Champions at this level last year and were featured in this fall's Why I Love the Finals series on YourDressage.org (read their story HERE). The self-described "old married couple" scored 64.022% for Reserve Champion honors despite having only a seven-week turnaround from surgery to the Regional Championships. "Our test was pretty good - we didn't have any mistakes and I was happy. He knows his job and he just likes to show up," Herzing laughed. "He had a couple of weeks off after his surgery to remove a hematoma in his face, but as soon as he started running around like a nut I knew it was time to put him back to work, and everything just kind of fell into place."
Koford and Adiah HP Successfully Defend Grand Prix Open Championship Title
As soon as James Koford of Winston-Salem, N.C. (Region 1) came down centerline for his final salute aboard the 12-year-old Friesian Sporthorse Adiah HP (Nico x Marije ANT by Anton, owned and bred in the U.S. by Sherry Koella), the enthusiastic crowd in the Alltech Arena could no longer contain itself and erupted in thunderous applause. The judges were also impressed as they awarded Koford and the colorful mare the Veronica Holt Perpetual Trophy (presented by USDF Region 5 & Friends) for the Grand Prix Open Championship for the second year in a row with 69.058% (watch their winning ride HERE).
"I'm so proud of her – she's had a bit of a challenging fall since we've been doing a lot of traveling and showing," said Koford after the win. "We used to do it on adrenaline- my heart would be beating and her heart would be beating. Now I feel like we know what we're doing. She understands the exercises with confidence and she knows what to do in the ring. Now it's all about showing off."
Two years ago, Michael Bragdell of Colora, Md. (Region 8) rode Hilltop Farm, Inc.'s now 11-year-old Oldenburg stallion Qredit Hilltop (Quaterback x Dream Rubina by Dream of Glory, bred in the U.S. by Judy Yancey) to win the Intermediate II Open title at the Finals, and on Friday night the pair returned to the Alltech Arena to earn Reserve honors in the Grand Prix Open Championship with a score of 68.370%. "We go back quite a bit," said Bragdell of his mount. "I started him under saddle and showed him at Devon as a yearling where he was Grand Champion. It's been a fun journey and an interesting one – you learn as you go."
Text by Jennifer Keeler - Photos © Sue Stickle
Related Links
Heather Mason and Alice Tarjan Take Inter II Titles at 2019 USDF Dressage Finals