2019 PSI Auction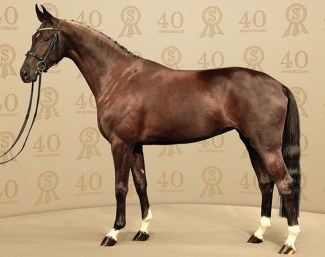 The 2019 PSI Auction is celebrating its 40th edition on 9 December 2019 and this year's collection lives up to all expectations. The dressage collection includes twenty-six top young dressage stars with a smashing horse listed as catalogue number 1: Bundeschampion Saniola.
PSI is a Seal of Quality
Performance Sales International (P.S.I.) is a seal of quality amongst horse experts and PSI customers from all over the world have benefit from these quality standards.
Are you looking for an international calibre young dressage horse to shine in your own barn, or for an investment project to keep in Hagen for training, competition and profitable resale, all is possible at Performance Sales International.
All P.S.I. horses are handpicked by Paul Schockemöhle and Ullrich Kasselmann. They are either home-bred, home reared or carefully scouted. All dressage horses are trained at Hof Kasselmann in Hagen. P.S.I. horses have the advantage of maturing without any time pressure, appropriately to their age, and of being prepared for future tasks with as much time as needed. The auction riders know their horses at least for one whole year and can therefore perfectly advise our customers.
The auction collections of the last almost three decades produced a huge number of Championship or Grand Prix-horses, all of them emphasising the high quality standards of the organizers.
2019 PSI Auction Horse in the Spotlight: Cat nr 1: Saniola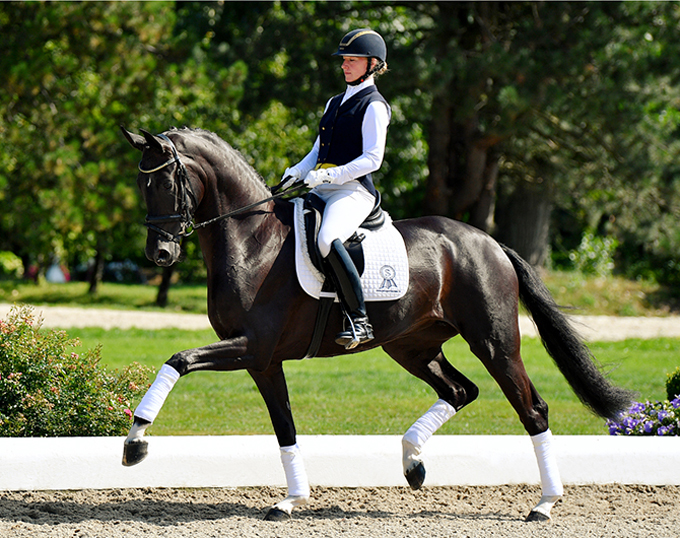 As proof of quality, catalogue number one of the 2019 PSI Auction dressage collection is one of the absolute highlights: Saniola. 
This 4-year old Hanoverian mare (by San Amour) has been bred by Paul Schockemöhle at Gestut Lewitz and is out of Fürstin Fantasia (by Fürst Romanier x Sir Donnerhall). Her grand dam produced last year's PSI Auction star Forza (by Furstenball).
Saniola turned heads at the 2019 Bundeschampionate in Warendorf, winning the 4-year old mares and geldings Championships under Nicole Wego. 
The mare's movement is equally extraordinary to her pedigree. Her canter was awarded a 9.5 at the Bundeschampionate. Her walk is clear in the 4-beat rhythm and ground covering. Her trot is balanced and the hindleg is always reaching under. 
Saniola has proven her worth in the show ring and is star for the future. 
Discover the 2019 PSI Auction collection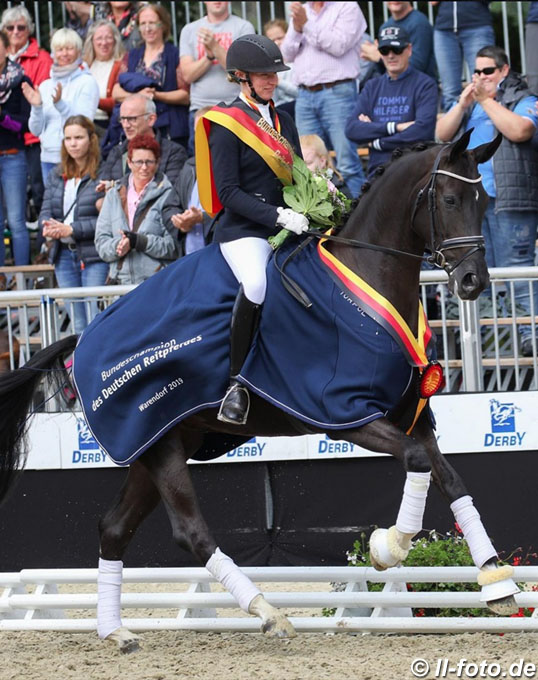 Discover the complete collection of outstanding young dressage and jumping horses at www.psi-auktion.de
For enquiries and further information please do not hesitate to contact us: 
- Ullrich Kasselmann (+49 5401 89 200)
- Francois Kasselmann (+49 171 496 98 65)
- Insa Hansen (+ 49 172 455 62 16)
- Hartmut Lammers (+49 175 650 55 80)
- Ulrich Henschke (+49 171 704 04 77)
Follow PSI on Facebook and Instagram and discover the latest news around this year's collection of dressage and show jumping horses.