FEI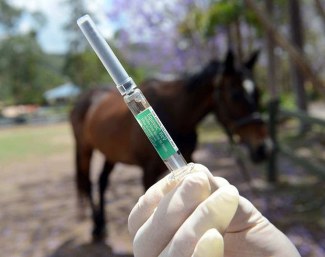 On 19 November 2019 the FEI General Assembly in Moscow re-iterated that it will not be enforcing a Hendra Virus vaccination for horses competing at FEI competitions in Australia.
Ricky MacMillan, newly elected chair of the Equestrian Australia board, attended the meeting.
When it became public knowledge that the FEI Veterinary Committee would be discussing at the 2019 FEI General Assembly a possible mandatory Hendra vaccination of horses competing at FEI sanctioned events in Australia, major unrest arose amongst horse owners and riders in Australia. 
The topic was first discussed at the FEI Veterinary Committee meeting at the beginning of November and at this in-person meeting in Lausanne (SUI) it agreed unanimously that there will be no proposal to impose the Hendra vaccination.
This decision was re-iterated at the FEI General Assembly in Moscow, where Chair of the Veterinary Committee, Dr Jenny Hall, provided a clarification on Hendra.
The FEI also released the following statement:
The Veterinary Committee and Veterinary Department has gathered information on the current situation in Australia regarding Hendra Virus.
Hendra Virus is a rare zoonosis that has caused severe and fatal disease in both infected horses and humans.
Considerable work has been done in Australia to develop and implement biosecurity protocols to mitigate risk. In order to ensure compliance with FEI Veterinary regulations, treating veterinarians at FEI Events in Australia must be licensed to practice in Australia. 
There is no requirement for horses to be vaccinated against Hendra Virus to attend FEI Events. The FEI Veterinary Committee has unanimously agreed not to propose the introduction of mandatory Hendra vaccination. 
"Equestrian Australia on behalf of its members acknowledge this position. We look forward to full consultation and working together with the FEI on any such biosecurity matters in the future," was stated in the subsequent EA press release.
Related Links
FEI Issues Clarification on Hendra Virus Vaccination
Possible Compulsory Hendra Vaccination Through FEI Regulation Causes Uproar in Australia
Ricky MacMillan Appointed Chair of Equestrian Australia Board