Moldova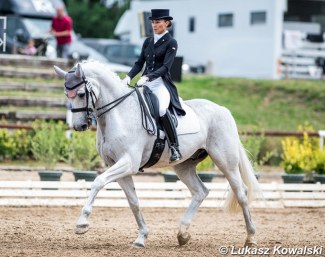 Tatiana Antonenco, one of just two international Grand Prix riders competing for Moldova, has lost her top horse Tavares. The 20-year old Grand Prix horse was euthanized on 21 March 2020 after a colic attack. 
Tavares was a Dutch warmblood gelding by D-Day out of Elvera (by Ramiro). He was bred by C. Soethout-Koopman and owned by the Turkish Cetin Altin.
Trailblazer for Moldova
Antonenco and Tavares made their international show debut at small tour level at the 2012 Balkan Games in Athens, Greece, where they were third. At the 2013 Balkan Games in Yagodova, Bulgaria, they were fourth in the Prix St Georges but retired from the Intermediaire I.
Tanya and the grey Tavares competed at three CDI's in 2014. They kicked off the season in Istanbul and moved up to Grand Prix level at the CDU Budapest, followed by the CDI Kaposvar. 
Then the pair disappeared from the international scene for three years. In 2015 Antonenco campaigned Polygraf at the Balkan Games. Tavares returned at the 2017 CDI-W Brno in the Czech Republic and one month later travelled all the way to Deauville, France. There were no internationals in 2018.
The pair's highlight year was without a doubt 2019 where Tanya and the 19-year old Tavares went full blast: They started in Ornago, followed by Budapest, Mariakalnok, Brno, Leudelange, Nice, Ornago, and finally again in Nice in October 2019, the combination's last show in their career. 
Short Retirement in Belgium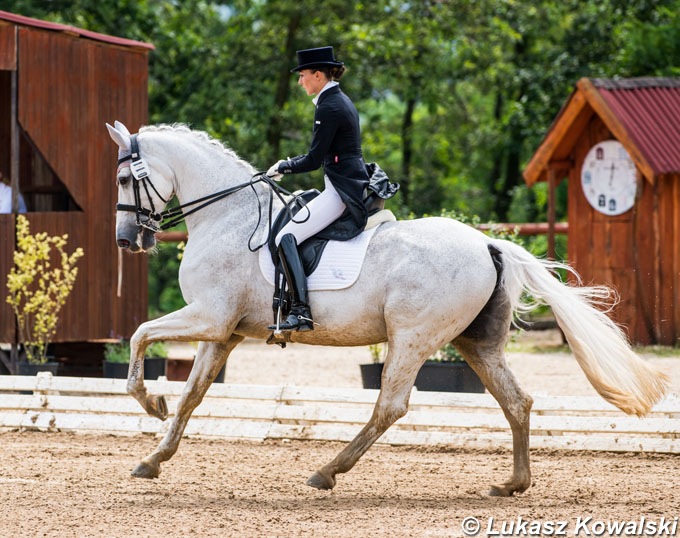 Although the duo's marks were mostly in the low sixties, Antonenco and Tavares were trailblazers for Moldova. The 31-year old Istanbul based Antonenco received the ride on Tavares from owner Cetin Altin, who had bought him in Holland, but turned out to be too naughty. 
"He was the first horse I trained to Grand Prix," Tatiana told Eurodressage. "I was 18 and seeking a job in Istanbul and Cetin helped me start my career there, by managing Tavares for him. Later on he give me the horse as a present. I am very thankful to Tavares for everything i have learnt and for what I have because of him. He was never the perfect dressage horse, but very much loved. I met many trainers from Europe because of him and got much advice from many judges. Tavares was challenging all time."
Tavares was retired from competition sport in Belgium at the yard of Anneke Pais, the ex-wife of Tanya's current boyfriend and trainer Serge Pais. On 21 March the horse suffered from colic and was operated on at the equine clinic.
"It started with a mild colic," Antonenco told Eurodressage. "Anneke took him to the equine clinic Equinox where they did surgery on him. As soon as he was opened, the vet saw that he had very little chance of recovery, so we decided to put him to sleep. I'm so thankful that Anneke was with him all the time and took care of him as if he were her own."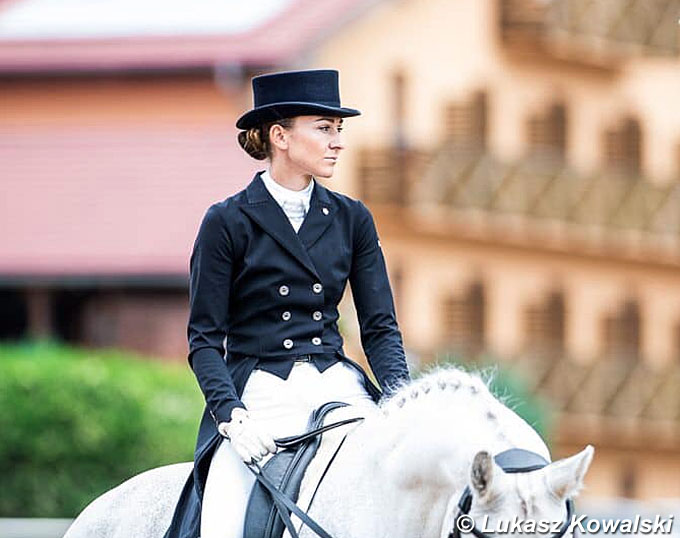 Antonenco could not fly to Belgium to be with her horse due to the corona virus. 
"I live in Istanbul and all flights were cancelled," she said. "The morning before his colic he was still happily grazing in the paddock. It all happened so suddenly. I truly thought my Tavares would live forever."
Antonenco is now riding the 7-year old small tour trained KWPN bred Iwonder (by Bonjengel x Tokyo) and the 8-year old Grand Prix ready Dutch warmblood Helsinki (by Bojengel x Jazz). Both are bred by Anneke and Serge Pais and are owned by Serge. She also has her own 11-year old (by San Remo), which she wants to compete at national Grand Prix level in Belgium first, before taking him to CDI's. 
Photos © Lukasz Kowalski
Related Links
Dressage in Turkey Thrives as New Champions are Crowned at 2017 Turkish Championships
Double Gold for Bulgaria and Turkey at 2015 Balkan Dressage Championships