U.S.A.
American Grand Prix rider Arlene Page has secured a new horse as future FEI horse: the triple U.S. Young Horse reserve champion Fairouz. 
Fairouz is a 7-year old Oldenburg mare by Franziskus  out of Diva (by Don Frederico x Wittinger), bred by Leonie Bramall and Volker Dusche in Germany.
She was originally named Frau Frau.
Triple U.S. Young Horse Reserve Champion
Fairouz was discovered by Tarjan at Catherine Haddad's in the USA. Who in her turn had found her at Australian Bennet Conn's place in Europe. Conn had purchased Fairouz as a foal. 
Tarjan and the bay competed at three consecutive U.S. Young Horse Championships at Lamplight equestrian center in Wayne, ILL. 
At the 2017 U.S. Young Horse Championships she was second in the 4-year old division, scoring  8.0 in the preliminary test and 8.2 in the Finals. At the 2018 Nationals the mare scored 87.80 in the preliminary test and 83.80 in the Finals to reclaim that reserve champion's title as a 5-year old. 
At the 2019 U.S. Young Horse Championships last summer Tarjan and Fairouz scored their third reserve champion's title  with an overall score of 8.38. They also won the Third Level AA Champion's title at the 2019 USDF Dressage Finals last November. 
A Future with Tuny Page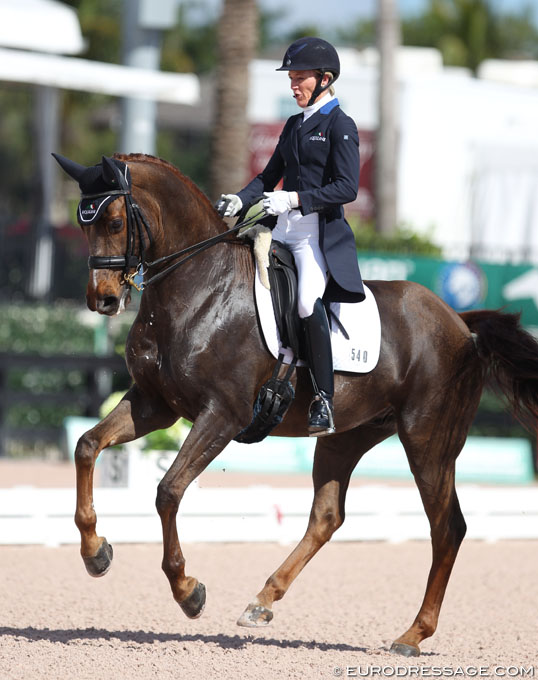 Arlene "Tuny" Page has secured Fairouz as her new FEI star. 
Her number one Grand Prix horse Woodstock, a 17-year old Dutch warmblood by Havel x Contango, last competed internationally at the CDI Cappeln in August 2018. He has a niggling injury since then that kept him from the CDI ring. Her second Grand Prix horse Dr. House, a 15-year old Oldenburg gelding by Don Schufro x Krack C, also had his last international at the 2018 CDI Cappeln after which he was sidelined.
"Woodstock is our farm mascot working lightly everyday and enjoying life," said Tuny.  "Dr House is working nicely in hopes that there will be some shows in the fall."
Fairouz is the new star in the barn, alongside the home bred 8-year old Westfalian Sinclaire (by Silbermond) out of Tuny's former Grand Prix mare Claire (by Cassini x Apple King xx). 
"I pinch myself every day that I have two up and coming youngsters. First is my home bred Sinclaire out of my wonderful mare, Claire, and then indeed the lovely Fairouz," said Tuny. "Leida Collins Strijk is "stuck" here in Wellington and I'm capitalizing on her support as we prepare for the future."
Spinning Plates in Corona Time
Tuny runs the well known Stillpoint Farm in Wellington, Florida, and the corona virus now spreading across the U.S.A. has put an extra burden on efficiently running the business.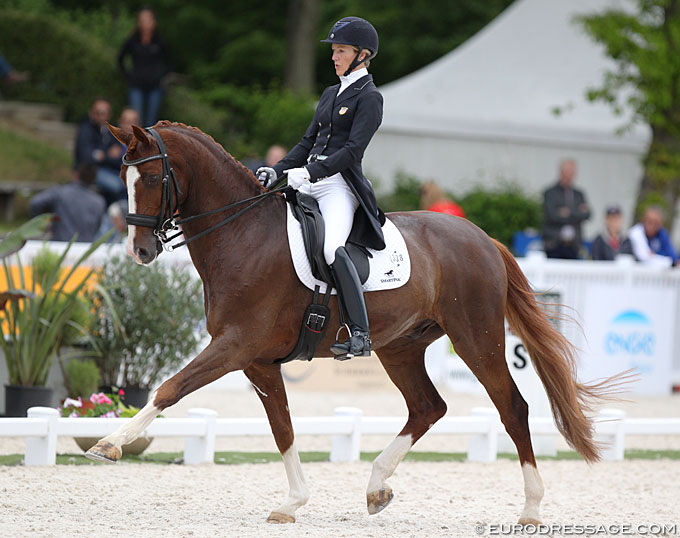 "I am "spinning plates" doing all that I can to keep my friends and clients at Stillpoint safe and to keep my family safe and happy," Tuny explained. "My 93 year old dad is staying with us and I'm lucky to have Dave (her husband) and Charlotte (her daughter) home and so far healthy."
Florida has gone into a "lockdown light" and access to horse stables is now restricted. 
"We are still working horses at the farm but my students and staff are all on covid 19 safety measures and we are all wearing masks and being incredibly careful with the 6' rule and hand washing constantly," she said. "The team here is committed to having all of us pull through this safely."
Photos © Sue Stickle - Astrid Appels
Related Links
Sonnenberg's Kain, Sole Mio, SenSation HW Win Young Horse Titles at 2019 U.S. Dressage Championships
Sole Mio, SenSation HW, Lucky Strike Take First Titles at 2018 U.S. Young Horse Championships
Serenade MF, Darius, Frankie Win 2017 U.S. Young & Developing Horse Championship
Page and Holzer Clean Up the Big Tour at 2017 CDI Tryon
Arlene Pages Lines up Young Stars for the Future
Tuny Page Makes Winning Debut on Woodstock at 2013 CDN Wellington
2006 World Cup Finals, Stepping Stone for the Future of U.S. Dressage
Arlene Page and Wild One Win the Grand Prix at 2006 U.S. Grand Prix Freestyle Championship/U.S. League Final CDI-W