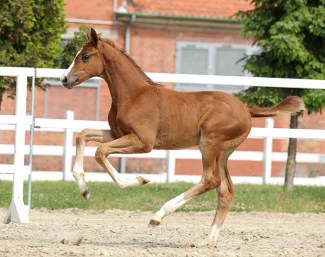 Force Majeure became the best selling foal at the fourth online auction of Hanoverian foals held this year. The auction concluded on 4 July 2020.
18 dressage bred foals were on offer and they achieved an average price of 8,514 euro. Four foals sold for 10,000 euro or more. 
The best seller was Force Majeure (by Franco Nero x San Amour). An American purchased the chestnut for 23,500 euro. The colt is bred by Stephan Herrmann.
The chestnut colt Leonardo (by Livaldon x Rotspon) fetched 17,500 euro from a German client. 
A chestnut colt named Sir Siegried (by Sir Donnerhall x Dimaggi) sold for 16,500 euro to a German customer.
The colt Leonidas (by Livaldon x Quaterback) sold for 10,500 euro to the U.S.A.
An Austrian paid 9,250 euro for the filly ZZ Top (by Zackerey x Scuderia)
The first four online auctions with a total of 82 foals were created at short notice during the Corona crisis as a replacement for the originally planned May foal auction, at which 79 foals were auctioned last year. Compared to the previous year, both the average price and the volume of sales increased in 2020. The average price over the first four foal online auctions from 2020 is 9,088 euro (previous year May auction: 7,197 euro); the total turnover is 745,250 Euros (previous year: 547,00 euro).
The next online auction in Verden will include a collection of 48 dressage and 17 show-jumping horses on 18 July 2020. Carefully selected and prepared, they can be observed in training and individually tried out from Tuesday 7 July 2020 in Verden. The presentation on Wednesday 15 July can be followed via livestream. The online auction starts on Saturday 18 July at 2 p.m. The next foal auction will be at the beginning of August.