Rhinelander Foal Auction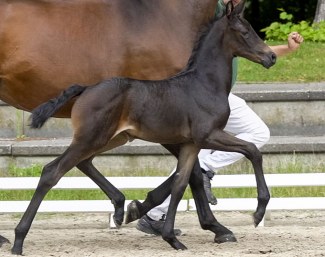 Bundeschampions, Grand-Prix horses, licensed stallions, elite show mares, world champions such as Victoria's Secret and many other successful horses are firmly connected to our foal auction at Schloss Wickrath.
At our sales events for foals on 22 - 26 July 2020, we have been able to offer very special foals over the past 28 years, whose later successes made headlines.
Rhinelander Foal Auction Moves Online
This year again, the Rhineland Stud Book and the District Association of North Rhine- Westphalia in the Hanoverian Stud Book combine the concentrated strength of our breeding houses in one auction.
Due to the Covid19 pandemic, our foal auction will be held as an online auction for the first time in 2020. About 25 quality dressage and jumping foals will be auctioned from 22 - 26 July .2020 under the virtual hammer.
Outstanding Pedigrees
You can look forward to highly successful and well-proven dam lines from which several internationally winning dressage and jumping horses are descended.
These dam lines, paired with current young stallions as well as stallions that are successful in sport and form the basis for breeding, are the best prerequisite for horses that are the future.
Register, Bid, Secure Your Next Star
Bidding is easy. All you have to do is register yourself online and you can participate in the bidding process.
Detailed information you can find here: https://pferdezucht-rheinland.de/online-auktion/kaeufer-information.html
View the complete collection here.