Rhinelander Foal Auction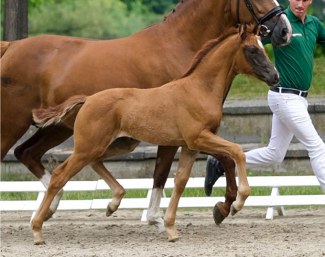 Strong prices were paid for the foal collection of the 2020 Rhinelander Online Foal Auction organized by the Rhinelander studbook at Castle Wickrath. Violetta M became the best seller when the auction concluded on 26 July 2020. 
A collection of approximately 25 dressage and show jumping bred foals were offered for sale. The fillies were in better demand than the colts at this auction, although solid 10,000+ euro prices were paid for the stallion prospects.
Violetta M (by Viva Gold x Damon Hill x Fidermark) fetched the highest price of 31,000 euro and sold to Austria. The dam line of this foal produced World Young Horse champion Woodlander Farouche, international Grand Prix horse Favourit (Tinne Vilhelmson and Sonke/Sanneke Rothenberger) and licensed stallion Roman Nature. 
A Chilean buyer had great interest in two fillies by Escamillo. The buyer from Latin America paid 22,000 euro for the chestnut Ein Quäntchen Gluck (by Escamillo x Quaterback) and 17,750 euro for the chestnut Emilia (by Escamillo x Belantis). Emilia's great grand dam produced the licensed stallion Fidertanz. 
Colt Veneziano (by Vasari x Fidertanz) sold for 15,250 euro, colt Bolero M (by Bon Courage x Quaterback) for 14,750 euro, colt Skywalker P (by Secret x Demirel) for 13,750 euro, and colt Vavino (by Valdiviani x Delamanga) for 13,500 euro. All will stay in Germany.
A Swiss buyer secures colt Savant SKS (by Secret x Soliman de Hus) for 15,750 euro.
Filly Letizia Noir KM (by Le Formidable x Sir Donnerhall) was knocked down for 12,000 euro. 
The best selling jumper foal was filly Tippi Hedren (by Taloubet Z x Askari) which fetched 11,500 euro.
Related Links
4th Foal Auction Horse Center Castle Wickrath - Online Edition
Veneziano, Eye Catcher of the 2020 Rhinelander Foal Auction. Buy Him Now!