Open letter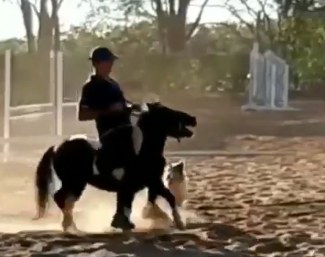 Karen Petty, an American dressage aficionado who, as an owner and sponsor, is involved in elite level international dressage sport, wrote an open letter to the FEI calling them to take action against riders who abuse their horses.
"Those of us who share a deep and abiding love of animals, also share the responsibility of advocating for their welfare," Petty told Eurodressage. "Those who represent the highest levels of horse sport are role models for others and should be held accountable for maintaining the highest standards of ethical treatment. 
"We have garnered over 4000 signatures, in under 3 days, from around the world calling for justice for this poor pony," Petty continued. "We continue to gain momentum and visibility by the minute thanks to you, Astrid, and to horse lovers around the world."
Petty strongly believes the FEI has the responsibility to maintain the highest standard of ethical behaviour in horse sport. 
She shared her letter to the FEI Legal Department and Dressage Committee with Eurodressage:
On August 2, 2020, Eurodressage published a story, with video, of Brazil Olympic Dressage rider, Leandro Aparacido da Silva abusing a small pony.  The story is now going viral on social media and horse lovers from around the world are demanding justice for this pony.  The concerns listed below are shared by many riders including a large and growing number of  FEI member riders.
Aparecido da Silva is a long-time Brazilian Grand Prix team member. He competed at the 2008 Olympic Games (on Oceano do Top), the 2011 Pan American Games (VDL L'Acteur). His most successful horse to date is Dicaprio, whom he competed at the the 2014 South American Games, the 2015 and 2019 Pan American Games and 2018 World Equestrian Games. 
According to the article in Eurodressage, the Brazilian Equestrian Federation is investigating the issue.  While this is a good step, it is insufficient.   The FEI, as the governing body for international horse sport, is the ultimate authority responsible for upholding the FEI Code of Conduct for the Welfare of the Horse and investigating and imposing sanctions against abusive behavior by those who ride, show, and earn a living in the FEI disciplines.  Given your roles as the respective heads of the Legal and Dressage departments with the FEI, it is critical for you and your organization to investigate and impose sanctions against Aparecido da Silva based on the abusive behavior displayed in two videos posted on social media:  video 1 and video 2.
Thank you, in advance, for addressing this blatant abuse of power by one of your athletes.  We know how critical the role of the FEI in maintaining the highest standards of ethical behavior in horse sports. We anticipate that you and your staff will do the right thing and investigate this matter quickly so that his pony and other horses in his care and training are protected from further abuse.
Related Link
Brazilian Olympian Leandro Aparecido da Silva Under Investigation for Animal Abuse