Hanoverian Foal Auction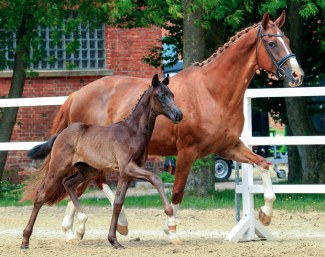 The colt Frontman became the best seller of the 2020 Hanoverian Foal and Broodmare Auction which was held during the Hanoverian Young Horse Championships in Verden, Germany, on 9 August. 
For the first time in a long time due to the corona pandemic, an almost "real" auction atmosphere was created. One day before the auction, the team of the Hannoveraner Verband presented the auction foals live in the indoor arena. Numerous visitors came to see them. On Saturday and Sunday, the final bids were made in front of the screens at home.
Frontman (by For Romance x Dancier) sold for the top knock down price of 48,000 euro. The colt is bred by Dr. Lena Heidkamp and sold to a stallion rearer from the Netherlands.
The second most expensive foal was the colt Samsonite (by Secret x Lauries Crusador xx). He sold for 39,000 euro to the United States. 
A Swiss customer paid 23,000 euro for Fürst Finest (by Finest x Londontime)
The colt Funkytown (by Furstenball x Sandro Hit) was acquired by a German for 21,500 euro. The filly Daphne (by Da Costa x Stedinger) switched owners for 20,500 euro.
The best selling jumper foal was Chacoon du Rouet II (by Chacoon Blue x Balou de Rouet), which fetched 20,000 euro. 
Germans paid high prices for some foals. Jackpot (by Jovian x Desperados) sold for 26,000 euro, Beats (by Benicio x Foundation) for 18,500 euro. Bet and Win (by Bonds x Quaterback) for 17,500 euro, Vitamin C (by Vitalis x Sir Donnerhall) for 16,000 euro, Schonheit (by Secret x Fantastic) for 15,000 euro, Girl on Fire (by Global Player x Danone) for 14,000 euro, Zanderino (by Zackerey x Londontime) for 10,500 euro. 
Spanish customers paid 15,500 euro for Viking (by Valdiviani x Fidermark), 12,500 euro for Desert Mirage B (by Despacito x Bonifatius), and 9,500 euro for Diva Princess (by Donier x Weltano). 
A small collection of broodmares was offered for sale. Quilea (by Quantensprung x Lauries Crusador xx) was the best selling mare. In foal to Vitalis, she sold for just 12,000 euro. 
"We have shown courage to offer such a large foal collection online and are very happy for our breeders about this success", said Managing Director Wilken Treu. 
The auction collection included no less than 104 foals and they achieved an average price of 10,185 euro. 35 foals cost more than 10,000 euro. International customers secured 29 future hopes. Five each will find a new home in the USA and in Great Britain.
Related Links
Verden Auction Online for Foals and Broodmares – Live presentation on Friday 7 August 2020
Hanoverian Auction News on Eurodressage