2020 European Youth Championships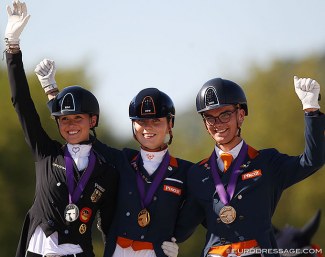 Dutch 2018 European Junior Riders Champion Daphne van Peperstraten can now also add the title of 2020 European Young Riders Champion to her tally. At the 2020 European Young Riders Championships in Pilisjaszfalu, Hungary, she rode to the gold medal with a very convincing round in the Kur to Music Finals on Friday 21 August 2020. 
The second week of competition at the 2020 European Youth Championships at Stable Unikornis came to a conclusion that Friday. In the morning session, Danish Anne-Mette Strandby Hansen won the Under 25 Kur gold medal, while in the afternoon it was Daphne van Peperstraten who showed how it is done to win kur gold as a young rider. 
Team Gold, Individual Silver, Kur Gold
Daphne van Peperstraten and her long-time equine partner, the 13-year old Dutch warmblood gelding Cupido (by Johnson x Duco), had a successful week in Hungary. By winning the team championship test she earned team gold for The Netherlands. In the Individual test she landed second place for silver behind team mate Marten Luiten. In the freestyle she was back on top of the board for Kur gold.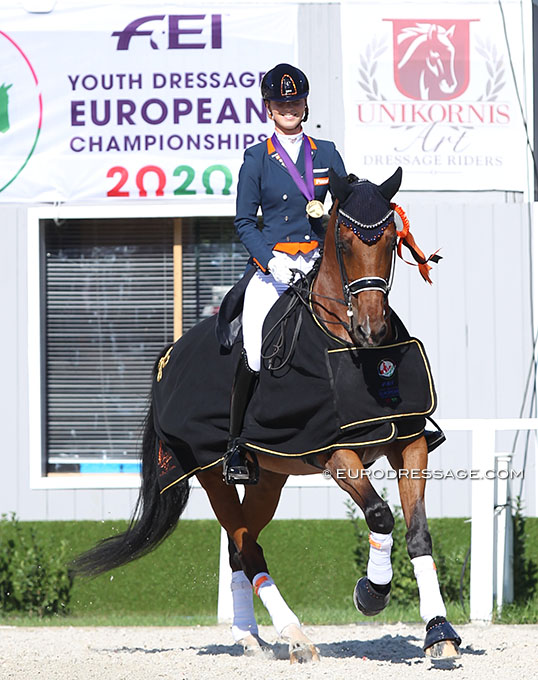 Daphne rode to brand new music, the second chapter in her politically inspired string of freestyles, beginning with her "Yes We Can" junior kur and now an arrangement which includes a John F Kennedy quote for the walk part.
 The duo began strongly with a correct halt at entry, a transition to canter (which happened via trot), immediately into a half pirouette and another one followed by tempi changes. A big extended canter followed, then there were very nice half passes in trot. The shoulder in left lacked some self carriage. The extended walk was very nice, as well as the canter half passes. Only in the extended trot the horse dropped the poll instead of staying up in the bridle. Throughout the test Daphne had Cupido in a lovely contact and nicely uphill oriented in the silhouette. The pair truly dominated the freestyle and deservedly stormed to freestyle gold.
The panel of judges, consisting of Vint-Warmington (EST), Christensen (DEN), Colliander (FIN), Eisenhardt (GER) and De Wolff van Westerrode (NED) rewarded Van Peperstraten with an 80.690% total score. She placed first with three judges, third with Colliander and second with Eisenhardt. Her marks ranged from 77.775% to 83.500%.
"I'm so incredibly happy and very proud," Daphne commented after winning. "My goal was to ride faultfree. Cupido felt good the entire week and is really in top shape. I knew that it would all be okay if we rode without mistakes. And if it then happens with a brand new freestyle, which I rode in a show for the first time, it is truly super cool."
Welschof Gets Second Silver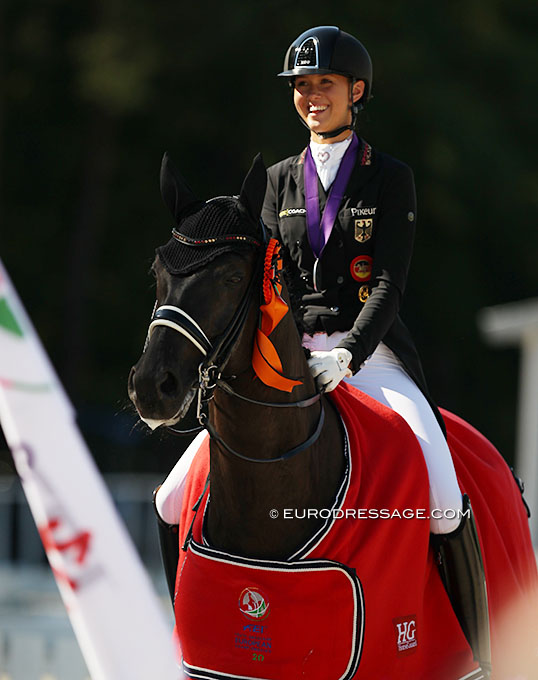 Germany's biggest candidate for a gold medal was Lia Welschof on the 9-year old DSP bred First Class. After winning team and individual silver on the previous days, the combination put in their best effort for the freestyle. 
Lia's young small tour horse First Class (by Furst Romancier x  Wind Dancer) has very limited international experience and his first Championship in tropical temperatures was a big load for the black. He looked a bit less sharp on freestyle day, althought Welschof tried her best. Riding to music by White Republic, Lia and First Class showed elegant and lightfooted trot work with a very good rhythm and balance on the voltes and half passes. The trot extensions were lovely. Also in the extended walk the rhythm was super, but the nose should have reached out more. Also First Class' mouth was not always closed despite the soft contact. The horse changed lead after the extended canter and one pirouette right was laboured. The three tempi changes were ground covering, but could have been more uphill and the fours on the centerline could have been straighter behind.  
Welschof posted 79.230% on the board, placing first with Eisenhardt and fourth with Colliander and De Wolff. Her marks went from 76.650% to 80.375%
"Three times silver with my little, cute Fetti," Welschof stated at the conclusion of the event. She brought her reserve horse First Class last minute to Budapest as her first choice, Linus K, was not fit to compete. "I couldn't be more happy and thankful to own such an amazing horse."
Luiten Lucky with Bronze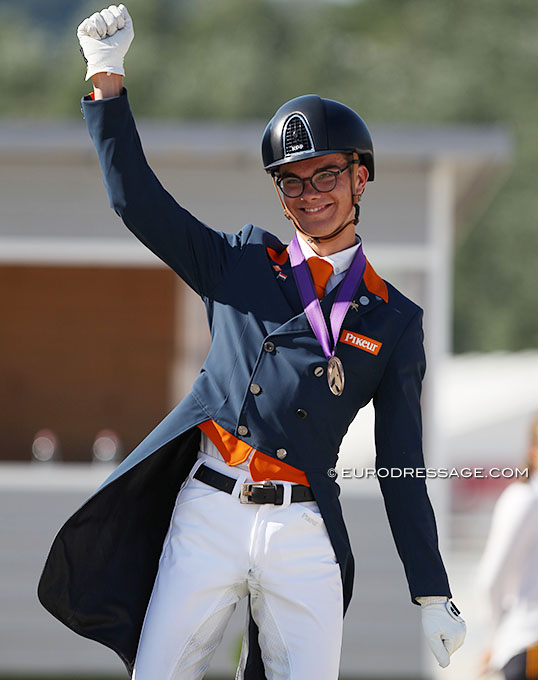 Dutch Young Riders team newcomer Marten Luiten had the week of a lifetime. After winning team gold on Tuesday and individual gold on Thursday, the young star and his 10-year old Dutch mare Fynona (by Ampere x Gribaldi) did not pull off a hattrick in Budapest. In the freestyle, they were lucky to get away with another bronze medal after a ride with several mistakes. 
Luiten and Fynona were the last pair to go for The Netherlands and third last in the class. The highly meticulous rider was expected to put in another superb performance, but some issues crept into the test. His mare Fynona is not the biggest mover. She's quite straight legged and consistently too tight in the neck, but the accuracy with which Luiten navigates her through the arena is incredible. 
They began with a nice halt, but there was a mistake in the four tempi changes early on in the test, followed by another miss in the threes. Riding to operatic music, Luiten redid the three tempi changes on a correction line and showed big changes, but with tension and a swooshing tail. The extended walk was nice, the collected a bit free in front. The half pass right was lovely, even though the mare stayed quite horizontal in her trot work and should produce more swing and suspension. Luiten's forté is his fine piloting and millimetre precision work. 
The judges rewarded the test with a generous 77.610% considering the big errors. For Luiten it meant another bronze, while either one of the two following Danish riders were robbed of a medal. 
"I'm very happy, but with two big mistakes you lose a lot of points. The trot tour went really well and in fact the other canter parts were very good too," said Luiten. "I got 9s for the pirouetts. The degree of difficulty and the music of my freestyle are very good, which also weighs heavily. This is my first year at Young Riders level and I return home with two gold and one bronze medal."
Danish Four and Five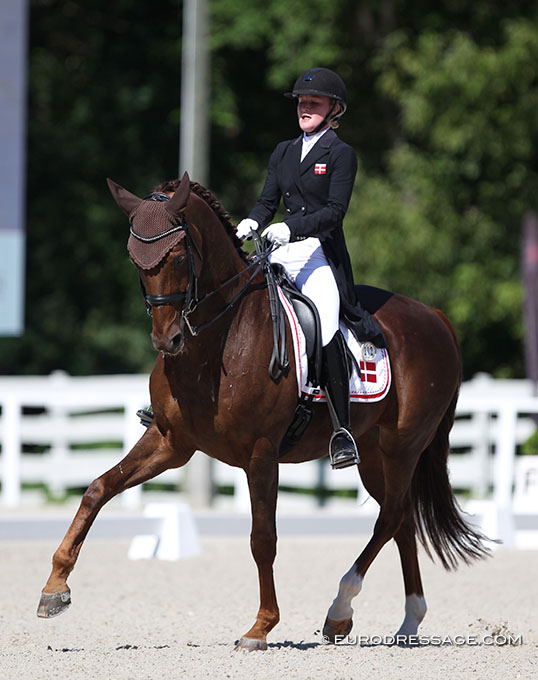 Two Danish Young Riders followed in fourth and fifth place to complete the top five. 
Sara Aagaard Hyrm and the 14-year old Danish warmblood Skovborgs Romadinov (by Romanov) are riding their third European Championship and their first as a young rider. It was also their first time into the freestyle finals and never before were they so close to an individual medal as in Budapest. Their pair placed fourth.
Hyrm and Romadinov showed movements with a high degree of technical difficulty, including half pirouettes followed by canter half passes and then another half pirouette. The liver chestnut showed a good extended walk, even though there could have been more V-moment in the rhythm. There were nice trot half passes, but in the shoulder in and volte right the horse titled the head. There were two big issues in the ride: there was a miscommunication in the downward transition from canter to trot and there was a break into canter in an extended trot. Nevertheless, the judges rewarded the test with a high 77.425% to finish fourth. 
Maybe a more rightful bronze medalist would have been the fifth placed pair, Karoline Rohmann and the 11-year old Danish warmblood Jakas Don Louvre (by Don Romantic x Lauries Crusador xx). The trot work was very smooth, fluent in the straight and traversal movements, although the half pass to the right was better than the one to the left. One left pirouette was quite big and the extended canter was a bit on the forehand, but the horse has beautiful tempi changes, although there was a small blip after the threes.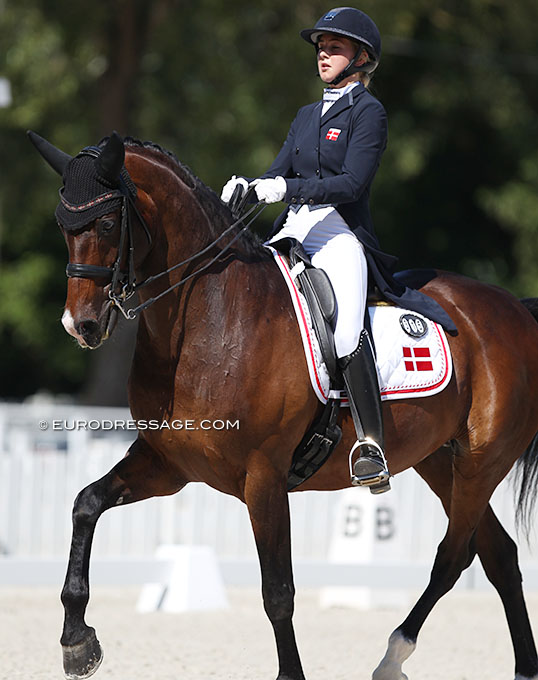 The music at the end of Karoline's ride was a bit strange as the canter music continued while she was already back in trot and on the centerline. Still, Rohmann had a very strong ride, keeping her horse up in the bridle and consistent in the contact. With some very precise riding she scored 77.125%. One judge had her second (78.525%), three had her sixth. Her individual marks ranged between 75.925% to 78.525%.
Action at Stable Unikornis continues on Wednesday 26 August with the 2020 European Pony Championship team test. Eurodressage will be there!
Text and Photos © Astrid Appels - No Reproduction Allowed
Eurodressage is on the scene in Budapest taking photos of all Under 25 and Young Riders. If you are interested in prints and files for social media, send us a message. Please respect our copyright and do not use our photos without permission. 
Related Links
Scores: 2020 European Young Riders & Under 25 Championships
Eurodressage Coverage of the 2020 European Youth Championships