Hanoverian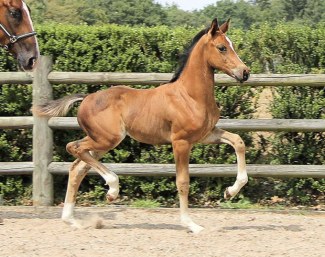 A spectacular top price of 41,000 Euros was achieved in the online auction of 16 French and British Hanoverian and Rhineland foals, which was held in cooperation with the British Hanoverian Horse Society BHHS and the French Hanoverian Horse Breeding Club AFEACH. 
The auction took place 9 - 12 September 2020.
Enjoy the Show de Hus
Five French bred Hanoverian foals were offered for sale.
The top selling foal comes from the high quality breeding of the well known Haras de Hus stud farm, which is located just outside Nantes.
Enjoy the Show de Hus (by Escolar out of a dam by Don Juan de Hus x Wanderbursch II), comes from the Hanoverian mare line of Jutta. His grand dam St.Pr.St. Wyella (by Wanderbursch II x Grande) is one of the foundation mares of Haras de Hus. After a spectacular bidding duel, in which interested parties from Germany, USA and Australia took part, a regular customer from Spain acquired this talented mover.
Another French foal, French Gold (by For Gold x Danone I) will be on its way to the United States after selling for 6,250 euro.
Vuiton de la Gesse (by Vitalis x Sezuan) sold to the U.K. for 7,750 euro and Septime des Paluds (by Soliman x Florestan) stays in France for 7,000 euro. 
British Foals All Sold in the U.K.
The eleven British foals will all remain on the island.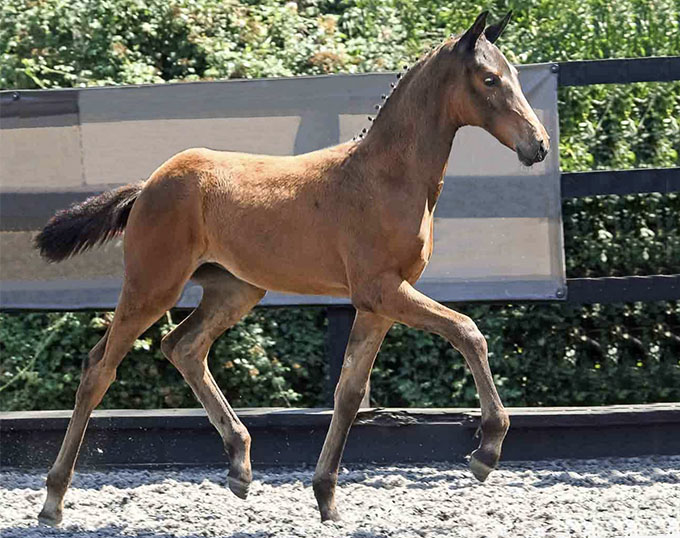 The most sought-after foal was the filly Fantasy (by Franklin out of a dam by Dannebrog x Weltmeyer). This is the successful Hanoverian mare line of Pille, which has already produced successful sport horses such as the team Olympic Champion in jumping Walzerkönig (rider: Franke Sloothaak). Exhibitors of the foal were Court Farm Stud and Half Moon Stud from Herefordshire. The powerfully moving filly, which was one of the best Hanoverian foals of its year in England, was purchased for 10,000 euro by a well-known English dressage rider.
Close behind in the price range was Bolero (by Baron x Dark Rubin), which sold for 9,750 euro, and Visionize (by Viva Gold x Totilas), which changed hands for 9,500 Euros.
Dr Jekyll (by D'Avie x Sandro Hit) fetched 7,500 euro, while Valhalla's Law (by Vitalis x Florestan) fetched 7,250 euro and Melara (by Millennium x Floriscount) sold for 7,000 euro.
"A Good Experience"
Katy Holder-Vale, Chairman of the British Hanoverian Horse Society, drew a satisfied initial conclusion: "All in all, this was a good experience. At the same time we saw that such an auction is also a learning process. All in all, the breeders were happy that such an offer for sale was made in these times of Covid-19".
Also Edouard Dewez, Chairman of AFEACH, emphasized the learning effect of these first auctions exclusively for international breeders and added, "for the first time, this was a good result, especially considering that the decision for this auction was only made in June".
Dr Ludwig Christmann, who is responsible for the foreign breeders in the Hannoveraner Verband, comments the result as follows: "The international Hanoverian breeders run their breeding according to the high standards of the German Hannoveraner Verband. This result shows that their qualities are absolutely competitive and internationally coveted".